Description
Small Business Marketing takes time. It's hard when it's just you. I know!!!
In this workshop we will explore many ways you can market your business and how to select the ones that are most likely to work for you. This will include online, printed materials, advertising, video, networking, talking about your business and writing about and for your business. As small businesses owners with little or no budget, we will only be considering using just the free and low-cost ways.
I will talk about the stages of creating awareness and interest, and then building desire and action. Good marketing delivered on a consistent basis, if you have a good product or service that people want or need, will create more sales. It is as simple as that! These days, for me, marketing is all about reading and seeing, so we'll talk about visuals, how you describe your business including creating interest in what you do or sell.
We will do some writing about and for your business and I will share how you can be using this as efficiently as possible - as a basis for articles, press release, blogs and social media posts.
We will then look at forming a way of you using the ways you decide upon to marketing your usiness on a regular, consisent basis to get your business and name out there. One of the most important steps when we are looking at this will be thinking carefully about how much time you have and will have to spend on your marketing activities.
We will look at upselling or re-engaging your previous customers, attracting more potential customers and work out how you are going to reach them.
You will end up with a clear plan of action. You can call this your Business Marketing Strategy!
This workshop is for you if you know that if you did more, knew more and felt more confident you could grow your business by marketing it either more, or more efficiently and effectively.
If you are unsure if this workshop is suitable for you, please email me NOW prior to booking Wendy@GetBetterCoaching.co.uk
---
About Me: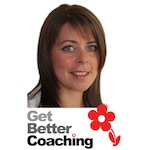 I'm Wendy Ager, a Business Coach and Mentor and I've been part-time and self-employed since 2010 when I launched Get Better Coaching knowing NOTHING about business! I had just a business card and a website.
I went out to network, got myself in the local papers, on local radio, kept networking, got online and started the Croydon and the Redhill & Reigate Tweetups. I am the Head of Social Media for Purley Festival and was a 2015 Digital Coach for SurreyWISE. I've worked with many small businesses and local businesses on developing their marketing, helping one last year almost double their turnover. Although I'm a huge fan of online marketing and social networking, I believe it's really about getting confident in your buisiness, taking the bold step of doing something and getting your name out there in different ways and being consisent that works.
I'll share my experience and knowledge of using all kinds of free and affordable ways to market your business, so you can get on and use them to your advantage, to grow your business.
---
Practicalities: Sorry I'm unable to offer refunds.
CHANGE OF Venue from the Library - to The Den, behind West Central Cafe (right by the library steps) in the precinct. Entrance to the meeting rooms/offices is down the left/side of the Cafe past the fire escape steps. Buzz for entry. (or ask in the Cafe) This gives us a much nicer room with Wifi and tea and coffee too!
The Belfry Shopping Centre parking is probably easiest and is just £2.80 for 3-4 hours.
Please bring your own preferred way of taking notes and making plans.