Sales Have Ended
Registrations are closed
Don't miss upcoming Smart Citizens activities - sign-up to our Newsletter to get all the updates about our exciting and free events, workshops and training in digital design and fabrication! https://mailchi.mp/de161f116668/smart-citizens
Sales Have Ended
Registrations are closed
Don't miss upcoming Smart Citizens activities - sign-up to our Newsletter to get all the updates about our exciting and free events, workshops and training in digital design and fabrication! https://mailchi.mp/de161f116668/smart-citizens
Join us to learn more about Smart Citizens and how we can help you transform your ideas using digital design and fabrication.
About this event
This online webinar is repeated regularly.
Please note that this workshop will be held online.
Whether you're looking to develop your skills in digital design and fabrication, get training for your business, or join a community of makers, Smart Citizens is here to help. Join us for this introductory online webinar to find out how you can get involved in our programme of free online workshops, community meet-ups and training based at Plymouth College of Art's Fab Lab.
Please note: this event will be hosted through Google Meet (no sign-up required). You will not be required to download any software for this event.
Who is this webinar for?
From beginners to experts, this webinar is open to anyone who is looking for opportunities to:
Learn how to design objects, products and artwork in 2D and 3D
Learn how to turn designs into reality using high tech digital fabrication machines such as 3D Printers and Scanners, Laser Cutters, Vinyl Cutters and Milling Machines
Learn about Fab Lab Plymouth and its equipment
Understand how to how to design and make things in a more sustainable way
Connect with ideas, people and enterprises to develop innovative design solutions for communities and the planet
Join a community of local makers
Registration alternative
If you prefer to register for this event via video call or would like to request an alternative registration format or require any assistance with your application, please contact Sophie Headdon by email sheaddon@pca.ac.uk
Everyone welcome
We are committed to making our events and opportunities accessible to everyone. If there are any access requirements that would assist your participation in this programme, please let us know when completing the registration form and our team will endeavour to accommodate these where practicable for us to do so.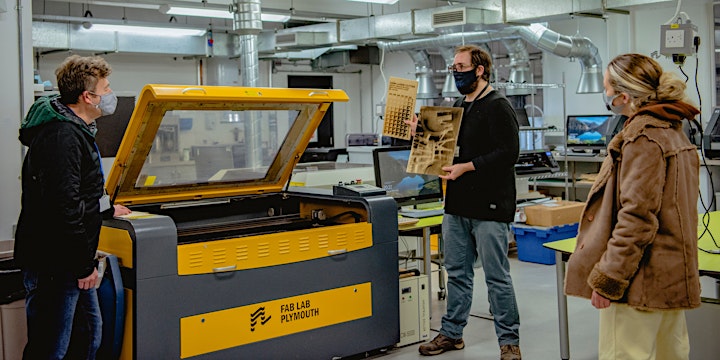 About the Smart Citizens Programme
Smart Citizens is a programme of free events, workshops and training in digital design and fabrication based at Fab Lab Plymouth. Connecting citizens and enterprises with digital technologies skills, the programme empowers a community of citizen makers and champions innovative design solutions to create a more sustainable Plymouth.
Want to hear about future events and opportunities? Sign up to the Smart Citizens Newsletter and visit our website.
The Smart Citizens Programme is part of the iMayflower project and has been supported by The Department for Digital, Culture, Media and Sport, who fund the Cultural Development Fund, which is administered by Arts Council England.
Events For You
We have a range of introductory workshops to help you begin your journey into the incredible world of digital design and fabrication. Explore our introductions to 3D digital design and the Smart Citizens Programme on our events page. More workshops coming soon!
Organiser of Smart Citizens Introduction Webinar
Smart Citizens is opening Fab Lab Plymouth to communities. The programme offers workshops to design and make almost anything, tech & sustainability talks, community meet-ups, and training in digital design and fabrication.
All the activities are free and open to all! Here is the link to our newsletter sign-up