Sales Have Ended
Registrations are closed
Don't miss upcoming Smart Citizens activities - sign-up to our Newsletter to get all the updates about our exciting and free events, workshops and training in digital design and fabrication! https://mailchi.mp/de161f116668/smart-citizens
Sales Have Ended
Registrations are closed
Don't miss upcoming Smart Citizens activities - sign-up to our Newsletter to get all the updates about our exciting and free events, workshops and training in digital design and fabrication! https://mailchi.mp/de161f116668/smart-citizens
Watch our pre-recorded webinar to learn more about Smart Citizens and how we can help you design and make almost anything.
About this event
Please follow this link to watch a recording of our introductory webinar. You can access this video at any time and do NOT need to register for this event via Eventbrite.
Video details
Whether you're looking to develop your skills in digital design and fabrication, get training for your business, or join a community of makers, Smart Citizens is here to help. Watch our introductory video to find out how you can get involved in our programme of free online workshops, community meet-ups and training based at Plymouth College of Art's Fab Lab.
Please note: This is not a live event. Please use the above link to access the recording of our introduction webinar.
Who is this video for?
From beginners to experts, this video is for those looking for opportunities to:
Learn how to design objects, products and artwork in 2D and 3D
Learn how to turn designs into reality using high tech digital fabrication machines such as 3D Printers and Scanners, Laser Cutters, Vinyl Cutters and Milling Machines
Learn about Fab Lab Plymouth and its equipment
Understand how to how to design and make things in a more sustainable way
Connect with ideas, people and enterprises to develop innovative design solutions for communities and the planet
Join a community of local makers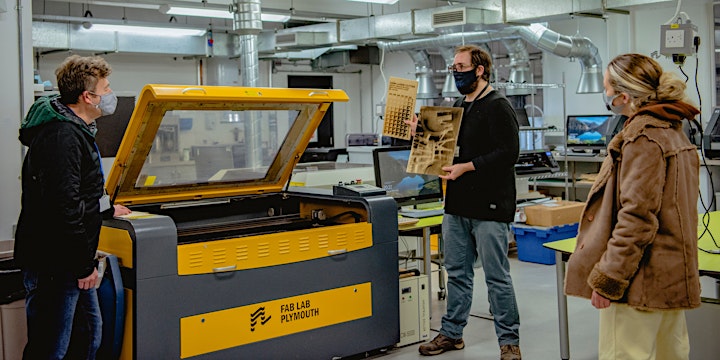 About the Smart Citizens Programme
Smart Citizens is a programme of free events, workshops and training in digital design and fabrication based at Fab Lab Plymouth. Connecting citizens and enterprises with digital technologies skills, the programme empowers a community of citizen makers and champions innovative design solutions to create a more sustainable Plymouth.
Want to hear about future events and opportunities? Sign up to the Smart Citizens Newsletter and visit our website.
The Smart Citizens Programme is part of the iMayflower project and has been supported by The Department for Digital, Culture, Media and Sport, who fund the Cultural Development Fund, which is administered by Arts Council England.
Events For You
We have a range of introductory workshops to help you begin your journey into the incredible world of digital design and fabrication. Explore our introductions to 3D digital design and the Smart Citizens Programme on our events page. More workshops coming soon!
Organiser of Smart Citizens Introduction Webinar
Smart Citizens is opening Fab Lab Plymouth to communities. The programme offers workshops to design and make almost anything, tech & sustainability talks, community meet-ups, and training in digital design and fabrication.
All the activities are free and open to all! Here is the link to our newsletter sign-up