Description
Beyond 2020, numerous system level challenges for electricity distribution networks are anticipated because of the growth and variability of existing and new type of demand and distributed generation. Distribution Network Operators (DNOs) have seen distributed generation, energy storage and new loads (e.g. electric vehicles) connecting to their infrastructure which result in new operational challenges such as reverse power flows on lines or changing fault levels. The DNOs with limited observability in the Medium and Low Voltage parts of their network will find it difficult to manage and operate their networks reliably. At the same time, a number of studies have shown that smart energy systems incorporating novel technologies for monitoring and control could facilitate technically robust and commercially viable new system solutions and business models.
This workshop aims to present recent research findings and trial results from three large European collaborative projects and to discuss about disruptive technologies and business models for distribution networks. Through technical presentations, demos and panel discussions, by the end of the day we anticipate answers to the following questions
- What technologies are useful in the DNO network in the short to mid-term?
- What are the real business or research opportunities?
AGENDA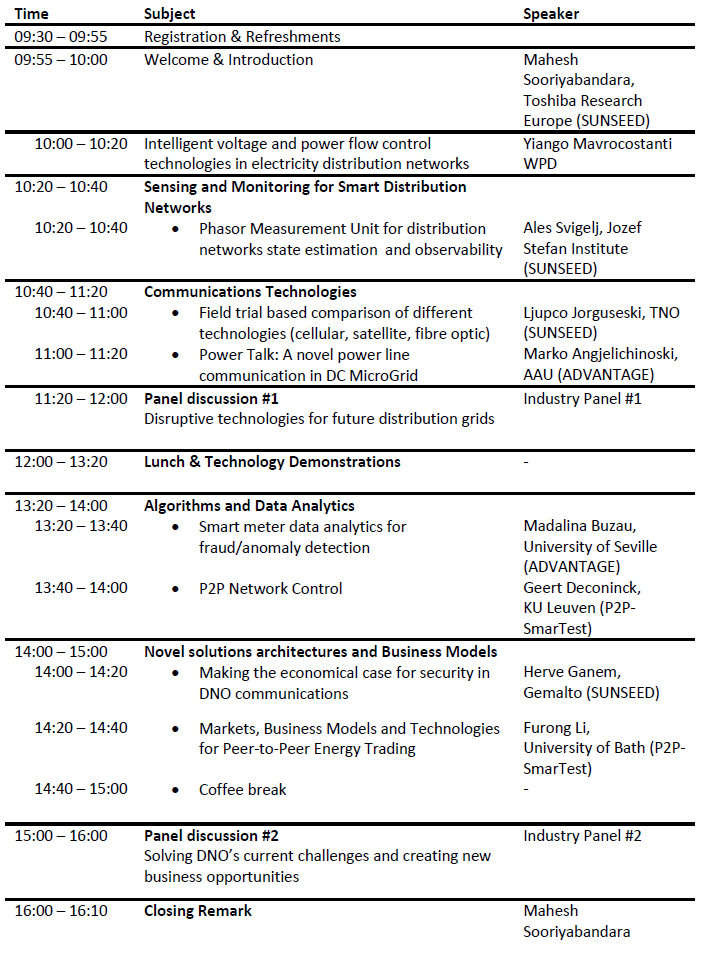 TECHNOLOGY DEMONSTRATIONS