Smart working. Smart buildings.
About this event
Our office buildings are in the spotlight. The demand is for hybrid working, enhanced wellbeing and a net zero impact. So, how can buildings be re-imagined to help people work smarter not harder, and also have less environmental impact and greater value as an asset?
Join us to hear a panel of experts from across the property sector debate what this means for developers and occupiers alike.
In our 45-minute webinar discussion, we will explore:
What will new, hybrid ways of working mean for the design of buildings?
How can technology be embraced to enable smarter working and the reduction of carbon emissions?
What practical steps can optimize the performance of office buildings in the face of such unprecedented change?
Our panel will explore the role that all stakeholders have in creating and maintaining this new workplace environment and the importance placed on this change by people – the users – and the investment community.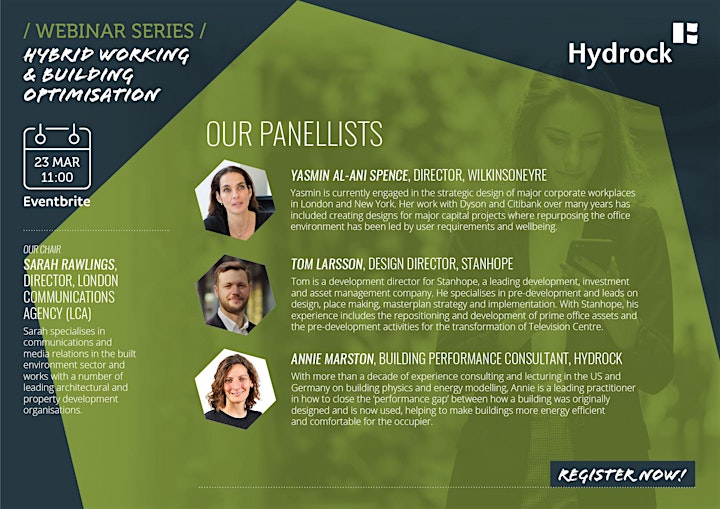 Our Panellists
YASMIN AL-ANI SPENCE, DIRECTOR, WILKINSONEYRE
Yasmin is currently engaged in the strategic design of major corporate workplaces in London and New York. Her work with Dyson and Citibank over many years has included creating designs for major capital projects where repurposing the office environment has been led by user requirements and wellbeing.
TOM LARSSON, DESIGN DIRECTOR, STANHOPE
Tom is a development director for Stanhope, a leading development, investment and asset management company. He specialises in pre-development and leads on design, place making, masterplan strategy and implementation. With Stanhope, his experience includes the repositioning and development of prime office assets and the pre-development activities for the transformation of Television Centre.
ANNIE MARSTON, BUILDING PERFORMANCE CONSULTANT, HYDROCK
With more than a decade of experience consulting and lecturing in the US and Germany on building physics and energy modelling, Annie is a leading practitioner in how to close the 'performance gap' between how a building was originally designed and is now used, helping to make buildings more energy efficient and comfortable for the occupier.
JOHN REID, DEVELOPMENT DIRECTOR, MERIDIAN WATER
With a unique mix of public and private sector development experience, John has managed several city centre schemes, was previously Director of Grosvenor's London Estate development programme and has worked on the masterplan for the development of central Abu Dhabi.
How to Join
JOINING INSTRUCTIONS: Once you have registered for this event below, you will receive an email confirmation from Eventbrite. We recommend you click 'add to calendar'.
Reminders are also issued 2 days prior, 2 hours prior and 10 minutes before the webinar starts. Click the orange 'View now' button within the email, then click on the main event image to open a link to the webinar.
PLEASE NOTE: This webinar will be hosted on Microsoft Teams. You do not need to have a Microsoft Teams account to view this webinar, however. Simply make sure you select 'Watch on the web instead'. If you do have Teams, we find that joining via the desktop app works best - if it doesn't work automatically, click 'Launch it now' on the web page.