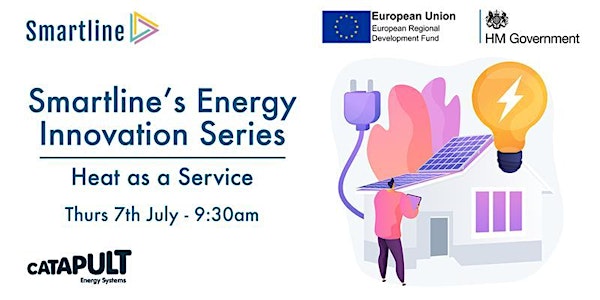 Smartline's Energy Innovation Series: 'Heat as a Service'
'Heat as a Service' could help consumers have the comfort they want at home, whilst enabling the transition to low carbon.
About this event
Smartline's Energy Innovation Series:
'Heat as a Service'
Join this workshop to understand more about it and the potential opportunities for your organisation.
On Thursday 7th July at 9:30, you're invited to join us for an online Smartline's Energy Innovation Series: Heat as a Service.
Hosted by Edmund Hunt, Design Lead at the Energy Systems Catapult.
Edmund Hunt is the Design Lead at the Energy Systems Catapult within Consumer Insight. His team of user experience and user research specialists help research and develop new energy propositions for our low carbon energy transition. He designed the Energy System's Catapult Heat as a Service concept (Heat Plans) and established design capability within the team to create great energy experiences that people love. Before the Catapult, Edmund worked at E.ON for 10 years in product management and strategy across its consumer and local authority divisions.
This event is run by the Smartline Project and the University of Exeter, Cornwall - this event is a fantastic opportunity to discuss and learn about Heat as a Service.
During the event Edmund will talk about the Catapult's experience of Heat as a Service, and key findings from their trails, as well as a chance for you to understand what Heat as a Service propositions might 'help your organisation.
There will also be an opportunity to network in small groups with other attendees from across all sectors interested in Heat as a Service both before and after the talk.
The event will run on Zoom and is interactive – please ensure you have a working camera and microphone to take part.
If you have any questions please get in touch.
Please feel free to share with friends or colleagues who think may be interested. This event is suitable for all levels of staff.
Enterprise support eligibility
As an open event, any enterprise or person is welcome to attend, however for those that are eligible, Smartline will claim an enterprise supported by the ERDF Smartline Project. Smartline will contact you directly by email to discuss.