About this Event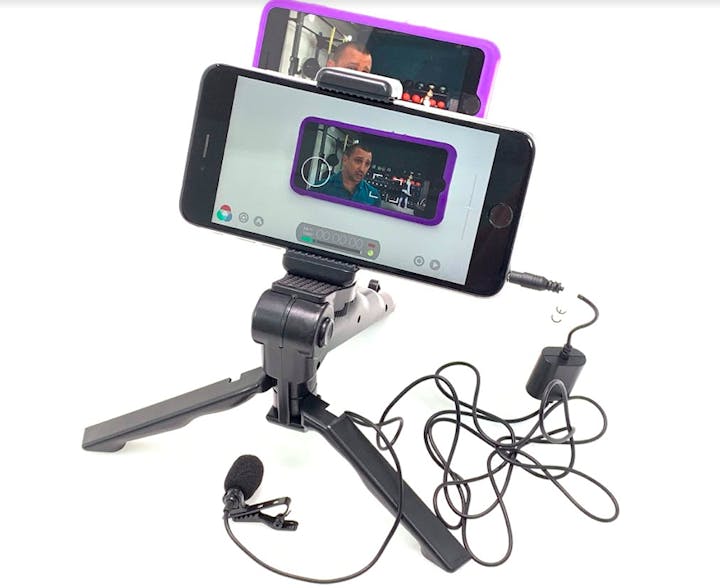 Making Smartphone Videos for Social Media
Workshop Overview
This is a practical course where participants get hands on with the equipment and video apps. By the end of the session participants will have planned, shot and edited a short video for online combining interviews, b-roll, music, and titles for a professional finish.
Read on, or find out more in this video from workshop leader Emma Baker.
We provide each of you with an iPhone 6 Plus for the day, loaded with the relevant apps, microphones, and phone mounts. This allows you to put the theory directly into practice. If you would prefer, then of course you can bring your own phone and use that and we can adapt the training and the various apps if you would prefer to use the Android operating system.
By the end of this session you will be able to:
Effectively plan video content.
Capture professional quality visuals and audio
Edit footage on their phone to produce a final video
Upload and promote video content
The Power of Online Video
We'll start by looking at why you should invest time in creating video content and what kind of videos have the highest impact with audiences. We'll take you through what the latest research says and how this should inform your planning and strategy.
Planning your video
Good planning is vital to creating focused content that cuts through the online cutter. We'll help you identify your purpose and audience to sharpen your message. You'll learn simple messaging and storytelling structures that will help keep your videos short, focussed, and engaging. Finally, before you start to film it's important to construct a simple storyboard or shot list to ensure you capture all the footage you need.
Shooting your video
We'll run through the latest available equipment and apps for shooting video and teach you how to get the most out of your phone. You'll learn how to control the focus, exposure, white balance and audio levels for a professional finish. We'll look at how to frame and light and interviews and how to elicit authentic responses while still keeping on message. You'll also learn how to shoot B-roll sequences that help tell your story.
The only way you learn a skill like this is by doing it and you'll have the chance to plan and shoot your own short video. The goal is to structure a clear message, include at least one interview, and capture a variety of B-roll shots that enhance the story.
Editing your video
We'll advise you on the best smartphone editing apps available for Apple and Android and show you how to use them. You'll learn the most efficient editing workflow and practice the skill by editing the footage you've just shot into a final video.
TRAINER PROFILE
Emma Baker is a corporate video producer and trainer with Comsteria Limited. She is passionate about the fast changing smartphone technology which is making in-house video production increasingly accessible to businesses. She regularly trains PR professionals and business owners in how to shoot professional quality video on their smartphones.
She also produces online video for clients working with organisations such as SGN, Glasgow Airport, Hewlett Packard, and the Scottish Police Authority as well as a wide range of small to medium sized businesses.
Emma works closely with PR professionals and business owners to plan the right video strategy for their organisation and to produce content that conveys their message with impact. She is experienced in creating a wide variety of videos from live streaming of events, backstage videos, staff training videos, brand promotions, product demos, and client stories.
TESTIMONIALS
Loved the session today. Emma was fabulous and I'm going away full of new knowledge of photography.
Eve Turner, Corrine Smith Design
This lady can work magic with a camera for sure! I'd highly recommend getting in touch if you are looking to invest in video.
Aimee Doole - Marketing Manager, Booth Welsh Engineering
If you require some video creation for your website or social media I would highly recommend Emma. She's very confident and professional, by taking time to understand your business she gets the key information captured and edited the videos superbly. This made excellent content for us and the feedback has been really positive.
Stephen McLean - Director, Optimal Physio
FURTHER INFORMATION
If you need more information you can call us on 0808 133 1353. We'll provide tea, coffee and biscuits throughout the day and you can either bring your own lunch or buy something from one of the many supermarkets, cafès and restaurants on our doorstep. We'll take a 30/45 minute break for lunch.
The training takes place at Comsteria Limited's office at 11 Bothwell Street, Glasgow, that's inside Central Chambers. Our premises are a 2 minute walk from Glasgow Central Station. On-street parking in the immediate area is extremely limited, (and expensive!) however there's a multi-storey 'Q' car park on Waterloo Street which is about a 6 minute walk away.
We run this event every 4 weeks and cap the numbers each time at a maximum of 4 participants. This way you can be sure you'll receive an element of personal feedback and 1-1 coaching. If several of you from the one business wish to attend then, subject to availability you can of course purchase multiple tickets but you may wish to consider having us run the course 'in-house' at your premises. Get in touch and we can discuss.