CIGRE UK | SME Innovation Collaboration : A path to a carbon free world
About this Event
Collaboration: an overused buzz word or the key to revolution in today's rapidly evolving world of power systems? What does collaboration really look like when it comes to innovating in this sector? And how can SMEs with nascent ideas make an impact through allying with established companies?
CIGRE UK in conjunction with the GLA-led Better Futures programme, is hosting two sessions to bring together SMEs and established players in the UK Energy Supply industry. Each session provides an opportunity to examine what collaboration really looks like when it comes to innovation in the UK Energy Supply industry. They hope to identify the biggest challenges and begin to champion innovation within the SME community as a crucial part of the Energy Transition.
This first event sees two innovative young companies - Hydrologiq and Powervault in discussion with a panel of representatives from Siemens, EPEX, Reactive Technologies and Elimpus. Registration for the second event which takes place on the 20th January 2021 will see the same panel in discussion with Oak Network and Solveteq. To register for this secend event please click here.
Agenda
15:00 – 15:05: Introduction, Dr Biljana Stojkovska
15:05 - 15:21: SME and Panel introduction: Martin Ansell (Moderator)
15:21 – 15:26: Hydrologiq – outline of Topic (Regulation) & Questions (How an SME and Corporate can work together to enable the right policies to drive innovation adoption to meet Net Zero)
15:26 – 15:36: Panel discussion
15:36 – 15:51: Powervault – outline of Topic (Working together in changing environment) & Question (How an SME can work with a Corporate to leverage change)
15:41 – 15:51: Panel discussion
15:51 – 16:00: Summary and closing remarks
* In a bid to make London Europe's leading Greentech hub, Better Futures is an ERDF part-funded project to support the growth and success of low-carbon and cleantech businesses across London. A partnership led by the GLA, it includes Imperial College, Sustainable Ventures, Old Oak Park Royal Development Corporation and West London Business.
Panel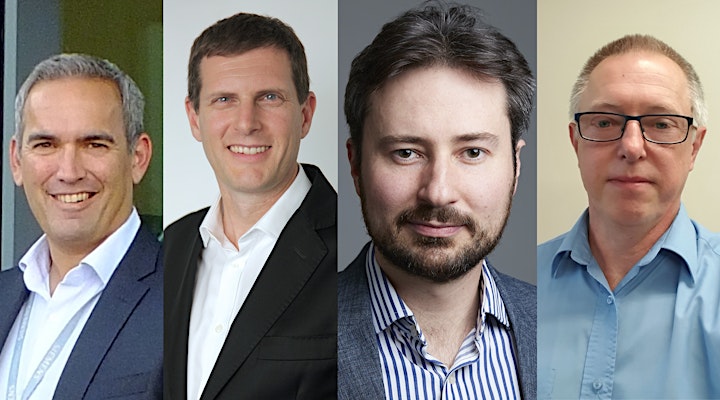 Mark Tiernan
Bio: GB&I Head of Substations and Grid Stability for Siemens Energy – Started as a Student Apprentice, with 30 years' experience in the High Voltage electricity transmission and distribution industry. Chartered Engineer and Durham MBA Alumni. Technical background in control and Protection. Managed complex EPC projects across the world (UK, Malaysia, Saudi Arabia, Turkey, and Iran) from traditional substations, Grid stability, Offshore windfarms and HVDC interconnectors. Part of Siemens Energy GB&I Energy Transition Senior management team focussing on Clean technologies, Network stability, and Energy Storage.
Why is innovation collaboration important: As part of the critical Energy Transition, it requires agility and collaboration within the marketplace across the academic/corporate/SME sectors in experimentation and delivery to accelerate our journey to Net Zero and beyond. None of us can do this alone!
Jonas Tornquist
Bio: Jonas has a unique combination of 25 years' experience in strategy design, operational implementation, senior commercial and regulatory roles. He has deep expertise in both financial and energy markets and their intersections. He is currently COO of EPEX Spot – the leading exchange which runs auction and continuous 24/7 power trading markets throughout Europe. Jonas leads the Exchange's operations, IT and shaping the commercial services provided to its customers. As a Swedish and New Zealand citizen with a close affinity to Australia and the UK, Jonas has lived and worked in several countries and has a truly global mindset.
Why is innovation collaboration important: We have no choice but to take a lead and innovate together if we are going to overcome the huge challenges that face our world.
Chris Kimmet
Bio: Chris Kimmett is Director Power Grids at Reactive Technologies and leads the energy technology company's solutions for Grid operators. Aside from his role with CIGRE he is also Chairman of Flexassure UK (which sets common standards for demand side response aggregators). Chris is passionate about bringing new technology to market that can help digitalise and decarbonise the energy industry globally. Prior to joining Reactive, Chris worked for Open Energi, enabling the 'long tail' of demand side assets and behind the meter storage to participate in National Grid's Frequency Response markets and before that worked in Accenture's sustainability practice, transforming blue chip organisations' approach to Energy, Carbon, Water, Waste and Health & Safety.
Why is innovation collaboration important: Innovation coming from a single great mind is a myth – real innovation comes from diversity of thought, recombination of best practices and efficient allocation of capital to ideas and execution.
Phil Moore
Bio: Phil Moore trained with GEC ALSTOM, Stafford and worked as a Relay Design Engineer before moving into academia. Over a period of 20 years he worked at several Universities, specialising in Electrical Power Engineering. In 2007, whilst Professor of Electrical Plant and Diagnostics at Strathclyde University, he co-founded Elimpus which is a condition monitoring solutions provider to the electricity supply industry. He has been the full-time Technical Director of Elimpus since 2009.
Why is innovation collaboration important: Relatively few innovations come about by groups working in isolation, rather, successful innovations require team work from the entire supply chain from manufacturers through to solution providers through to the end user.
Moderator
Martin Ansell
Bio: Martin is a seasoned international executive who has worked in both the Telco and Energy industries for over 40 years. His experience spans from start-ups to Fortune 500 companies where he has guided the successful delivery of large value/complex projects. At ALSTOM T&D, Martin was responsible for the business development of its T&D Automation activity and then went on to lead its UK activities in Power Electronics, HV Switchgear and Substation Projects. In GE Energy, he served as a member of its global T&D executive driving growth in the EMEA region and then, as a member of GE's Smart Grid leadership team, was responsible for the strategy and growth of its Asset Management & Optimisation software business. Martin is today a founding partner of LIG Consultancy Services LLP and holds a portfolio of Non-Executive Directorships and advisory positions. Martin has a bachelor's degree in electrical engineering, has professional membership of the IET, IEEE and is a Distinguished Member of CIGRE.
Biljana Stojkovska
Bio: National Grid ESO Innovation Technical Manager Dr. Biljana Stojkovska is an esteemed figure in the energy revolution with one of the most transformational projects that the energy industry has seen. The project is called Power Potential and Dr. Stojkovska is leading a multidisciplinary team that is pioneering a whole system approach to connect additional renewable energy in a new regional reactive power market trial. This trial is expected to improve interaction between National Grid's Electricity System Operator, Regional Electricity Distributors and Renewable Energy Generators connected to the distribution system to create a cost- effective new revenue stream for embedded generators and give greater robustness to the power system.
She is also Technical Manager for Offshore Coordination leading a team who is working on expansion of the offshore network. The overall aim is to achieve the most economic and efficient network solution on offshore coordination with emphasis on reducing the environmental impact on the onshore landing points to meet government green future objectives for offshore wind in 2030 and 2050.
Biljana is a Charted engineer, Fellow of the IET and Founder and Chair of the CIGRE UK Women's Network. She is a skilled communicator, experienced in presenting at international conferences, collaborating across multiple sectors and government regulatory bodies.
SMEs

Hydrogen powered off-grid electricity to festivals/event, film production and construction sectors. Replacing diesel generators with a modular hydrogen fuel cell powered system. They aim to provide the generators as a service.
Website: https://hydrologiq.com/

Powervault designs and manufactures smart energy storage systems for the home, which store free solar energy and cheap electricity from the grid to reduce household energy bills and increase energy efficiency. It also focuses on changing consumers' energy consumption behaviours by encouraging energy efficiency and the adoption of renewable energy technologies.
Website: https://www.powervault.co.uk/

Solveteq offers a cheap and safe technology for recycling lead-acid batteries (LABs), whilst significantly reducing the environmental impact of lead. Solveteq's technology will enable recycling companies to significantly reduce their expenditure on energy and environmental control. The green process has the potential to transform the battery recycling industry and establish next-generation practices.
Link to info video: https://www.youtube.com/watch?v=y9w9ioEpVgw

Oak Network provides independent access to energy data to help energy users understand and improve their consumptions. Their approach enables business to optimise their energy consumption by 15% and more whilst reducing their carbon footprint drastically
Website: https://oakdata.net/