SMiLE London Sept 2014: Social Media Inside the Large Enterprise

Thursday, 25 September 2014 from 09:00 to 17:00 (BST)
Event Details
Social Media in the Large Enterprise is Europe's leading conference for internal communications professionals who have - or are setting up - an employee social network for their organisaiton.
We interview hundreds of companies to bring you the very best case studies at SMiLE London.  Here is the line-up including household names like Barclays and British Gas, overseas pioneers like Société Générale and Alcatel Lucet, advertiser Dentsu Aegis, plus Grant Thornton and the Rugby Football Union.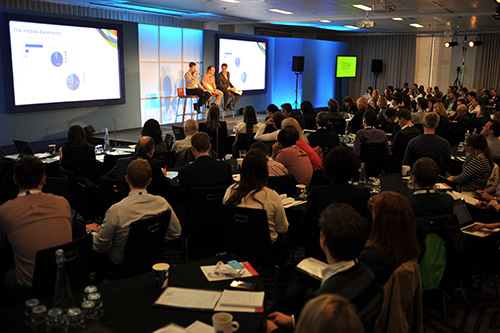 Dave Shepherd has been working for Barclays for 25 years and has never seen anything like it. The Head of Frontline Help at the third largest UK bank is talking about the change that followed the introduction of their mobile intranet 18 months ago. Now the rest of the communications community is catching up with this revolution.  The Employee App has given everyone in the Bank a voice for the first time, and underpins Barclays' Digital Eagles campaign that is giving them a real advantage in the competitive arena of digital banking.
---
The name Jam may suggest a heavy metal group improvising onstage, but, at Grant Thornton UK LLP, it's where over 4,000 partners and employees are making an altogether different type of music. "We asked our colleagues to suggest the name for the platform; Jam resonated with the ideas of stickiness and people working together," explains Paul Thomas, Online Communications lead at the UK professional services firm. Officially rolled out to the entire organisation in March, today Jam, which is based on Jive, has an adoption rate of 84%. Success of the new ESN is the result of much hard work. It all started with a soft launch to a smaller group of people to help build advocacy around the business benefits of the platform, before launching more widely to the whole firm.
---
Marc Jadoul is
the Strategic Marketing Director at Alcatel-Lucent in Belgium and one of the global advocates of their internal platform Engage. He talks about how they built a platform to last:
"If we had aligned our platform to the organisational structure of Alcatel-Lucent it would be obsolete by now. We wanted to break the silos so there is absolutely no hierarchy in the whole system. It really is the virtual water-cooler."
Learn how to put human resources before IT despite the rapid changes in communications technology.
---
Banking is undergoing a major transformation led by digital technology. Customers are increasingly using mobile devices like smart phones and tablets rather than brick-and-mortar bank branches to access their accounts and buy financial products.
In order to embrace these changes however, banks need to look inside first. As Jean-Paul Chapon, Head of Digital Communication and e-Reputation at Société Générale puts it, "we cannot succeed externally and benefit from the many opportunities currently available, if we don't change and digitalise our internal ways of working".
---
Claire Goring is Global Head of Internal Communications at Dentsu Aegis Network, the international media and digital marketing communications group. Claire has led and developed internal communication strategies for large organisations undergoing extensive change.  Having previously worked for a number of global organisations across law, technology, engineering and telecoms, Claire has also worked for Virgin Atlantic for a number of years leading communications on a number of high profile campaigns including the hugely successful Heathrow Terminal 3 build programme, Upper Class product and Airbus new aircraft launches.
---
Laura Jennings is Senior Internal Communications Manager at Dentsu Aegis Network, where she manages their global channel framework and provides communication support for their global Technology function. Laura has worked across a number of medium to large size organisations including Diageo, Credit Suisse and ANZ Banking Group providing strategic advice and support in internal communications, change management and channel development. Laura has experience in launching and managing a number of social media channels within global organisations and is passionate about collaboration and social media in the workplace.
---
Which Platform?
We invite Olivier Thierry, Chief Marketing Officer of Zimbra along with Alpesh Doshi from Fintricity and a representative from Brightstarr onstage to talk about how platform providers and IT companies can support you as you build your own employee social network.
As Yammer becomes more absorbed into Microsoft and their network of Customer Successs Managers move towards pushing 0ffice 365, we ask where can you go to get advice and technical support to create a platform that fits your organisations needs and culture.
 Internal Communicators are gaining a greater say in the technology questions that drive social business, so this is your chance to quiz the IT providers.
---
Liam Kilminster is the business lead for Social Collaboration for Centrica and British Gas. Liam has worked in online communications and intranets for over 10 years and currently implementing the Yammer strategy across British Gas. "This includes gathering user requirements from a wide range of roles including executives, customer service agents and field-based engineers, providing solutions to meet theirs and the business needs." He has successfully launched Yammer across British Gas with excellent adoption and usage rates and is currently planning the Yammer merger with British Gas' parent company, Centrica plc. "With the launch of our social intranet due later in the year, utilising SharePoint 2013, now is all about readying our business for the social revolution!"
---
 Table Sessions
There is also the choice of 30 separate table sessions led by our expert moderators covering all aspects of social media in the large enterprise. Some of our experts are well-known for running their own networks; others are subject experts in Engagement, Career Development, Community building, Collaboration and Adoption. 
All the App developers will be there so you can discuss how to use these micro-applications to transform parts of your communications. We will also cover SharePoint 2013 and all the Enterprise Social Networks.
---
Tickets are free if you subscribe to SMiLE. Subscriptions start at £395 +vat and include monthly toolkits, webinars and training. Call +44 (0)207 487 8306 for more details.
Non-subscribers can still attend by applying for a ticket at £345 +vat and booking fee of £6.50. Tickets are non-refundable but can be credited towards future simply events.
Do you have questions about SMiLE London 2014: Social Media Inside the Large Enterprise? Contact simply-communicate
 Sponsored by: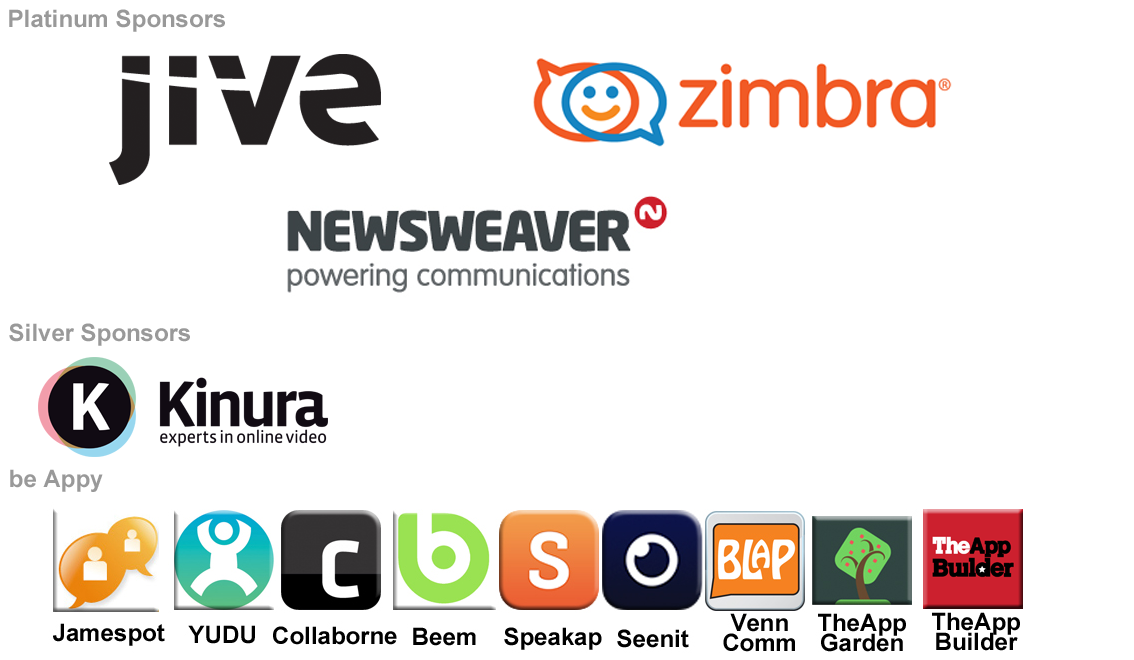 And visit be Appy - our new App Fair to find out which Apps communicators are using to enhance their internal communications.
Tickets are non-refundable but can be credited towards future simply events.
Attendee List
Sort by:
Date
When & Where

etcvenues St Paul's 200 Aldersgate
200 Aldersgate Street
EC1A 4HD London
United Kingdom


Thursday, 25 September 2014 from 09:00 to 17:00 (BST)
Add to my calendar
Organiser
The community for internal communication professionals.