Description
Smithfield Market Extra Early Morning Tour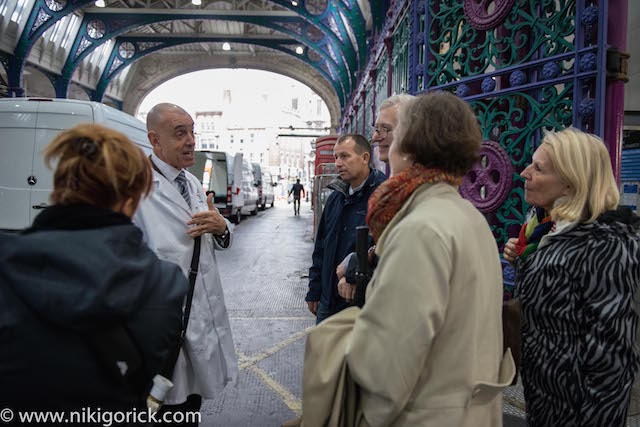 City of London Guide, Peter Twist, in Grand Avenue Smithfield. (c) Niki Gorick, 2014 - see here for an account of her own visit.
The extra early tour is a great opportunity to experience the hustle and bustle of the City of London's last surviving food market first hand whilst the trading is in full swing. It focuses on the workings of the famous Central Market at Smithfield but will also cover:
The fabric of the market which has evolved over a thousand years
The long and turbulent history of Smithfield
The growth of the notorious cattle market
The gaiety of Bartholomew Fair
For safety reasons people attending this walk must be at least sixteen years and each tour group is limited to twelve people.
Please note that because of the restriction on numbers your booking will only be valid when it is confirmed. This tour books up quickly.
Bookings can also be made for groups on other dates - please contact smithfield@cityoflondonguides.com for details.
You will be met at Barbican Underground Station by your guide. Please note that you must be present at 06:00 as the tour will leave on time.
Please check your travel arrangements at Transport for London's Journey Planner.