Location
Various Locations - Covent Garden - Paddington - Tech City
London
United Kingdom
Description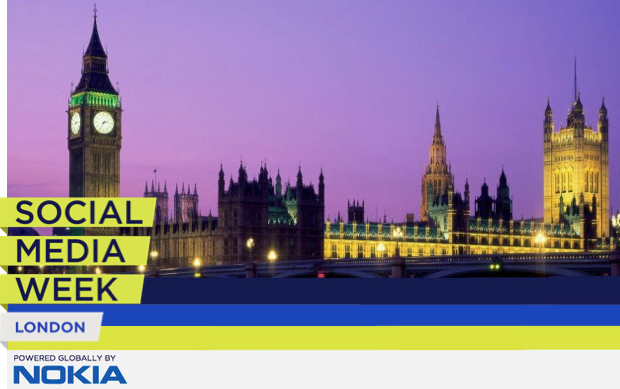 SOCIAL MEDIA WEEK LONDON 2013
SMWLDN VIP PASS
Social Media Week London 2013, powered by Nokia, is shaping up to be our biggest event yet. With 3 Official Hubs, over 55 sessions, and 70 intimate masterclasses on the schedule, it's a tremendous opportunity to develop your skills and join a global conversation on all things social media.
This year we'll be offering SMWLDN VIP Passes entitling holders to a suite of perks. First of all you'll have priority access to all events and Hubs (including the VIP only SMWLDN HQ in Covent Garden): a must if you want to avoid disappointment. In the event of a session being sold out, you'll be able to jump on the VIP only waitlist.
With the help of our VIP Pass Partners you'll also receive a load of extras, including:
- £40 Naked Wines Voucher
- £5 Hailo Cab Voucher
- £7 YPlan Voucher
- A Copy of Bloomberg's Business Week Magazine
- For Businesses: a 3-month free trial to Zip Car with £25 driving credit
- For Individuals: £20 off the standard Zip Car membership fee of £59.50
- An assortment of goodies from Virgin
- £5 Moo Voucher
More extras will be announced in the lead up.
**One SMWLDN VIP Pass will gain ONE person access to the Offical Hubs. Sharing of Passes is not permited.**
***To attend any of the Masterclasses or Sessions in the SMWLDN HQ you MUST purchase a SMWLDN VIP Pass. Please reserve your spot through the Social Media Week London schedule.***

Social Media Week London 2013: Brought to you by Chinwag