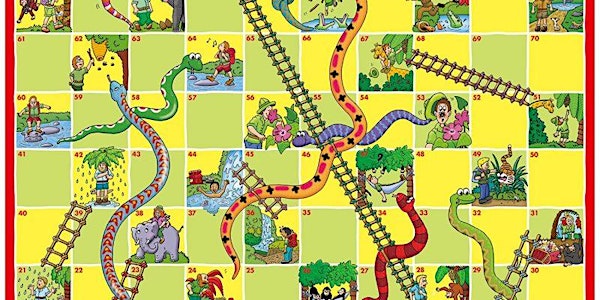 Snakes and ladders - the board game of life. Discovering equanimity.
Our June 2022 event (Zoom) enables you to explore chance, fate + planning. Discover how to achieve equanimity. Gain tips, support + network!
About this event
Our PWHub June 2022 event theme is "Snakes and ladders - the board game of life."
Event agenda.
Welcome/about PWHub + this event.
Introductions.
Warm up exercise.
Fate, chance, planning and happenstance.
Bad ladders and good snakes.
Discovering equanimity.
Key insights.
Action planning.
Requests - what would be useful for you at this time?
PWHub 2022 event dates - save the dates.
Our events are structured yet informal, with practical exercises and action planning, time to share and network with new senior professionals.
Our PWHub network is small and friendly, with guests, all senior employed women, from different professions and sectors.
If it is your first time visiting, we can promise that you will feel very welcome, comfortable and relaxed.
As an on-line event we welcome guests from other parts of the UK/world!
What do our guests think of our events?
"They are the best and most authentic networking events I have ever been to ."
"The event was beautifully structured and crafted."
"The meeting was informal, useful and fun."
"A thoroughly enjoyable evening."
"Opened my mind and made me slow down and think."
"Time for personal reflection."
Zoom link for this event
The Zoom link for this event will be e mailed to our guests before the event.
2022 PWHub event dates and themes - save the dates!
SEPT 2022
6-7.30pm Tuesday 27 September Event theme: "Block busting. Coaching yourself to create an inner gear shift." Venue: Zoom.
DEC 2022
6-7.30pm. Wednesday 7 December Event theme: "Blimey, here we go again. 2023 here I come!" Venue: Zoom.
Refund policy
No refunds.
New guests
If you have any contacts in your network who would like to attend this or future PWHub events, please contact Rachel Brushfield or Julia Iball.