Description
Hello Leeds! :)
With 2500+ members across London, Manchester, Amsterdam and New York I'm super excited to be debuting the 'Art of Smartphone Filmmaking' meetup in on October 5th in my old university city...LEEDS! :)
Only 30 seats available so pls reserve your seat now to avoid chronic FOMO :)
Sounds interesting. So whats this meetup all about?
This meetup group is all about using the smartphone in your piocket to produce high quality soccial media ready video stories at virtually zero cost that will help you to reach and impact your audience.
Yes yes Imran but what have you got planned for us?!
Well I've been thinking about this and in all my wisdom have decided to combine two of the most valuable things I could ever teach you at the moment; Snapchat + Smartphone Video Storytelling = Snapchat 4 Business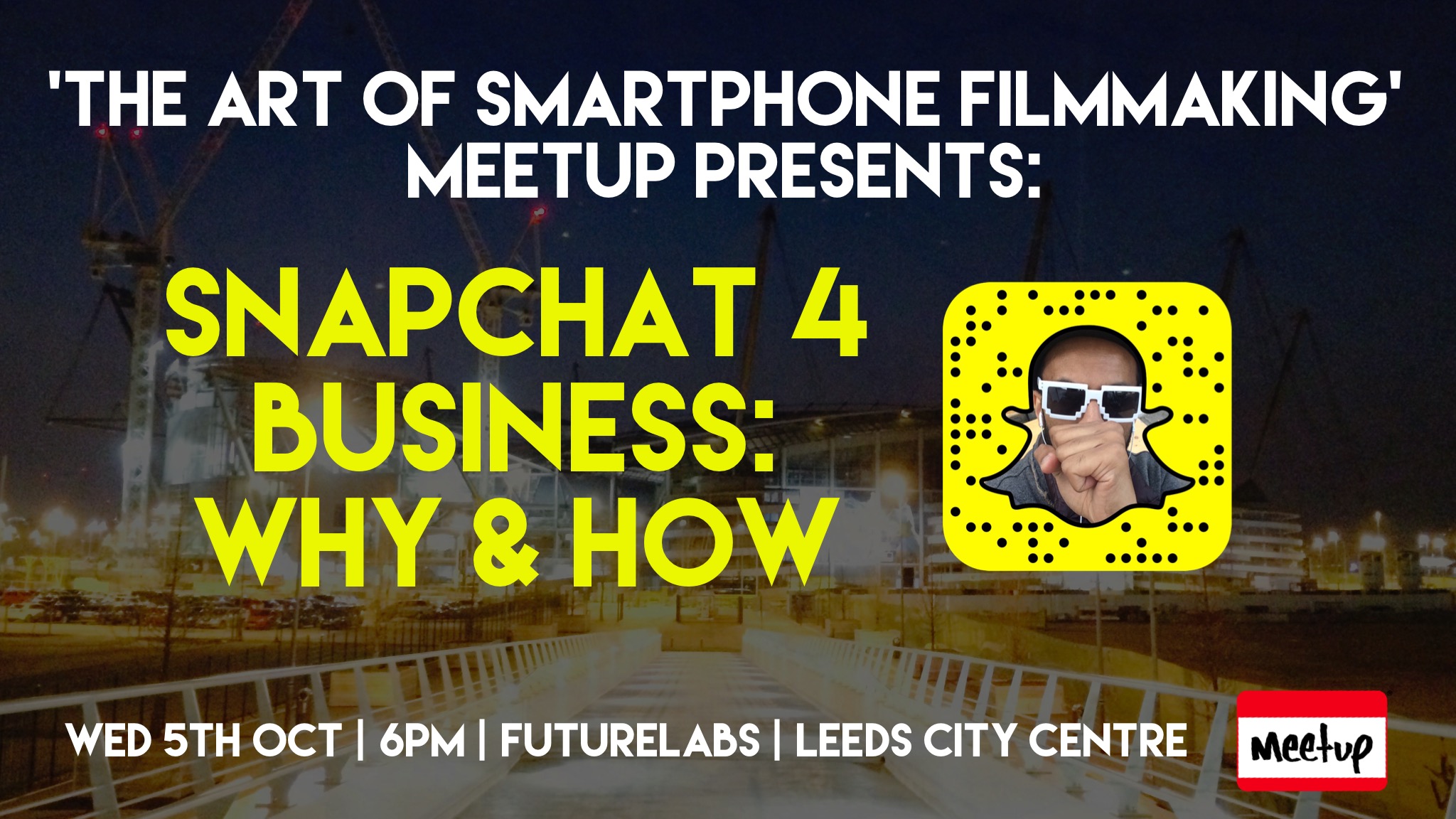 Snapchat 4 Business?
Snapchat is the ultimate video storytelling platform and one that is growing faster than any other social platform right now! Its a platform that is full creative opportunities to connect with people and build brands in ways other platforms cannot match.
But '4 Business'? Seriously?
Snapchat is reaching critical mass in terms of users and is prime opportunity for businesses and brands to build trust with its audience through authentic video stories.
As the platform does not work like any other social media platform many find it difficult to know how best to utilise it. Thats what this meetup aims to help you with and more.
What does video storytelling mean?
Do I need previous experience of using Snapchat?
If you have no experience or lots of experience I will make sure you learn more during this meetup than sitting at home reading articles :)
Ok sounds great Imran...so tell me who should attend?
If you are;
a tech startup

a creative agency

in public relations

a multinational brand

a local business

a charity

an independent

a blogger

a freelancer or

an entrepreneur
then this is a session you should not miss. If you have a story to tell and want to use video then this meetup session is for you.
Ok how much does it cost to attend?
Nothing. Its free...BUT do not mistake that for cheap! Its a highly valuable session and one that should help you to get closer to achieving your goals. (see previous 5 star meetup reviews :)
What do I need to take part?
A smartphone with the Snapchat app. Thats it.
Ok this sounds really exciting! What next?
If you are free on Wed 5th Oct at 6pm then just book your ticket (max 2 per order) and I'll see you soon! We have 30 seats available for this so kindly only book a ticket if you are intending on coming. Just trying to be fair to everyone :).
If you have any questions in the meantime pls let me know.
Imran Azam
Founder | thisisreel.co
Telling your stories through creative social video
Connect with me here:
linkedin | twitter | youtube | blab.im | subscribe to newsletter
Add me on Snapchat for tips on smartphone filmmaking:
via this URL: snapchat.com/add/moiazam
via username: @moiazam
Join me at 'The Art of Smartphone Filmmaking' Meetups: