So remember the liquid ground | Live performances
About this event
So remember the liquid ground features two live performances :
Mermainia: Tales of Tentacularity (the tentacles of COVID Capitalism) a work in progress…(2020) by multidisciplinary artist Zoë Marden and Undulation (2020) by performance artist Anna Nazo. The artists will take us through an immersive and intimate journey to explore our relationship with non-human agents including technologies and mythical creatures.
Zoë Marden, Mermainia: Tales of Tentacularity (the tentacles of COVID Capitalism) a work in progress…
Live Performance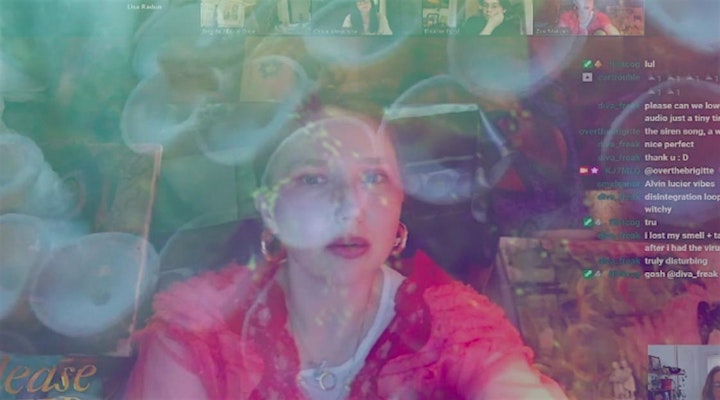 Mermainia: Tales of Tentacularity (the tentacles of COVID Capitalism) a work in progress… is a live performance and video on multiple platforms layered with pre-recorded fragments.
Zoë's intimate performances play with the voice, activating soundscapes of desire and vulnerability investigating the mythologies of witches and mermaids and their resonance within contemporary culture.
The mermaid is etched into our memories through Disney's The Little Mermaid, where Ariel and Ursula encapsulate extremities of gendered identities, in which Ursula the sea witch is the embodiment of Divine, the Queen of all drag queens. A queer Icon and feminist anti-hero in animated form, Ursula's tentacles take up space, they push at the boundaries of gender and sexuality.
Her tentacles become a metaphor for Donna Haraway's understanding of tentacular thinking and the importance of an intersectional perspective. In her book Staying with the Trouble (2016), tentacularity is a way of articulating and encouraging biological and political symbiosis in the current COVID crisis. Ursula's tentacles expand and contract inviting us to embrace other ways of being in the world.
Anna Nazo - Undulation
Live performance + Q&A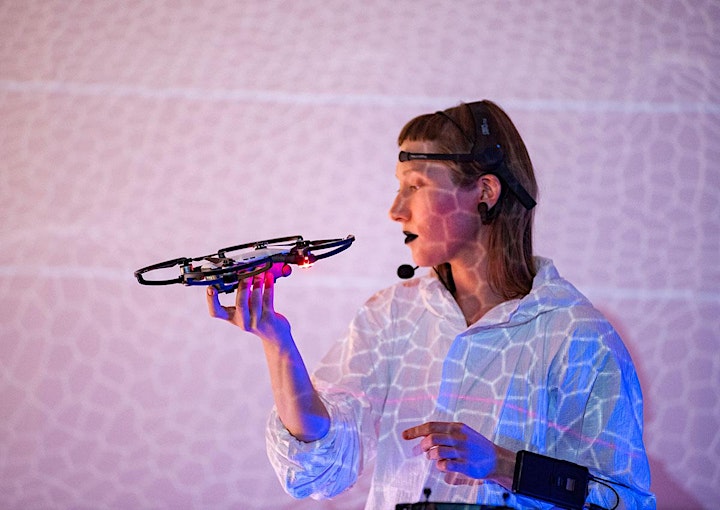 Anna Nazo, Devia, 2019, performance for ArtFutura 2019 Festival, Iklectik Art Lab, London; photograph by Pau Ros
Undulation is a live digital-analogue AV performance viewable on multiple platforms. The work includes spoken word poetry co-written with artificial intelligence (AI), sound and imagery that are computer generated live (CGI) from artist's brainwave data (EEG) and drone performance. Undulation reflects on themes of otherness, sensuousness and our relationship with the digital in an age of isolation. Through the notion of virtual flux, the work looks at how material and the sensuous shapeshift and become the flow of digital matter, which enables sensuous encounters of multi-reality and ecology of multiplicity of selves.
The work contributes to a discourse around intelligence diversity and ethics of the technological. It looks at artificial forms of intelligence and liveness in relation to nonconscious cognition, quantum reality and the sensuous beyond the human. It proposes a radically different way of being in the world through symbiotic and sympoietic, to use a term coined by Donna Haraway, relationships with technology.
Schedule
5:00PM - 5:30PM
Zoë Marden, Mermainia: Tales of Tentacularity (the tentacles of COVID Capitalism) a work in progress…
6:00PM - 7:00PM
Anna Nazo, Undulation + Q&A
Organiser of So remember the liquid ground | Live performances
So remember the liquid ground is conceived as a programme of meditative and sensorial experiences crossing over the digital, physical and spiritual realms. The immersive programme features newly commissioned live sound streaming, moving images and performances, contributed by artists: Soundcamp collective, Myriam Lefkowitz, Zoë Marden, Eduardo Navarro, Anna Nazo, Himali Singh Soin and Linda Stupart. 
So remember the liquid ground is curated by Benjamin Darby, Yoojin Kang, Akis Kokkinos, Angelina Li, Lenette Lua, Louise Nason as part of the MA Curating Contemporary Art Programme Graduate Projects 2020, Royal College of Art in partnership with Gasworks.
It is also generously supported by Vauxhall One. 

For the full programme click here: