SOCIAL AGRICULTURE AND CARE FARM: WORK OPPORTUNITY, SOCIAL PARTNERSHIP AND...
Description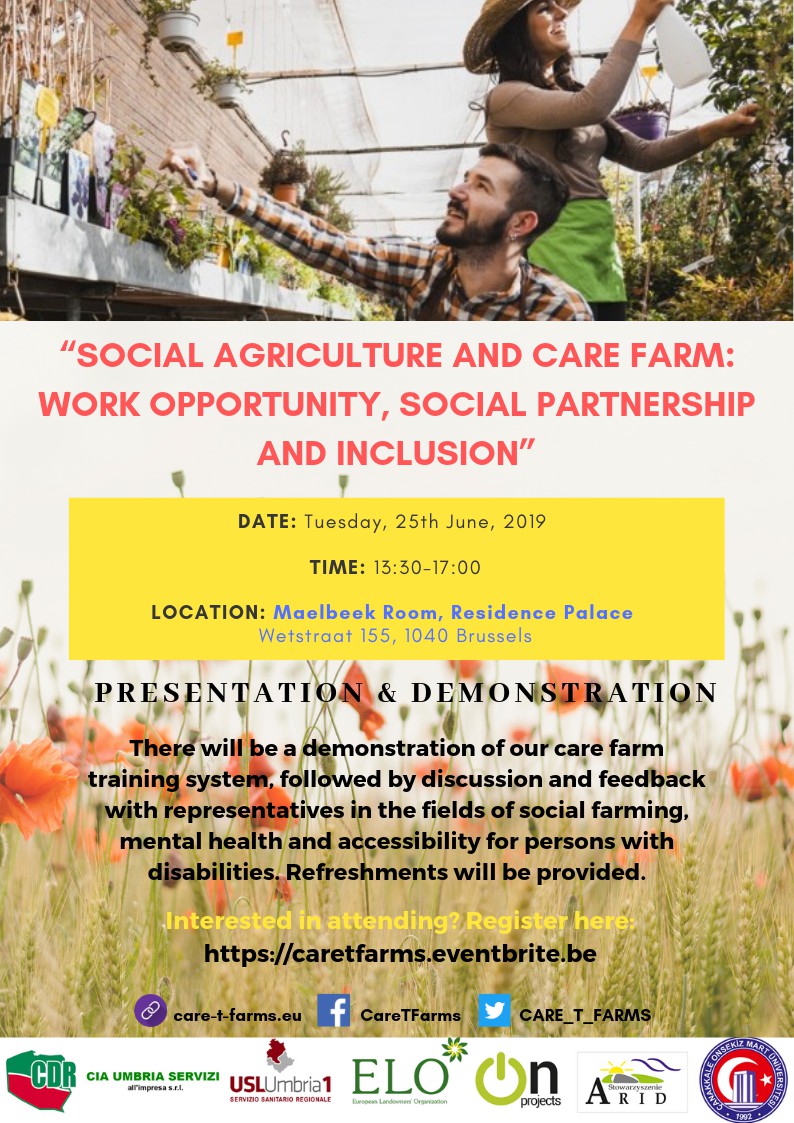 We kindly invite you to the first multiplier event in the framework of the "Care Activities Raising Employment and Training on Responsible and Mental Health Services (2017-1-PL01-KA202-038380)" (CARE-T-FARMS).
This event will take place in Brussels, Belgium, with the inclusion of our project partners from DORADZTWA Rolniczego w Brwinowie Oddział w Krakowie (Agricultural Advisory Center in Brwinów Branch Office in Cracow) - Poland, Italian Confederazione Agricoltori (CIA) Umbria Servizi all Impresa srl . - Italy, Azienda Unite Sanitaria Locale Umbria 1 - Italy, Stowarzyszenie ARID - Poland, Canakkale Onsekiz Mart University (COMU) - Turkey and On Projects Consulting SL - Spain
The event will be held in English, but our training materials will be available in several languages including French, Italian, Polish, Spanish and Turkish.

Frequently Asked Questions
Where can I find more information about the CARE-T-FARMS project?

More information about the CARE-T-FARMS project can be found on our website: http://www.care-t-farms.eu/index.php/en/
How can I contact the organizer if I have any questions?
Please send an email to projects@elo.org for any further questions you might have about the event.