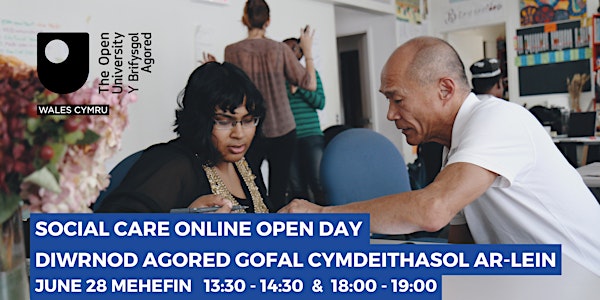 Social Care online open day Diwrnod agored Gofal Cymdeithasol ar-lein
Find out how you can begin your journey to a career in Social Care when you study with The Open University in Wales.
About this event
Discover flexible study routes into Social Care. Join our online open day on 28 June and discover what's possible when you study with The OU in Wales, experts in part-time distance learning.
During the open day, you will find out more about the introductory module, Introducing health and social care (K102). This module provides an authoritative overview of health and social care, with real-life case studies taking you deep into the experience of receiving care and working in care services. Whether you're involved in care work (paid or unpaid), use services yourself, or simply have a general interest, this module will build knowledge and understanding, develop skills, and prepare you for further study.
Hear from our course experts and students as they share their experiences. You will also find out more about how learning with the OU works as well as information on fees and funding. You'll also have the chance to ask a question to our expert Social Care panel in the live Q&A session.
Sessions available to book between 1.30pm - 2.30pm and 6pm – 7pm.
Register for free now to secure your place.
Dysgu sut y gallwch ddechrau eich taith i yrfa mewn Gofal Cymdeithasol pan fyddwch yn astudio gyda'r Brifysgol Agored yng Nghymru. Cofrestrwch i gymryd rhan yn ein diwrnod agored ar-lein am ddim ar 28 Mehefin.
Dewch i glywed am lwybrau astudio hyblyg i Ofal Cymdeithasol. Ymunwch â'n diwrnod agored ar-lein ar 28 Mehefin i weld yr hyn sy'n bosib pan fyddwch yn astudio gyda'r Brifysgol Agored yng Nghymru, yr arbenigwyr mewn dysgu o bell rhan amser.
Yn ystod y diwrnod agored, byddwch yn dysgu mwy am y modiwl rhagarweiniol, sef Cyflwyno Iechyd a Gofal Cymdeithasol (K102). Mae'r modiwl yn rhoi trosolwg awdurdodol o iechyd a gofal cymdeithasol, gydag astudiaethau achos bywyd go iawn yn mynd â chi'n ddwfn i'r profiad o gael gofal a gweithio mewn gwasanaethau gofal. Pa un a ydych yn gweithio yn y maes gofal (am dâl neu'n ddi-dâl), yn defnyddio gwasanaethau eich hun, neu gyda diddordeb cyffredinol, bydd y modiwl hwn yn datblygu gwybodaeth a dealltwriaeth, yn datblygu sgiliau ac yn eich paratoi ar gyfer astudiaeth bellach.
Cewch glywed gan ein harbenigwyr cwrs a'n myfyrwyr wrth iddynt rannu eu profiadau. Byddwch hefyd yn dysgu mwy am sut mae dysgu gyda'r Brifysgol Agored yn gweithio yn ogystal â gwybodaeth am ffioedd a chyllid. Cewch gyfle hefyd i ofyn cwestiwn i'n panel o arbenigwyr Gofal Cymdeithasol yn ein sesiwn holi ac ateb fyw.
Mae sesiynau ar gael i'w harchebu rhwng 1:30pm - 2:30pm a 6pm-7pm.
Cofrestrwch am ddim nawr i sicrhau eich lle.