Description

Book Your Place Today
This interactive half day training event runs from 12.30pm to 5.30pm. You are then warmly invited to join us for complimentary food and drinks directly after the event. Benefit from networking with your peers, and meeting the speakers, all held in the excellent Manchester Art Gallery's exhibition space between 5.30pm and 8pm.



Social Engineering Masterclass - Manchester:

Stopping Psychological Cyber Crime
Cyber criminals continually evolve to stay one step ahead of those looking to protect against cyber attacks. Social engineering has evolved quickly to be one of, if not the most effective tools in a cyber criminal's toolbox. Is your business truly prepared to protect against this ever-evolving threat?
Your Business's Number One Threat
Disclosure of data is by far the most common type of security incident reported to the ICO.

And phishing is still overwhelmingly the most common type of attack method used; both of which are intrinsically linked to Social Engineering.

Year on year the significance of social engineering continues to grow, driving more sophisticated and more successful phishing, vishing (phone), smishing (SMS) and physical attacks.

European countries are reporting this type of criminal activity, involving social engineering, on a massive scale, according to Europol.
The Impact on Your Business
Attackers increasingly use psychology and predictable human behaviour to manipulate employees, either to carry out actions or divulge information that ultimately lead to a successful attack; the result being the execution of malicious software, theft of personal data, hijacking of accounts, or processing of illegitimate payments, often leading to significant operational disruption, loss of revenue, damage to brand reputation, and the potential for large fines.
The Solution: How to Prevent Social Engineering Attacks
Delve into the mind of an attacker at this interactive half-day training event, including real world examples, leading industry insight, panel discussions, and actionable output that you can embed back at the office. Join us on 4th July 2019 to learn how you can implement effective strategies that protect your business.
What to Expect – Watch Our Highlights Video
ZeroDaylab events provide you with actionable insight and expert advice, delivered by a learning experience that is informative, interactive and highly engaging. Watch the highlights from our last Social Engineering Masterclass to find out what to expect when you attend.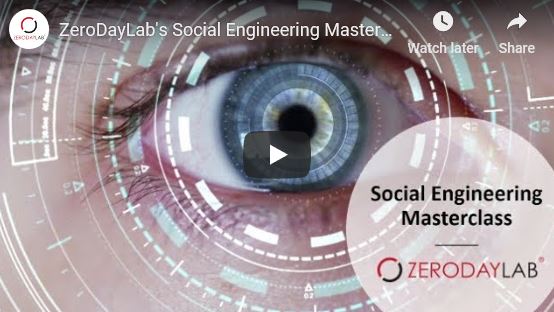 Key Themes Include:
Knowing Your Enemy – Why social engineering has become increasingly popular with attackers, why it is so successful, and how to identify risk
External Attacks in Operation – Learn how social engineers plan and carry out attacks, including examples of common approaches, existing coping strategies and why on their own, these are no longer enough
Social Engineering in Practice - Real world demonstrations showing how attackers gain information with ease, that can be used to leverage a successful attack.
Combatting The Threat - How to introduce a strategy that effectively identifies, plans, implements and manages against the threat from social engineers; including assessment strategies, resilience programs, policies and procedures, driving cultural change, education and training, and new technology.
Leading The Day: Stuart Peck, Director of Cyber Security Strategy, ZeroDayLab
Stuart will be joined on the day by guest speakers, from across industry, and with a wealth of experience in protecting against social engineering.

From a background of threat intelligence, social engineering and incident response, Stuart Peck heads up Cyber Security Strategy for ZeroDayLab. Stuart regularly delivers threat briefings to Fortune 100/FTSE 100 executives and directors throughout the world.
Stuart has won awards for his education and training programs delivered throughout Europe and USA. His key areas of expertise include: the dark and deep web, social engineering, incident response management, threat hunting, OSINT, OPSEC, and cyber-crime. He has also led investigations in many major security incidents, including recent global ransomware outbreaks. Stuart is a regular contributor on Social Engineering to many leading blogs including Security Affairs, Bleeping Computers, The State of Security and is published in many leading Journals including the ISSA.
The Venue
Manchester Art Gallery is a historical landmark, built in 1823, it is perfectly located right in the heart of the city, just a short distance from Manchester Piccadilly. This excellent venue boasts leading audio and visual technology that is second to none.
Join us for complimentary drinks, food and networking in the beautiful surroundings of the gallery, while you soak up the many masterpieces on show.