Description
What is Social Engineering?
Social engineering is defined as "Manipulating people into carrying out specific actions or divulging information that is of use to an attacker."
With our backgrounds working in Intelligence and the Police Cyber Crime Unit we have seen a sharp increase in the use of social engineering in cyber attacks around the world. Social engineering has proved to be one of the most prolific and effective means of attacking organisations of all sizes and is commonly used to deliver malicious software or to collect valuable or sensitive information from an organisation.

The GCHQ Certified Social Engineering Awareness Course equips you with the skills to identify and combat social engineering attacks. We do this by placing you in the position of the hackers to enable you to "see what the hackers see"
You will gather intelligence on fictional companies and employees before crafting your own phishing attack. This enables you to recognise the value of information on sites like Facebook, LinkedIn and Twitter and see how attackers can even use an innocent picture of you at your favourite restaurant as part of a successful cyber-attack.
The course aims to not just raise awareness of threats but also to give you the confidence to make security suggestions and discuss security concerns with colleagues.
• Improve your cyber-crime defences
• Mitigate the risk of non-compliance with the GDPR
• GCHQ certification helps you demonstrate to your clients your commitment to cyber security

Who is the course for?
The course is suitable for all members of an organisation, because all staff can be a target. This is particularly the case If you have access to valuable personal or company information or to online banking or technical systems. The course is not technical and is suitable for anyone who uses email and social media in their day to day lives.

What will I learn?
The course is built on the industry approved IISP Knowledge Framework, and covers the most effective social engineering vectors and how to defend against them:
1. Phishing The biggest attack vector worldwide. Learn how hackers gather intelligence on people; craft malicious emails and how you can spot them.
2. Vishing Learn how this telephone attack is used to gather intelligence; how to spot a malicious call and the techniques hackers will use to extract information from you.
3. Impersonation This is physical attack to gain access to your business and data. Posing as staff, cleaners or I.T auditors for example allows attackers into your office and behind your perimeter defences. Learn how they get in and how to stop them.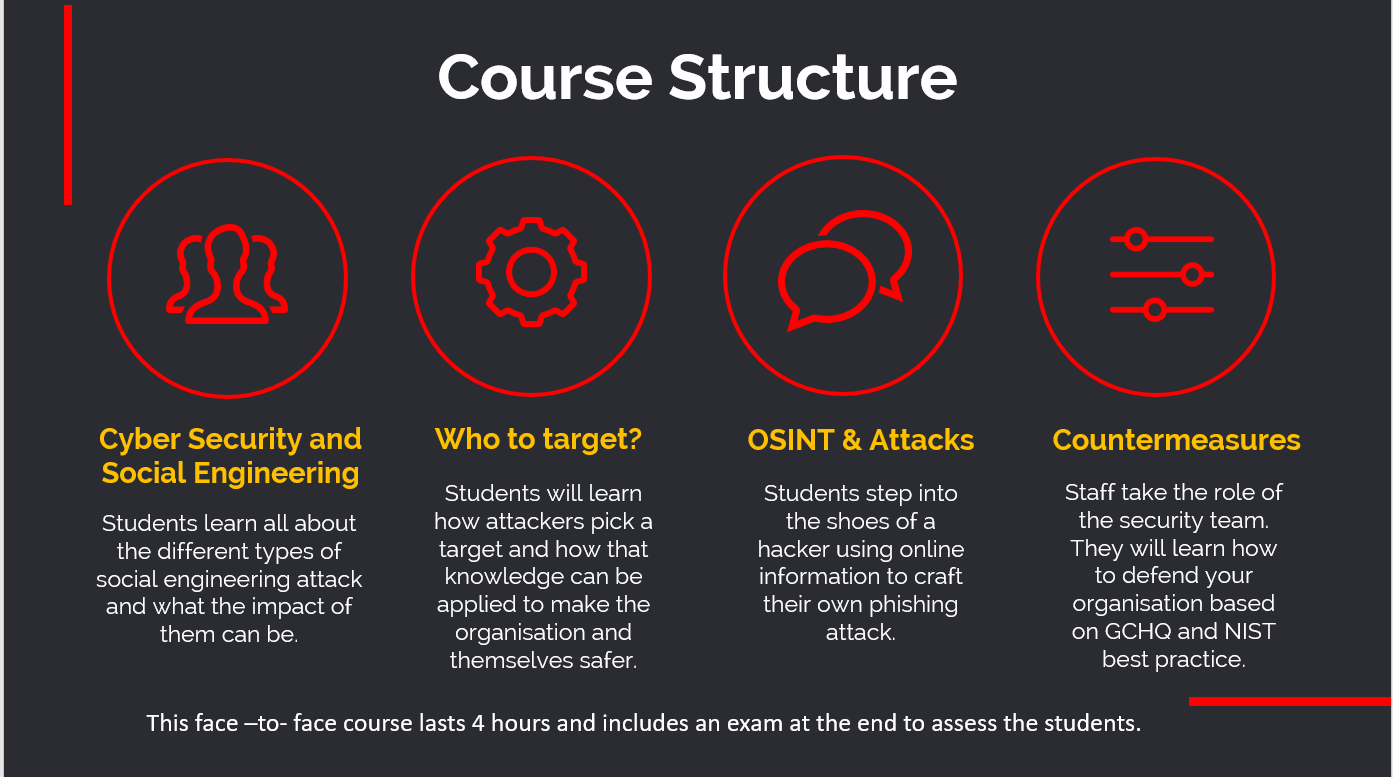 You will learn counter-measures to improve your own security and help to create a culture of security for yourself and your organisation.
For a full breakdown of the course objectives visit our website or email us for a brochure: info@red-goat.com

---

---
What will I receive?
On completion of the course and short exam you will be sent a certificate of completion for a GCHQ certified course to evidence your high level of training.

About the trainer
Lisa Forte is an expert speaker on cybercrime, intelligence and online footprints and founder of Red Goat Cyber Security. Lisa began her career working in counter-terrorism intelligence for a UK Government agency. Whilst there she researched the process of online radicalisation by terrorist groups and the lengthy and risky social engineering process undertaken by terrorist recruiters. Lisa then went on to work for one of the UK Police Cyber Crime Units. Lisa left the Cyber Crime Unit in 2017 to form Red Goat Cyber Security.
What is GCHQ Accredited Training?
GCHQ is one of three UK intelligence agencies, along with MI5 and the Secret Intelligence Service (MI6). With the abundance of cyber security training courses on offer, it can be difficult for customers to identify highly competent trainers and good quality courses. GCHQ Certified Training (GCT) addresses this issue, providing customers with a choice of rigorously assessed training providers, so they can feel confident they'll receive training that is consistent with industry best practice and delivered by high quality training companies.
Our Social Engineering Awareness Course is the first course of its type certified by GCHQ.
Testimonials from clients
I was hugely impressed by the Social Engineering Awareness Course run by Red Goat Cyber Security. It is one of the first courses I've encountered where those who attended it have continued to talk about it long afterwards; a sure sign that the key messages imparted by the trainer have stuck. The course was packed full of guidance and tips on how you can make it more difficult for cyber criminals to worm their way into your organisation and its finances, and even our most seasoned information and cyber security professionals found it thought-provoking and informative. This was such a valuable experience in raising awareness of the methods used by cyber criminals that we are looking to repeat the course for different sections of our workforce on a regular basis.
-UCAS
Recent Feedback
"These guys are awesome at what they do and the training was outstanding!"
"Amazing training. So much fun being in the shoes of the hackers. Outstanding"
About Red Goat Cyber Security
Red Goat Cyber Security provide GCHQ certified staff training helping businesses demonstrate their commitment to information security to their clients. By having your staff GCHQ trained you are not only better protected from cyber threats but you also have a GCHQ endorsed certificate to evidence your commitment to security both to your clients and under the GDPR. We also provide social engineering penetration tests and vulnerability assessments, as well as cyber-attack war-gaming.
FAQs
What's included? - The full GCHQ certified course and certificate along with refreshments and snacks.
Are there ID or minimum age requirements to enter the event? -The course is suitable for anyone 16+
What's the refund policy?- You can get a refund up to 30 days before the event.
Do I have to bring my printed ticket to the event? - Please bring your printed ticket or show us an email.
Any questions? check our website https://red-goat.com or email us: info@red-goat.com