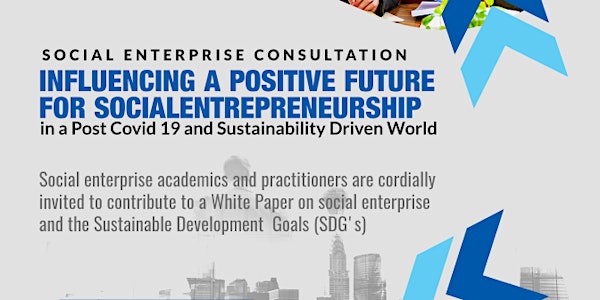 Social Enterprise Consultation 2022: Influencing a Positive Future -Online
Location
University of Greenwich
Queen Anne
University of Greenwich
Greenwich
SE 10 9LZ
United Kingdom
SE Consultation Influencing a Positive Future for Social Entrepreneurship in a Post Covid 19 and Sustainability Driven World- Now Online
About this event
Dear Attendee
Due to the heatwave emergency declared, we have shifted the SE Consultation taking place tomorrow- Tuesday the 19th of July, from 10-3:30pm, to an online mode. You can join us and contribute to this interactive consultation that will lead to a White Paper for influencing policy and action to achieve Social Enterprise and the Sustainable Development Goals at a local, national, and global level.
To join the conference - click on this link: https://teams.microsoft.com/l/meetup-join/19%3ameeting_YjdjYmVkZDktNTk0Yi00MzlkLThmZWItNjA1NWRlNTUzYWE2%40thread.v2/0?context=%7b%22Tid%22%3a%223516f40a-5ae9-4956-bbab-395162e589ce%22%2c%22Oid%22%3a%22e7d30c47-1102-4a54-b917-fe615232cd14%22%7d
Best wishes
Charles Oham and Ritika Tiwari
Host
Best wishes
Charles Oham and Ritika Tiwari
Host
We would like to invite social enterprise academics and practitioners to the future of social enterprise consultation taking place on 19 July 2022 at the University of Greenwich. Delegates can attend face to face or online via Ms Teams( link to be sent out closer to the date).
Keynote speakers include: Dr Gladius Kulonthungan-University of Wales, Professor Lars Hulgaard- Roskilde University, Dr Yaz Osho- University of Westminster, Dr Ritika Tiwari , Dr Marrian Mawkoski, and Charles Oham - University of Greenwich, Dr Allen Urgargol- Indian Institute of Management Boomy Tokan and others. There will be interactive discussions and strategic actions taken during this event.
The aim of this consultation is to contribute to an evidence-based white paper on the future of social enterprise growth and scalability for systemic social impact to meet the UN Sustainable Development Goals (SDG's).
How the current, economic, and environmental challenges can be addressed for the survival of the social enterprise movement and humanity is a critical objective of this meeting.
A strategic document will be developed from this consultation aimed at complementing existing surveys to shape future policy direction and action for social entrepreneurship by stakeholders such as governments, institutions and agents.
We look forward to meeting you on19 July at Greenwich campus.