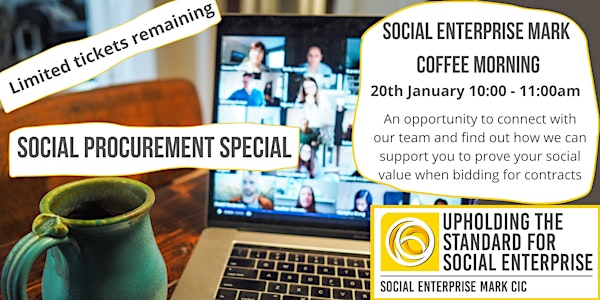 Social Enterprise Mark CIC coffee morning - social procurement special
An opportunity to connect with the Social Enterprise Mark CIC team and other social enterprises
About this event
Join us for the next in our series of virtual coffee morning sessions for the opportunity to meet our friendly team and find out how we can support you to prove your social value when bidding for contracts.
This session will explore the topic of social procurement from a number of different perspectives. We already know that public sector organisations are including social value weighting in their contracts and tenders through the Public Services (Social Value) Act 2012, and that private businesses are aligning their strategic plans and external messaging with both UN Sustainable Development Goals (SDGs) and Environmental, Social and Governance (ESGs) aims while looking at ever more effective and impactful supply chain solutions.
We will look at how social enterprises are well-placed to respond in an ever competitive marketplace – but are we contract ready, do we have our social impact outcomes evidence, and how can accreditation support your bid for contracts?
We will be joined by a panel of guest speakers, including procurement specialist David Shields of Value Match UK and Julie Hawker of digital agency Cosmic, who will share their experiences of social procurement through a facilitated discussion with plenty of opportunity for Q&A.
Our team will also be on hand to answer any questions you may have, and there is also the opportunity to meet and connect with like-minded organisations, which are also interested in proving their social enterprise credentials.
Date: Thursday 20th January
Time: 10:00am - 11:00am
Cost: The event is FREE
Social Enterprise Mark CIC is an international social enterprise accreditation body, which recognises and builds the capabilities of social enterprises as competitive, sustainable businesses, dedicated to maximising social impact.
Our world-first accreditations provide clear standards for the social enterprise sector, ensuring the business model remains ethical, credible and commercial.