Location
The Conduit
40 Conduit Street
London
W1S 2YQ
United Kingdom
Description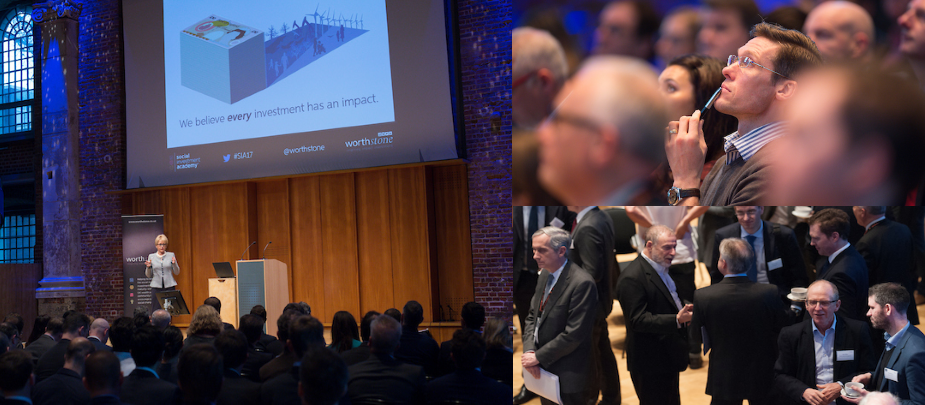 Come and join impact investing's market leaders at the stunning, new invitation-only members club - The Conduit - for this year's Social Investment Academy (SIA).
The SIA, now on its eighth event, is a unique CPD forum where you can connect with pioneering IFAs and fund managers who are bringing impact investment to the mainstream amongst private investors.
It is the largest gathering in the UK of around 150 financial planners, wealth managers, family offices and investment managers, all focused on social investment, who come together to reboot their market intelligence and refresh their contacts in this fast-moving sector.
This year the SIA will be focusing on issues you have told us you would like to explore further including:
How do the various styles of investment, from sustainable to SRI to ethical, measure up when it comes to reporting impact?

Is it possible to achieve benchmark financial returns whilst also realising impact goals?

How do we bring impact measurement to life?

Is it possible to construct risk adjusted asset allocated portfolios which also generate impact returns?

What are the on-the-ground challenges and questions an adviser faces in explaining, monitoring and reporting on impact?
We will also be adding a new dimension to the SIA as we recognise and celebrate best practice within the sector through the Social Investment Academy: Impact Awards 2018. Click here for further information on the awards.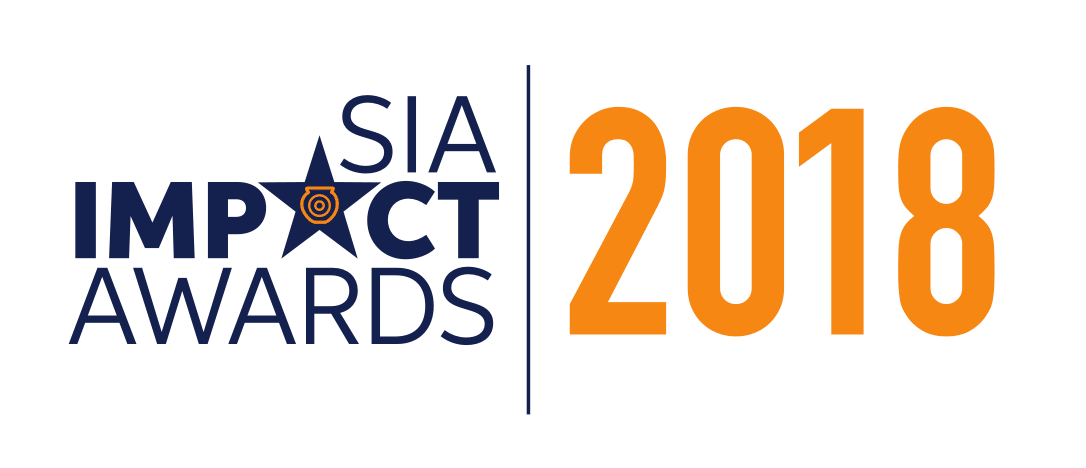 ---
AGENDA
The agenda* below provides an insight into the presentations you can expect - look out for further updates in the coming weeks as more information is announced. Please note the dress code is business casual.
*subject to change
0900-0930 - Registration inc. refreshments

0930-0940 - Welcome and introduction
Speaker: Gavin Francis | Founder and Director, Worthstone
0940-1000 - Keynote speech
Speaker: Katherine Brown | Head of Sustainable and Impact Investing Initiatives, World Economic Forum (WEF)
As Head of Sustainable & Impact Investing, Katherine mobilizes investors, governments and enterprises to create tangible pathways and explore new themes to scale these approaches. Prior to this role, she was the head of the European & Eurasian community for the Forum of Young Global Leaders as well as leading their portfolio of environment & sustainability initiatives and international education modules. Katherine joined the WEF from the private sector, having worked with Unilever in the UK and previously running her own event production consultancy in New York City. She was the founding Chairwoman for the TEDx conference at London Business School. Katherine is an alumna of the Global Leadership Fellows programme of the WEF, and holds an MBA from London Business School. Her undergraduate degree hails from Kenyon College (US).
1000-1015 - Alternative keynote
1015-1030 - Bringing 'impact' to life
Prioritising impact as a key outcome from a portfolio sounds laudable, but how do we measure whether or not goals have been and are being achieved, and, of equal importance, how do we then report outcomes to investors. In this session we will be introduced to the methodology employed by one of the early adopters of impact measurement and reporting, thereby helping us to appreciate the perspective of a fund manager when they are engaging with companies to hold them to account for their impact "claims."
Speaker: George Latham | Managing Partner Listed Equity, WHEB
1030-1040 - Adviser resources
Speaker: Gavin Francis | Founder and Director, Worthstone
1040-1110 - NEW! SIA: Impact Awards 2018
Awards will be presented along with the independent judging panel presenting their findings and highlighting exemplars of best practice. The Impact Awards celebrate best practice in the retail impact investment sector by recognising those who are leading the market in aligning retail investment strategies to achieve positive social and financial outcomes.

Awards presented by Elizabeth Corley, CBE | Chair of PM-endorsed Implementation Taskforce for Social Impact Investment
Judging panel:
Jamie Broderick | Former Head of UBS Wealth Management
Russell Facer | Managing Director, threesixty services LLP
Aine Kelly | Independent Impact Consultant, Impact Management Project
Abigail Rotheroe | Head of Impact, Project Snowball LLP
Evita Zanuso | Senior Director, Big Society Capital
1110-1140 - Mid-morning coffee
1140-1155 - Sharing adviser firm best practice
This session is presented by the Impact Award recipient for Financial Advisory Firm and focuses on sharing the best practice which they have developed in social impact products and/or integrating an impact investment client offering into their policies and procedures.
Speaker: Financial Advisory Firm recipient from Impact Awards 2018
1155-1240 - What's in a name? - Panel discussion and audience Q&A
Impact, ESG, SRI, Sustainability, Ethical: aren't these just different ways of saying the same thing? If not, how do they differ, and, more importantly, how does each approach measure up for the client who wants their wealth to generate positive social outcomes as well as financial returns? The aim of this panel session is to enable us to better evaluate the relative effectiveness of each investment style by exploring the nuances and comparing and contrasting the various approaches.
Panel members:
Henry Boucher | Deputy Chief Investment Officer, Sarasin and Partners
Ben Constable-Maxwell | Director of Corporate Finance and Stewardship, M&G Investments
Ed Heaven | Responsible Investments, Montanaro
Abigail Rotheroe | Head of Impact, Project Snowball LLP
1240-1300 - Carving out a new path - adviser case study
A Certified Financial Planner wanted to find a pathway for willing clients to allocate some of their wealth to social impact investment that aligned with his overall philosophy on evidence-based investment. This is his story so far…
Speaker: David Crozier | Navigator Financial Planning with Carl, Graduate of Bristol Together
1300-1400 - Lunch
1400-1415 - Can investors have their cake and eat it too?
Some might say that to generate financial returns in addition to generating impact from the public markets is to dream the impossible dream. Others might even dare to suggest that "Impact" is the future of investing. This presentation examines the rigorous academic evidence which demonstrates the significant long-term outperformance of emerging sustainable organisations and highlights the fundamental innovations needed for an organisation to be regarded as "sustainable". Also we consider the links between corporate sustainability and capital markets as they pertain to investment analyst recommendations, and more broadly, as they relate to the realisation of value in public equity markets through a commitment to sustainability.
Speaker: Ioannis Ioannou | Associate Professor of Strategy and Entrepreneurship, London Business School
1420-1555 - Breakout sessions (Delegates will be divided into 4x groups and rotate through each workshop)
----------------------------------------------------------------------
Breakout 1 – Value and values investing - Adviser led session

Can you construct risk adjusted asset class portfolios, which also generate impact returns? And if so, can highly focused impact solutions be integrated into an existing "evidence based" investment process, which uses diversified passive strategies to deliver reliable financial outcomes; or is a completely new philosophy and process needed? In this session one Accredited Financial Planning Firm shares their exploration of these questions, their challenges, where they are on their journey, and the solutions they are offering their clients.
Speakers: Nick Millar, Dasha Orlova & Heather Rickaby | Ashburn Wealth Management
Breakout 2 – UN Sustainable Development Goals – what are they and why do they matter to investors?
The UN Sustainable Development Goals (SDGs) have become increasingly important for companies and investors alike. They are seen as a long-term roadmap for solving many of the pressing social and environmental problems the global community are facing.
Why are the SDGs so important and how do we build them into our investment framework?

H

ow can they enhance shareholder returns? And what are the risks?
In this session we will explore the UN SDGs and understand why they are so important for the adviser community.
Speaker: David Harrison | Fund Manager, Rathbones
Breakout 3 – Learning from experience

Does impact investment really make a difference? What are the on-the-ground challenges and questions an adviser faces in explaining, monitoring and reporting on impact and how might these be overcome? This session will allow an asset manager to explain their approach to product design. It will also encourage dialogue with and between advisers, so that we can learn from each other about how best to deal with clients who wish to explore options for impact investment.
Speaker: Ryan Smith | Head of ESG Research, Kames
Breakout 4 – Sharing adviser best practice
This session is presented by the Impact Award recipient for Individual Financial Adviser and focuses on how they have embraced social impact within their client offering. It will examine strategies for developing the conversation with the client by exploring how an adviser can best prepare to open up the subject of impact.

Speaker: Individual Financial Adviser recipient from Impact Awards 2018
----------------------------------------------------------------------
1600-1800 - Networking drinks in The Speakeasy inc. closing statement from Gavin Francis
---

The Conduit is an invitation-only members' club with a difference.
This unique and exciting venue brings together business leaders, social entrepreneurs, investors, creatives and policy-makers all looking to catalyse ideas to tackle some of the most pressing issues facing society.
Committed to practice what they preach, The Conduit have found innovative ways to embed sustainability in all aspects of what they do.
For example, they showcase an impressive collection of crafts made by social enterprises that use art to promote economic independence; they have incorporated energy saving and biophilic design features inc. a living wall, and have a menu created from sustainably sourced ingredients.
Given that the SIA is a forum that connects like-minded people who want to share ideas, understand new developments and work towards creating opportunities in impact investment, what better place to convene than at a venue whose mission is to unite those that want to use business as a force for positive change.
---
Who and why are people attending the SIA?
"For a number of high net worth individuals, including social impact investing as part of their portfolio, we believe, will become more prevalent as time goes on. We also admit to not knowing enough about it, so hence a very good reason to attend!" Gini Bolton - Chartered Wealth Manager, Fiscal Engineers
"I chose to attend this year's conference as it provides a great opportunity to connect and exchange ideas with advisers and asset managers, to generate new opportunities and continue to improve access to impact investing for our clients." Clemence Chatelin - Independent Financial Planner, Paradigm Norton Financial Planning
"Working in an organisation that manages over £1bn and does not currently promote or provide any centralised impact/ sustainable investing solutions sits uncomfortably with me. I feel clients deserve choice in this area and it is our responsibility to better understand what type of investments clients may really want. The Social Investment Academy allows me to meet other like-minded IFAs and further develop my thinking, knowledge and networks in this area." Max Pieters - Independent Financial Adviser, Westminster Wealth Management
"Ethical investment and lifestyle have long been a personal interest, but I simply don't know enough to talk knowledgeably and confidently with clients, so they are clear what they are buying from both a financial and ethical perspective. I also need to understand how it fits with our 'mainstream' investment approach. I want to learn from the expert speakers and from advisers who are already working in this area to help me be more effective, talk the talk and walk the walk." Ian Kemp - Financial Planner, Serenity Financial Planning
---
We'd like to thank our Affiliate Supporters in helping us to deliver this year's event: -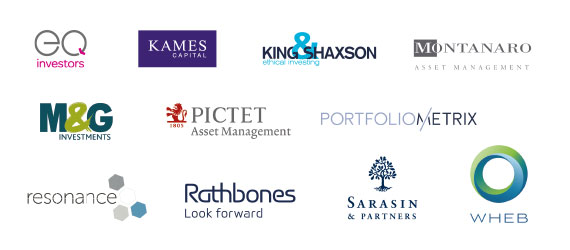 Our 2017 event saw: