Description
Decorum's hugely popular Social Media and Blogging Workshop for Interiors, Design & Lifestyle Businesses is back in London on 26 October!
With a maximum of 10 participants, it's a quick seller, so book your space now.
---
Have you opened social media accounts or set up blogs for your business but don't know how to run them effectively?
Or have you been running social media and a blog for your brand for a while but feel like there's something missing? This workshop is just for you!
During the workshop you will learn:
How social media and blogging are used within the interior design industry
Which social media platforms are the best match for your business
Best practice for the most popular social media platforms in the interior design industry
How to create engaging content and never run out of things to share
How to manage your social media, plan content and schedule updates
How to analyse your social media activity and track its effect on your website
Social media etiquette – how to communicate and what to avoid
The workshop is run by Justyna Sowa, Creative Director of Decorum Media, the UK's brightest creative PR and digital marketing agency. More about Justyna below.
"I would highly recommend this workshop to anyone who is concerned about the necessity of social media and wants to get an overview of how it works, what it involves, available tools, and great examples. Justyna was a great teacher and very thorough in her approach. I took a lot of great info away from the workshop and I will hopefully be working more closely with Justyna in the near future." Philippa Kirtley, bulthaup
"I found the workshop a very informative, well structured and enjoyable morning of learning and discussion. Justyna not only demonstrates her expert knowledge of social media, but also her passion and belief in its potential to generate positive brand experiences and increased sales. The course is informal, comfortable and caters for attendees of all levels. Whether you are new to social media marketing or think you know it all, it's definitely worth attending." Chris Bernatek, Andrew Martin International
Who should attend
The workshop is ideal for businesses who have launched their social media presence and are looking for expert advice on how to run social media activity to the best business advantage, from PR, marketing and sales perspectives.
PLEASE NOTE: this workshop is not suitable for PR agency employees as it is focused on in-house marketing activity.
Workshop format
The workshop takes place at a creative meeting space at the citizenM hotel London Southbank, designed by Dutch architectural firm Concrete, with the rooms are designed in cooperation with Vitra. With a 2pm start, the 3 hours between 2pm and 5pm will be filled with educational content, group discussions and new ideas ready to be implemented.
About your workshop leader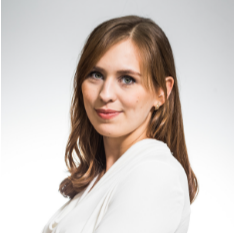 Following a successful public relations & digital marketing career at a luxury interiors event Decorex International, Justyna set up Decorum in 2013 with a clear mission: to connect interiors and luxury design companies with their audiences in a more meaningful way, so that they can flourish in the digital age.
Known for her lateral thinking and fresh ideas, she drives the company in its pursuit of excellence and opens the minds of discerning company owners to the powerful effects of well-executed creative PR and digital marketing.