Description
SocialDay is the UK's most engaging Social Media Marketing Event - 30th May to 1st June 2018 - 3 days with over 30 sessions and 2 fantastic drinks receptions all for the cost of 1 ticket.
The event has been designed to facilitate a higher level of discussion around Social Media Marketing, everyone attending is knowledgeable about the subject and is here to learn about new developments, get insight from sources that are often closed and spark debate on hot industry topics and gain valuable peer to peer views.
It's not just about the speakers we bring along, the topics we cover have been carefully researched to help give marketers from brands and agencies alike the edge over the competition when it comes to social media marketing, our mission is to create the best delegate experience possible.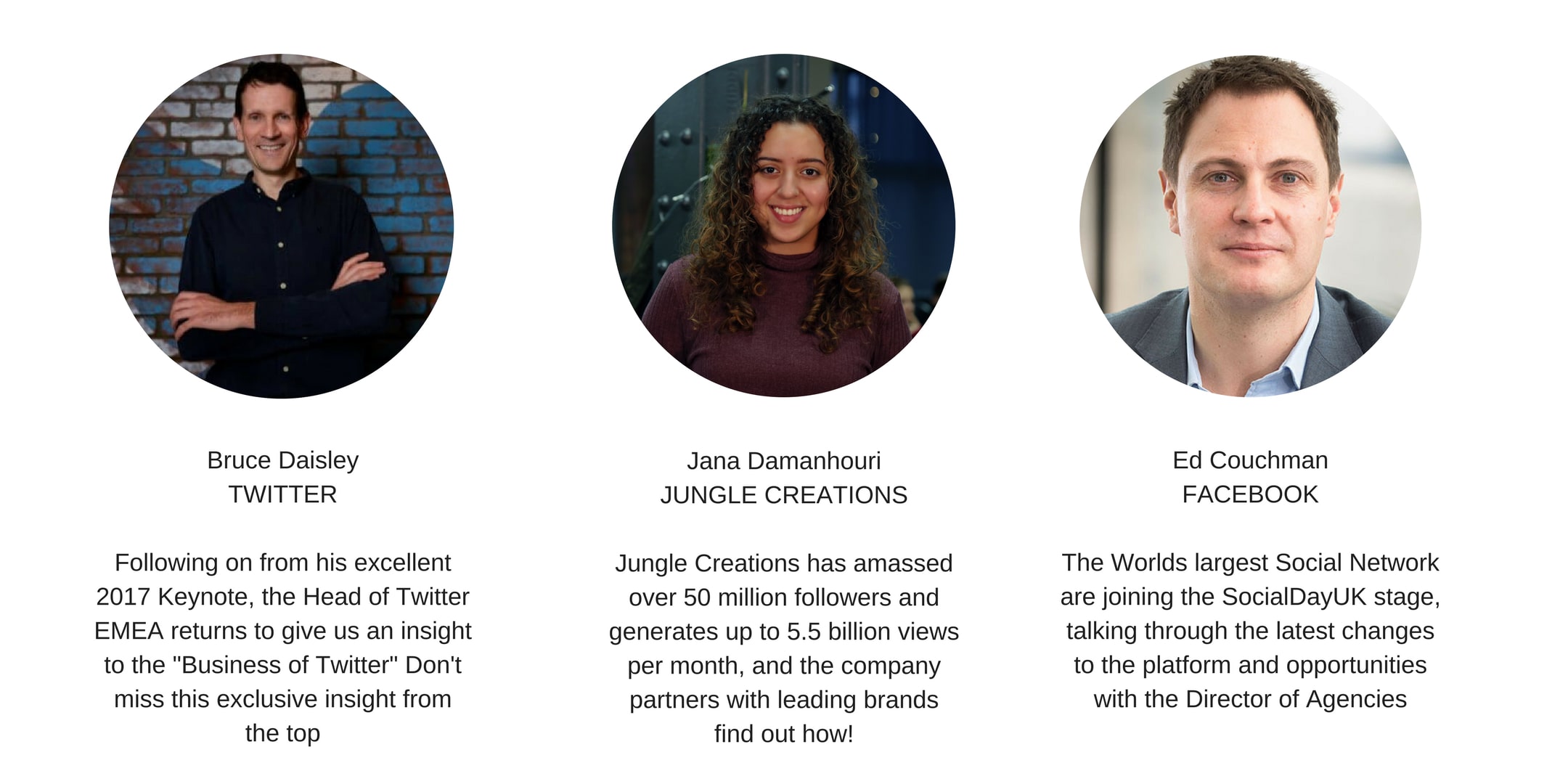 In addition to these 3 amazing keynotes, we have pulled together a selection of our amazing speakers who will be sharing with you case studies from some of Europes best executed Social Media Campaigns.
Dean Johnson - Head of Innovation, BrandWidth
Sean King - CEO SevernC3)
Lisa Jenkins - Editor - Social Media Examiner
Adam Barnett - Client Services Director, ITN Productions
Florie-Anne Virgile - Chief Operating Officer, Citizen Press Uk
Andrew & Pete - Global Content speakers (SMMW18)
Lee Wilcox - CEO - On the Tools
Victoria Taylor - Founder Untwisted Media
Samantha Kelly - The Tweeting Goddess
Kevin Gibbons – Managing Director, BlueGlass
Authentic Alex - Official top contributor on LinkedIn
Daniel Knowlton - Co Founder KPS Digital Marketing
William Bonidido - McDonalds Social Media Editor
Sarah Jones - Head of Media, Birmingham University
Katie King - Artificial Intelligence, Author and speaker
Nic McCarthy - Chief Creative Officer, Seven
Teresa Heath Waring - Founder THW
Harry Hugo - Co-Founder The Goat Agency)
Dominic McGregor - Co-Founder and COO Social Chain
Lukasz Zelezny - Director of organic growth uSswitch, Zoopler and Prime Location
We still have more speakers to announce, all sessions are recorded, you'll be provided with lunch, have access to two networking events and we have CPD accreditation for 2.5 days!
Day two offers workshops where you can choose between 2 streams to create the perfect day, don't worry we record all sessions and give you access after the event so you will not miss out, regardless of which session you choose.
Influencer Marketing 101
Agency Growth
Analytics & Client Reporting
Content Panel Discussion (featuring Social Media Examiner)
Getting you clients to embrace video
The future of Livestream (in association with the CMA)
The Influencer marketing Panel
Paid Social Strategy
YouTube
Social 360
Community Building
Crisis Management and Reputation
Engagement Tactics


Delegate feedback from 2017 was excellent, check out the #socialdayuk and the countless blogs and video reviews of the event. Delegates wished it was longer and we had more emphasis on networking with peers, well we listened. 2018's event is moving from 1 day to 3 days, including 2 drinks receptions giving us room to fit over 30 keynote sessions, workshops and panel debates on the programme. If you work in social media marketing you do not want to miss this event. Tickets include:
3-day pass to all sessions

2 evening drinks receptions

Lunch provided on both full days

Refreshments across all 3 days

Over 30 speakers from across the globe

30+ Keynotes, workshops and panel debates

Post event videos of all Keynote sessions

Event programme and guide

Delegate networking group

Networking with peers
The audience is typically made up of Brand managers, Agency Marketers, Corporate Marketers, PR companies and freelancers wanting a better understanding of social media. All delegates come to SocialDay to learn about the latest techniques to engage with target customers on the most popular social networks. We don't just cover the biggest we bring them, we have confirmed representatives from Facebook, Twitter and Linkedin, we also look at the new and up and coming platforms and trends.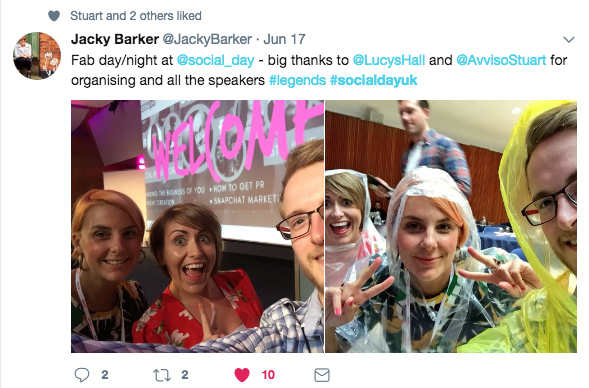 Don't take our word for it, check out our #socialdayuk on Twitter, we amassed a reach of over 21 million thanks to all the delegates sharing what they learned and trended in the top 10 all day. No easy feat considering 90% of the time a current affairs top the list.
The speakers we pull together are carefully selected, they are experts in each topic, they are not the professional speaker who just talks about the subject, they will have experience in building communities and gaining results in their specialist field. You can visit the speaker's page and get some background information on why we selected those people on the programme.
The sessions themselves are interactive, we want you to get involved, regardless of it being a workshop, presentation or panel debate, you will be encouraged to asked questions and get involved. Speakers tend to hang out all day and get involved so are around at coffee breaks and lunch to speak to on a one to one basis.
Above all else what makes SocialDay the most engaging social media event in the UK is that it's fun! You will learn loads, make new connections and have a good time!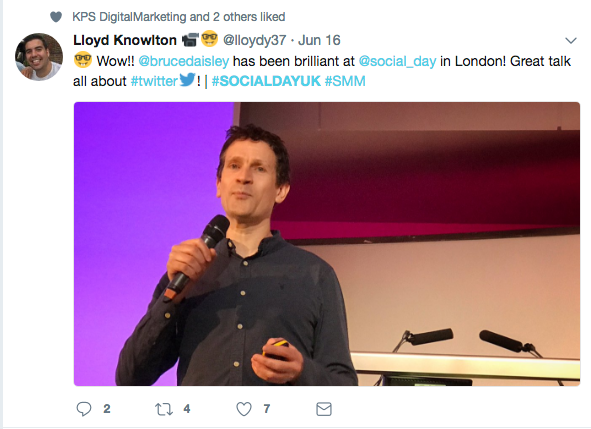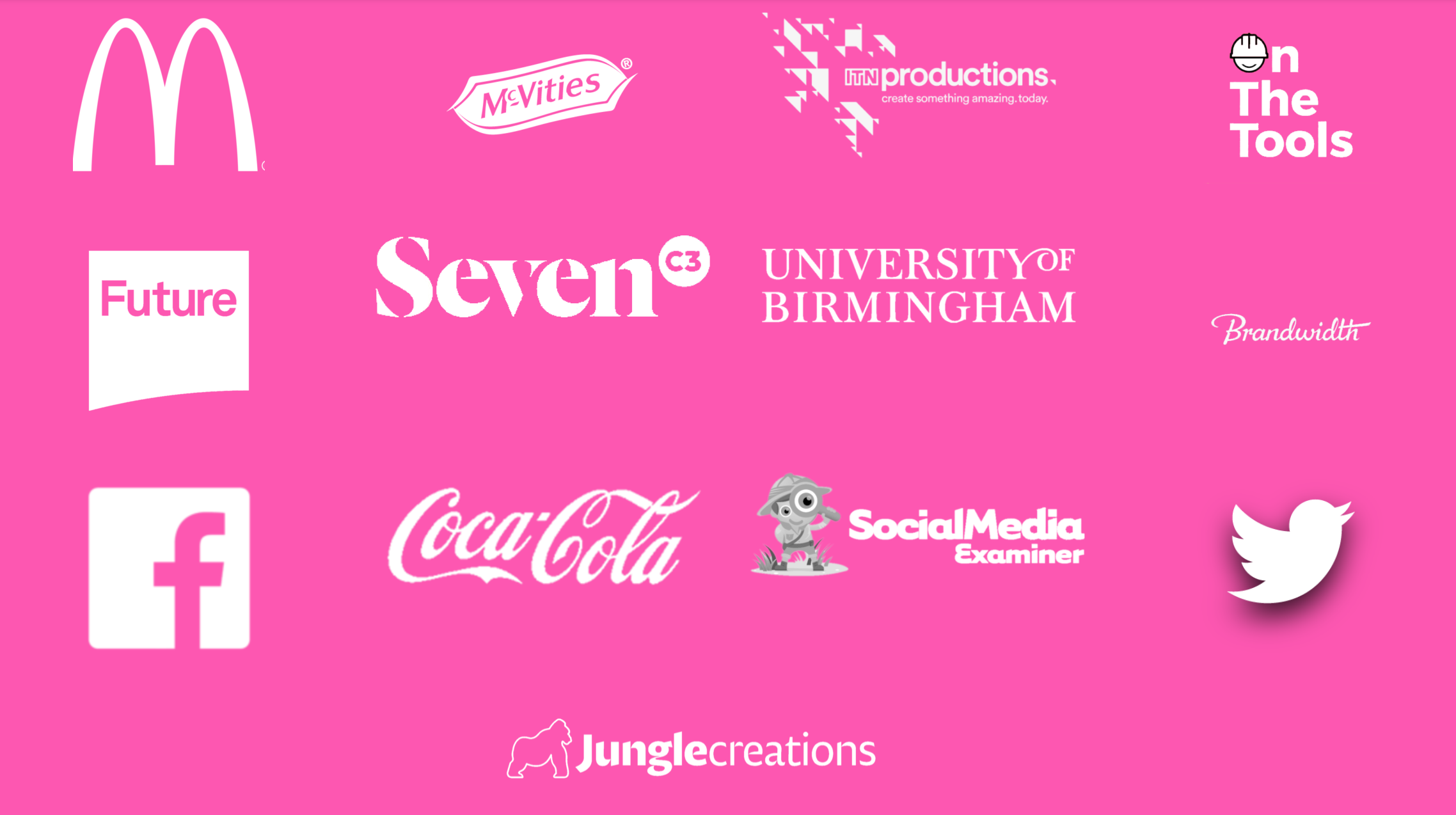 Terms and Conditions: The programme is subject to change.
Refunds will not be issued within 1 month of the event.