Description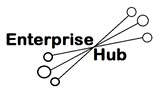 Delivered as part of the ERDF Enterprise Hub project; the Smarta Business Starter team are running thier monthly 'Social Media for Business' workshop.
Just about anyone can post an update on Facebook / Twitter; it isnt hard. Very few people can create interest and demand for thier business through social media updates.
Many individuals and business owners seem to think that posting updates about what they're doing or the services they offer is enough to engage an audience. Unless you truly have exciting business that grips the attention of strangers then a standard update is'nt enough!
We will show you how to identify your target viewers, tailor updates and engage them in a way which will actively promote your business.