Description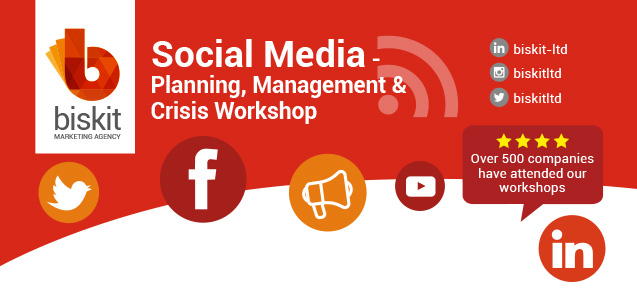 Love it or loathe it... social media is here to stay
This comprehensive workshop has been developed by marketing experts to give you a greater understanding of how social media can be used for business.
During this interactive workshop, we guide you through the key principles of social media, from strategy and objectives through to tools, tips and techniques for managing your online presence.
This also includes advice about protecting your company's reputation in the event of an online crisis.
Our workshop covers this and all other aspects of social media in three key stages:
Lift Off - identifying what you want to achieve from using social media, and how it supports your marketing objectives
Business as usual - day-to-day management, engagement, monitoring and evaluation
Dealing with positive and negative engagement - how not to panic in a crisis
You will leave this masterclass with the confidence to implement the right social media strategy for your company, and handle the media in the event of an online crisis.
Key elements covered:
Deciding what you want from social media
Developing a social media strategy
Picking the right social platform (s)
Identifying and engaging your audience
Making social content work harder and reach further
Using social media for research
Creating a communications plan
An introduction to social media analysis tools
Managing your online reputation and crisis control
This workshop is aimed at:
Those working in Marketing, Advertising or PR roles who wish to develop their current social media policy, or have an understanding of social media and wish to create a strategy.
Venue:
This event will run in Leeds City Centre, within 10 minutes walk of the main train station. The venue is confirmed within 2 weeks of the start date, once final numbers are confirmed.