About this Event
Women's Business Club is delighted to invite you to a two day Social Media Summit with an all-star expert lineup of 14 expert social media speakers.
See full lineup at www.womensbusiness.club/social-media-summit
All your ideal clients are already accessible one way or another through social media - the whole world is right there waiting for you at your fingertips. If you know-how, your business can reach anyone with the right message at the right time. Let our expert speakers show you the most up-to-date and best way to connect your world and grow your business.
Day 1: 23rd September
09:00 Jonathan Pollinger - Making a success of social media in 2020 with LIVE Q&Q
10:00 Andy Gwynn - How to Raise Your Profile, Get Massive Views of Your Posts & Get More Business on Linkedin.
11:00 David Holland - Automation! Get off Social
BREAK
13:00 Jennifer Corcoran - Raising Your Visibility on LinkedIn
14:00 Natalie Sherman - How to use Facebook Messenger and Groups
15:00 Leon Streete - How to grow a profitable YouTube Channel
BREAK
18:00 Jonathan Pollinger - Twitter - what is it good for? with LIVE Q&Q
19:00 Lisa Talbot - Innovative ways to use social media for business
20:00 Emma Hammond - Discovering The Power of Chatbots - 3 Secrets Revealed
Day 2: 24th September
09:00 Natalie Sherman - Instagram Stories for Business
10:00 Guna Meldere - How to get from First Impressions to Results with Power of branding and Pinterest
11:00 Leon Streete - How To Use Facebook Ads And Go From Struggling To A Consistent Flow Of Clients
BREAK
13:00 Rachel Barker - Grow your business online by transforming a blank page into sparkling content
14:00 Denise Roberts - How to write engaging content that positions you as the go-to person in your industry with Live Q&A
15:00 Deborah O'Grady - Business Alignment, You and Your brand
BREAK
18:00 Nicky Williams - From Free Advertising Space to Lead Magnets - How to Get Leads with Canva
19:00 Sally Wright - Common Business Photography Mistakes & How To Avoid Them
20:00 Rebecca Ward - Stop Hiding, Start Selling with Instagram Stories and Reels with LIVE Q&A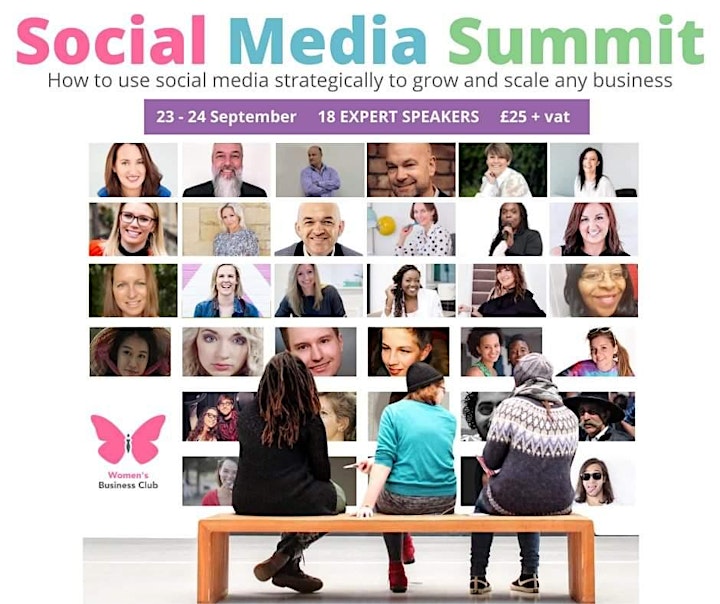 Date and Time
Location
Refund Policy