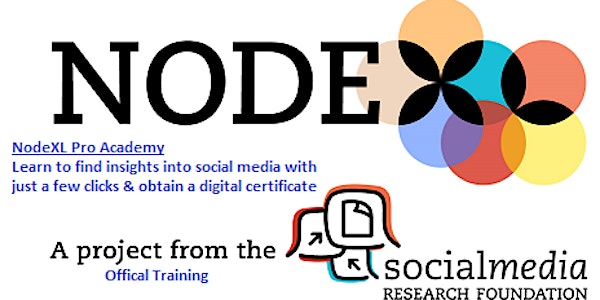 Social Network Analysis Using NodeXL (Intermediate Level)
This intermediate level provides insight into NodeXL Pro for the analysis of social media data such as YouTube and Wikipedia networks
About this event
This event is capped with only a limited amount of discounted academic and student tickets...act FAST to secure your ticket
***WHAT'S THIS EVENT ABOUT?***
There's a lot of research on Twitter, but what about other platforms like YouTube and Wikipedia? This event will provide insight into how to use NodeXL to study these platforms. It builds upon our beginner event and also highlights features such as exporting and importing into Gephi .
***WHAT IS NODEXL?***
NodeXL provides easy access to social media network data streams, advanced network metrics, and text and sentiment analysis, and powerful report generation with just a few clicks.
***WHO WILL BE SPEAKING?***
Speakers include Dr. Marc Smith from the Social Media Research Foundation, Harald Meier, Mika Laiti and also invited academics Dr. Wasim Ahmed .
*** HOW IS IT DELIVERED?***
It will be delivered online via Zoom and you will receive a meeting link 7-days before the workshop.
*** PREVIOUS FEEDBACK***
"This was a great event, I learnt so much for my research!"
"Marc and his team are very knowledgeable in the area of social media analysis. I took a lot from attending. It was well worth the event fee!"
-----------------------------------------------------
Learn tips and tricks for downloading and analysing social media data for your project! 
Previous knowledge of NodeXL required - ideally through our standard introduction event.
By attending, you'll gain a digital certificate and a 1 month trial access to NodeXL 😎
Contact: nodexlacademy@gmail.com
-----------------------------------------------------
The event will focus on providing an overview of NodeXL and Social Network Analysis and will focus on intermediate features. It will guide delegates on all the steps required to be able to use the tool to download and analyse social media data. 
Learning Outcomes:
*be able to transform communication data such as YouTube and Wikipedia into network data and customize networks
* appreciate academic and marketing related research possible on YouTube and Wikipedia
*Learn how to export out of NodeXL into Gephi to create stunning visualisations.
*understand the different possible data formats for social networks e.g. in a matrix or edge list.
*know how SNA can be applied to social media analysis.
*be familiar with the use of NodeXL social network analysis add-in for Excel in particular
Who will benefit from this course?
This event will benefit a wide range of people including, but not exhaustive to:
*Academics/ Researchers
*Masters and PhD students
*Research Support Staff and Managers
*Library and Information Professional
*Communications and Marketing Professionals
*Finance/Banking Professionals,
*Entrepreneurs
Contact: nodexlacademy@gmail.com