Description
Social Selling Masterclass - London Olympic Park - Friday 25th May 2018
Social Selling is becoming a key tool used by successful sales professionals and sales teams all across the world. It is helping sales professionals generate amazing results by leveraging social media, specifically LinkedIn, to connect, reach, engage and prospect sales opportunities.

The problem is you can't just log into LinkedIn and sell!
There are too many sales people out there WASTING time on social media sending sales pitch style LinkedIn messages or just sharing corporate marketing material. These activities don't deliver great results and so the Social Selling Masterclass was developed to help sales professionals and sales teams learn how to REALLY used social to sell.

The ULTIMATE 1 day Social Selling Workshop.....
This is a full day action packed sales workshop that will take you through each of the key components of effective social selling. There is no fluff or theory, just real actionable tips and strategies that have been proven to deliver exceptional results. You'll learn how to create a personal brand and profile page that helps generate leads and start conversations, you'll learn how to grow your network with prospects, how to find and create engaging content that sells, how to use the best social tools out there, all of the tips, tricks and shortcuts and more importantly how to turn everything social into real pipeline and revenue!
IT'S NOT JUST ABOUT SOCIAL SELLING!
Don't worry, I won't be preaching that you should replace cold calling with social selling! Far from it, the Social Selling Masterclass is built to show you how to integrate social INTO your current sales process so that you can use it alongside the phone, email and face to face meetings. You will learn how to find key pockets of time across the day to invest in results delivering social activities that will enhance your other sales activities as well.
This full day training workshop includes teas/coffees and includes lunch as well. You'll also recieve a copy of Daniel's popular eBook "100 Social Selling Tips". You'll also get the opportunity to network with a great group of sales professionals and sales leaders as well!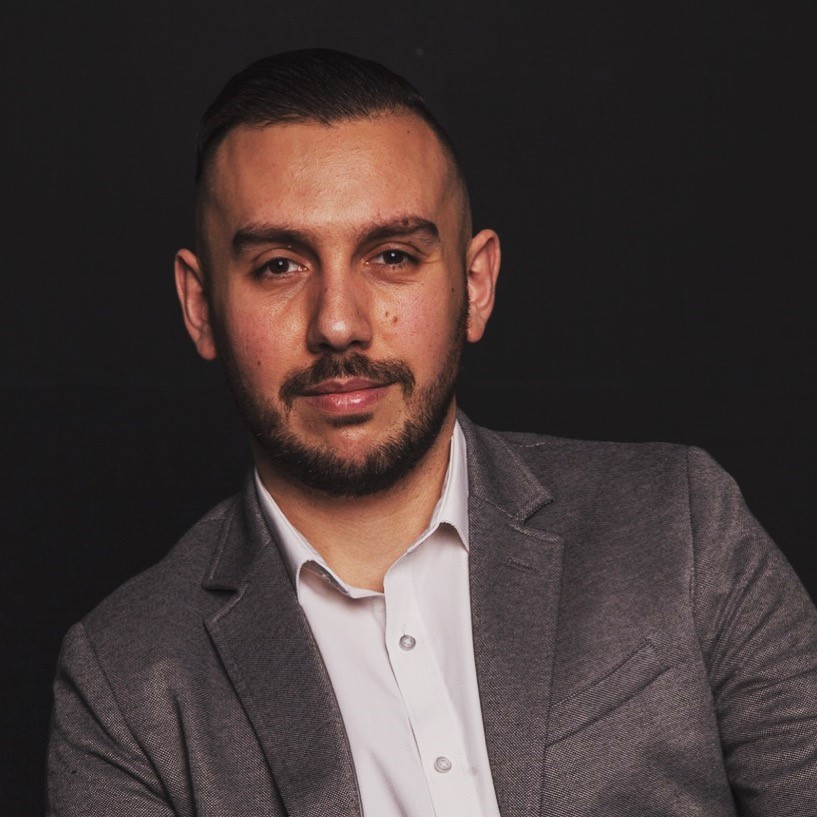 About Daniel Disney:
Daniel Disney is one of the world's leading social selling experts having generated and closed multi million pound deals on social media, built an audience of over 160,000 followers and creates content that is seen by millions of people every single week. He is one of the UK's leading sales and social selling speakers, delivering packed out talks at some of Europes biggest sales events. Daniel is also hired by companies all across the UK to deliver training, coaching and consulting around social and digital transformation.


Daniel has pulled all of that knowledge and experience into his hugely popular 1 day Social Selling Masterclass.
In this workshop you will learn:
How to build the ultimate personal brand
How to connect with anyone
How to grow your audience
How to find and share great content
How to create engaging content
How to turn social into sales conversations
How to take social offline into meetings
How to cut through all of the social noise
How to effectively plan social into your sales day
How to use social with cold calling
How to turn social into sales
During this masterclass you will learn the essential skills needed for social selling success and Daniel will talk through each one from his personal experience of practising and perfecting it.

You'll learn how to build a personal brand and profile that helps you connect with your prospects and attract opportunities. You'll learn how to find anyone on LinkedIn and how to effectively connect with them. You'll learn how to find the best content to share to show your passion and expertise in the industry. You'll learn how to create great content that your prospects want to read.
Most importantly you'll learn how to do this alongside making cold calls, working in the field, running face to face meetings. You'll learn how to turn social engagement into pipeline growth and increased revenue.
Everything you learn has been tried, tested and proven by Daniel.
The reality is your prospects and customers are on social media, now is the time to learn it and master it before your competitor does.
If you're ready to start mastering social selling then Daniel Disney's Social Selling Masterclass is for you!
Agenda:
09:00 - 09:30 : Tea/Coffee & Networking
09:30 - 10:30 : Introduction & What is Social Selling?
10:30 - 11:30 : How to build the ultimate profile and personal brand
11:30 - 12:30 : How to find and connect with anyone
12:30 - 13:00 : Lunch & Networking
13:30 - 14:30 : How to curate & create great social content
14:30 - 15:30 : How to turn social into sales conversations
15:30 - 16:00 : How to make social work for you and maximise ROI
16:30 - 17:00 : Close & Networking
What have previous attendees said?
A single post on LinkedIn and my profile views grew by 506% and reached over 3,000 people - Graham after attending the Social Selling Masterclass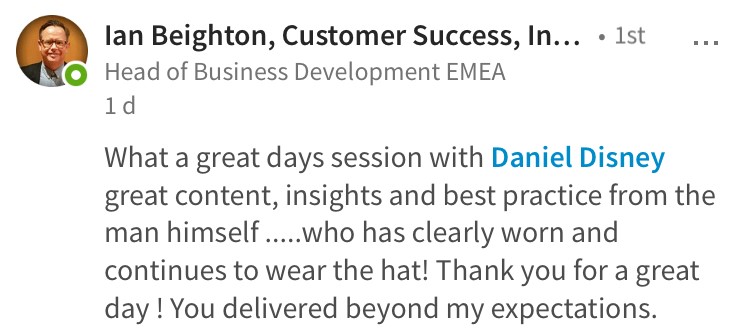 Great session, really engaging and absolutely packed with great tips - John after attending the Social Selling Masterclass
I love how this session is built for sales people, I can connect with everything and all the tips can be utilised straight away! - Claire after attending the Social Selling Masterclass
I was creating content that may have been viewed by 10 people, after this training the next blog I wrote was viewed by neary 5,000 people and liked over 2,000 times! This has then created a great pipeline of opportunities. Steve after attending the Social Selling Masterclass.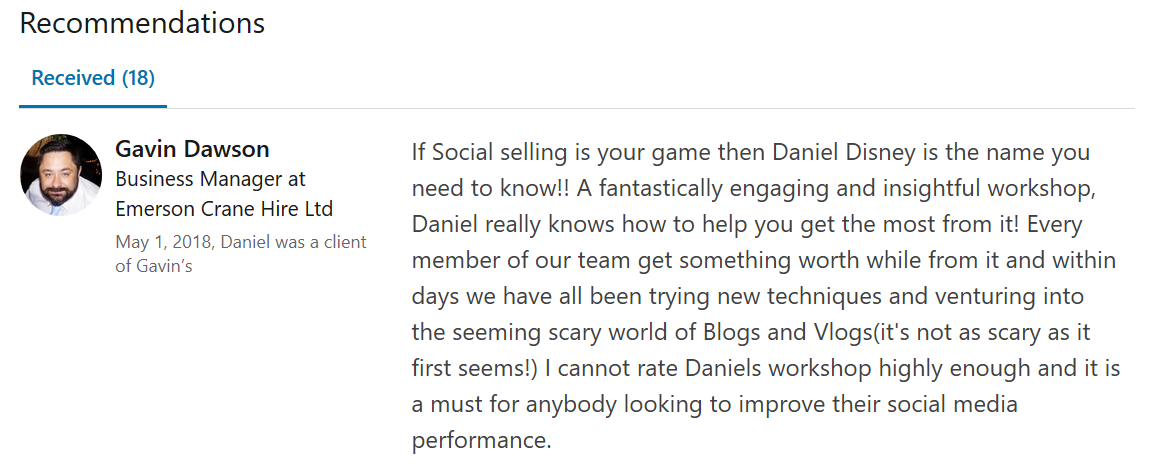 About Daniel Disney
Daniel Disney is a globally known sales expert who adapted his sales approach to include social several years ago and has since utilised social media to generate millions of pounds in revenue, create global brand awareness and help train hundreds of sales people to do the same.
Daniel has grown a social network from scratch which now sits at 160,000+ growing by 800+ every single week. He creates content which reaches millions of people every week and is regularily featured on LinkedIn's blog along with other popular sales blogs around the world.
Daniel is the UK's leading social selling expert and one of the top social selling experts in the world!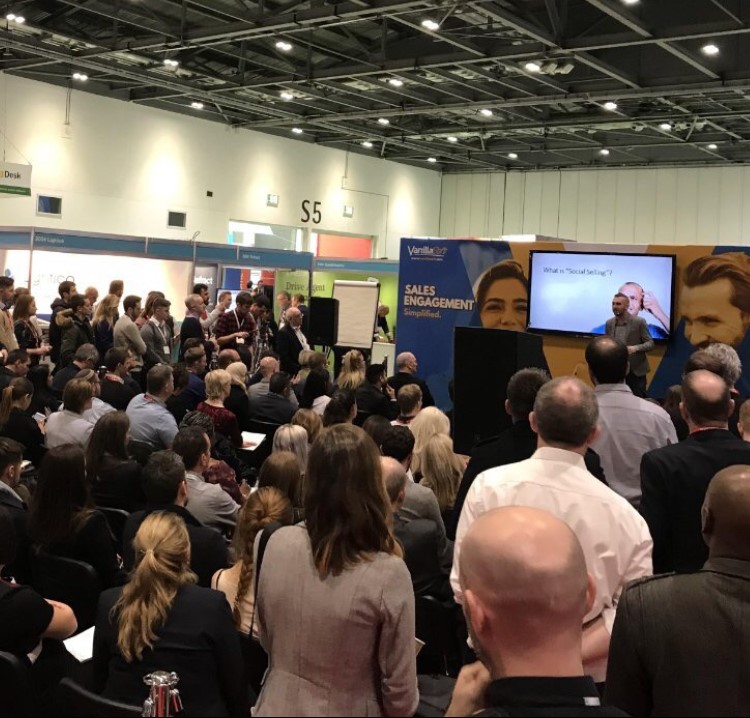 Can the tickets be invoiced instead of paid by card/paypal?
Yes absolutely! Just send me an email at danieldisney@thedailysales.net, the invoice will need to paid prior to the training.
I need to convince my manager that this is worth the time and money.
There is still a lot of confusion around social media in sales. The simple reality is that your customers are on social media, they're using it every day and this session will show you exactly how to leverage that to INCREASE your sales. If you (or they) have any questions please feel free to email Daniel directly on danieldisney@thedailysales.net.
What will I learn by the end of the day?
You will learn the core fundamentals of successful social selling and how to properly use it to increase your pipeline, enhance and speed up your process and close more sales. I've done it time and time again, I've trained hundreds to do the same and now I'm taking this across the UK to show more sales people how to utilise it properly.
If you have any questions at all about the event please do feel free to email danieldisney@thedailysales.net.