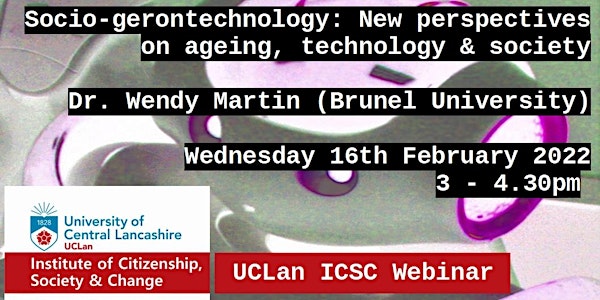 Socio-gerontechnology: New perspectives on ageing, technology and society.
A UCLan ICSC Webinar with Dr. Wendy Martin (Brunel University London) Wednesday 16th February at 3 - 4.30pm
About this event
UClan ICSC are pleased to welcome Dr. Wendy Martin, of Brunel University, London, who will introduce the emerging field of 'Socio-gerontechnology' with new research perspectives on ageing, technological innovation and social change.
Demographic ageing and the rapid advancement of technology – especially digital technologies – are two mega-tends trends that converge with the innovation of new 'Gerontechnology'. From care robots and digital dementia devices, to social media interfaces, apps and online consultations, gerontechnological innovation promises – or threatens – profound transformations in the experience of ageing. The associated new commercial sectors and changing forms of public service provision may also change the landscape for policy makers, professionals and practitioners. Yet our research capacity on the question of 'Healthy Ageing' still all too often remains divided between social analyses of ageing on the one hand, and engineering and design-based approaches, on the other.
The emerging academic field of 'Socio-gerontechnology' aims to overcome this divide, enabling constructive conversations, collaborations as and the exchange of critical insights between people working on both the social and the technological dynamics of ageing and new technology. Dr Wendy Martin and her co-thinkers develop a critical dialogue between the fields of 'Age Studies' and 'Science and Technology Studies' (STS) to establish some common conceptual, theoretical and methodological approaches for new research.
This webinar hosted by UCLan's ICSC will be of interest to a diverse array of researchers, innovators, practitioners and teachers engaged in questions of 'Healthy Ageing' and technological change from around UClan and wider society. Whether you are approaching this question from an interest in the social, cultural, biomedical, technological or engineering aspects, all are welcome to attend and help develop the conversation.
About the speaker:
Dr Wendy Martin is co-editor of the groundbreaking new collection 'Socio-gerontechnology: Interdisciplinary Critical Studies of Ageing and Technology' published by Routledge earlier this year. She is Senior Lecturer in the Department of Health Sciences at Brunel, and Co-Convenor of the British Sociological Association Ageing, Body and Society study group. Her research focuses on ageing, embodiment, the digital and everyday life. She is Co-Investigator for the Social Sciences and Humanities Research Council of Canada (SSHRC) international partnership 'Ageing, Communication, Technologies (ACT): experiencing a digital world in later life' and Collaborator for the SSHRC Insight Grant 'Digital Culture and Quantified Aging'. Wendy is a Founding Board member of the Socio-Gerontechnology Network (SGN), a member of the Executive Committee of the British Society of Gerontology, and Co-Editor of the Routledge Handbook of Cultural Gerontology.
Selected Publications:
Peine A, Marshall BL, Martin W, Neven L. (eds) (2021) 'Socio-gerontechnology Interdisciplinary Critical Studies of Ageing and Technology' Routledge
Pilcher, K and Martin, W (2020) 'Forever 'Becoming'? Negotiating Gendered and Ageing Embodiment in Everyday Life' Sociological Research Online. 25 (4) 698-717
Spinelli, G., Micocci, M., Martin, W. and Wang, Y-H. (2019) 'From Medical Devices to Everyday Products: Exploring cross-cultural perceptions of Assistive Technology'. Design for Health, 3 (2). pp. 324 – 340.
Martin, W. and Twigg, J. (2018) 'Editorial for Special Issue 'Ageing, Body and Society: Key Themes, Critical Perspectives''. Journal of Aging Studies, 45. pp. 1 - 4.
Twigg, J. and Martin, W. (eds) (2015) 'Routledge Handbook of Cultural Gerontology'. Routledge.
Martin, W. (2015) 'Visual Methods in Ageing Research', in Twigg, J. and Martin, W. (eds.) Routledge Handbook of Cultural Gerontology. London. : Routledge.
Kontos P, Martin W. (2013) 'Embodiment and dementia: Exploring critical narratives of selfhood, surveillance, and dementia care'. Dementia. 2013; 12(3):288-302.