Soft Skills in Hard Times: In-Person Supporters' Network Event
In partnership with CIPD and Acas, the Good Employment Charter are delighted to invite you to our long awaited in-person event of the year!
About this event
Introduction
People Management is one of the key characteristics of the Charter – it is the 'golden thread' that binds many of the elements of good employment practice together. Yet too often, people managers don't receive any training or support to help them fulfil their role.
This event invites speakers and employers to explore short and longer-term strategies to enhance the people management skills within their organisation. There will be plenty of opportunities to discover and understand what industry experts advise and to hear from other employers.
Our key speakers include:
Sharon Amesu (Host), Director NW Business Leadership Team, GM Good Employment Charter Board Member
Ben Willmott, Head of Public Policy, CIPD
Prof. Sir Cary Cooper CBE, University of Manchester
Nicola Ryan, Director of Colleague Support, One and All
Clive Memmott OBE, Chief Executive at the Greater Manchester Chamber of Commerce, GM Good Employment Charter Board Member
Agenda
14:00-14:20pm: Arrival of guests, welcome tea, coffee, & pastries
14:20-15:10pm: Discussion around the People Management paper
15:10-15:40pm: Q&A
15:40-16:15pm: Supporter Networking
Resources
Prompted by our recent paper, which discusses the importance, implementation and effect of positive people management skills, we held a roundtable event. Seven Greater Manchester employers discussed the management challenges that the pandemic has presented and that lie ahead as the economy recovers. This event will bring together our findings and allow for experiences and insight to be shared across our Supporters' network.
COVID Safety
A few things have changed since we held a physical event. We are working with our host venue, Elliot Suite, to keep you safe. A few points to note:
Temperature monitoring and check-ins will take place on arrival
The venue is cleaned thoroughly, on an hourly basis
Space is not a problem & crowd control signs have been added
Sanitizing stations are available throughout the venue
Face masks are recommended in communal areas
These guidelines are encouraged, and updates will be made to keep in line with government guidelines.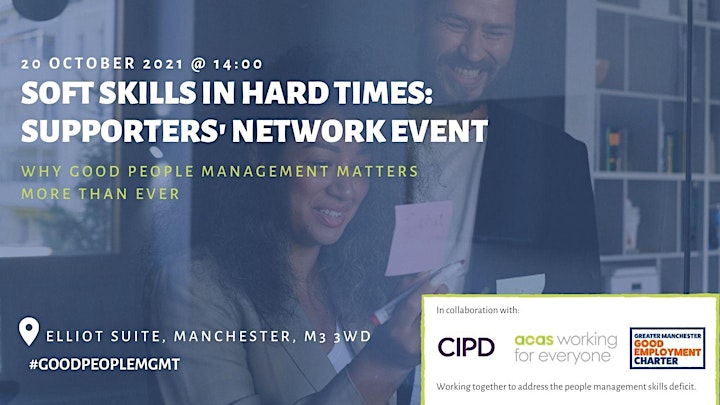 Organiser of Soft Skills in Hard Times: In-Person Supporters' Network Event