Description
This event has now sold out. If you would like to be added to the waiting list please proceed to the booking page and we will contact you should any cancellations arise.
Brief Answers to the Big Questions - a unique celebration of Stephen Hawking's final book.
This October sees publication of the final book by Stephen Hawking: world-famous cosmologist, number one bestselling author of A Brief History of Time and one of the greatest minds of our time. The book, which Stephen Hawking was working on at the time of his death, is drawn from his extraordinary personal archive and has been completed in collaboration with his academic colleagues, his family and the Stephen Hawking Estate. In one of only two public events to celebrate publication, a panel of Hawking's peers and other distinguished academics will be contemplating and celebrating his work, his legacy and discussing his – and their – answers to the Big Questions including Can We Predict the Future? Is there a God? Will we Survive on Earth? And Will AI Outsmart Us?
With Sumit Paul-Choudhury (strategy director and editor emeritus at New Scientist), Dallas Campbell (broadcaster and author of Ad Astra - An Illustrated guide to leaving the Planet), Bernard Carr (Professor of Mathematics and astronomy, QMUL), Nigel Peake (Head of DAMTP, University of Cambridge), Louisa Preston (Astrobiologist and author of Goldilocks and the Water Bears: The Search for Life in the Universe), Timandra Harkness (broadcaster and author of Big Data: Does Size Matter?) and Paul Shellard (Director of Centre for Theoretical Cosmology, University of Cambridge). The event will be hosted by Dallas Campbell.
Join us for a landmark, unmissable evening.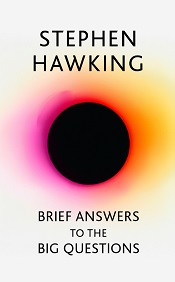 Tickets for the event are priced at £8 in advance and can be purchased through this page, by calling 01223 463200 or in person at Heffers bookshop. Please note that tickets are transferable but non-refundable.
The event will take place at the Cavonius Centre at The Stephen Hawking Building. Click here for a map. Please no parking onsite but there is limited on-street parking nearby.

Organiser of SOLD OUT Brief Answers to the Big Questions: Stephen Hawking's final book
Heffers has been trading in Cambridge since 1876 and is part of the fabric of the historic city centre. We stock an amazing range of books, games, stationery and music, and our friendly and knowledgeable staff are on hand to provide advice and recommendations. Our excellent programme of events runs year-round - currently online - and features book launches, author talks, games nights and more. We are also a sponsor and the official bookseller for the Cambridge Literary Festival. For more information or to sign up to our mailing list, please email marketing@heffers.co.uk