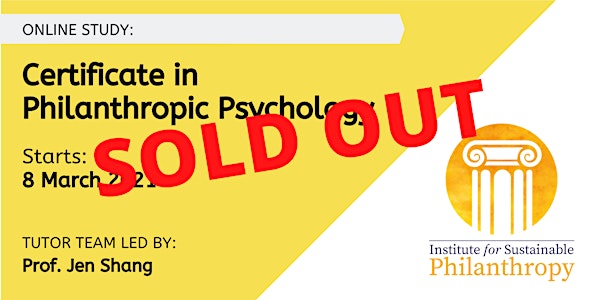 SOLD OUT: Certificate in Philanthropic Psychology - 8 March 2021
Refund policy
Contact the organizer to request a refund.
Eventbrite's fee is nonrefundable.
Wanting to apply the latest insights from psychology to inform your communications and build a world class donor experience?
About this event
Introducing the …
Certificate in Philanthropic Psychology
Learned all you can learn from sector conferences and events? Looking to make a deeper connection with your donors and supporters? Wanting to apply the latest insights from psychology to inform your communications and build a world class donor experience?
If you can answer yes to any of these questions, the Certificate in Philanthropic Psychology is definitely for you. We'll teach you a new perspective on the role of fundraising, growing the love of others to grow giving. You'll explore the concepts of identity and wellbeing and look at how to tangibly shift the nature of the donor experience simply by changing words in communication.
As we'll demonstrate, in fundraising copy, words are not just words. They are the keys to unlocking a love of others and as a consequence, growing giving.
This is NOT a course in behavioural economics. Behavioural economics cares about how to get donors to take actions. Philanthropic psychology, by contrast, focuses on how those actions make people feel. Our research has shown that when people feel their giving is meaningful and overtime transformative to their sense of who they are, they give more and they give for longer.
So, the growth in giving delivered by philanthropic psychology is sustainable and powerful improvements in loyalty/retention will result. We believe when a donor journey can genuinely be designed using these principles, it can develop people into stronger supporters and increase the likelihood of a legacy/bequest.
The course consists of 40 hours of university style learning, hosted online by Professor Jen Shang who pioneered the field of philanthropic psychology during her time at Indiana University and Prof. Adrian Sargeant who held the first Hartsook Chair in Fundraising at the Lilly Family School of Philanthropy at Indiana University.
You'll listen to virtual lectures from the course team, undertake assigned readings, participate in group discussions and be encouraged to reflect on your own professional practice. There are also self-test quizzes to test your learning and a practical 1500 word assignment at the end of the course for those who wish to gain the certificate.
The course is structured as follows:
Week 1: What is Philanthropic Psychology and what value can the study of it offer fundraisers?
Week 2: How can we define love in giving?
Week 3: Who are your donors? How does people's sense of who they are drive giving?
Week 4: How does giving contribute to donors' personal sense of wellbeing and how can we boost this?
Week 5: What is the best way to talk to your donors in order to grow their capacity to love others?
Week 6: How can you translate this knowledge into the design of a donor journey for your organisation, including thank-you communications, newsletters, upgrades and appeals?
Week 7: How can you double, triple and quadruple giving as a consequence?
Week 8: How does this way of thinking make a difference in how you think about your role as a fundraiser.
This class will begin on 8 March 2021.
Later cohorts will begin on:
3 May 2021
6 September 2021
You can see all our training and development opportunities including short courses, webinars and residential Masterclasses at: http://philanthropy-institute.eventbrite.com/
If you have any questions about this class, or any of our other training and development opportunities, please contact one of the team on +44 (0) 1752 545 706 or email: emma@philanthropy-institute.org.uk