Description
Growth hacking has become quite a buzzword in the startup scene and this session is here to bring you the real deal about what growth hacking actually is and what methods come with it.
You will learn:
• How to grow your user base rapidly and at low cost
• How to retain customers and leverage the power of referrals to unlock virality
• How successful companies have applied a growth hacking and data driven mindset to achieve significant growth
• How you can introduce a data-informed and experiment driven approach to digital marketing to boost your startup's success
For this special session, we will have Anna Rehermann, Founder of Growth Hacking Asia on:
Date: Thursday, 23 March 2017
Time: 6-9 PM
Venue: Andromeda Room, Skystar Ventures, Universitas Multimedia Nusantara Level 12
Class Size: 30 pax
Commitment Fee: IDR 50,000 (Early Bird Price before 20 March 2017)*
*Normal Price: IDR 100,000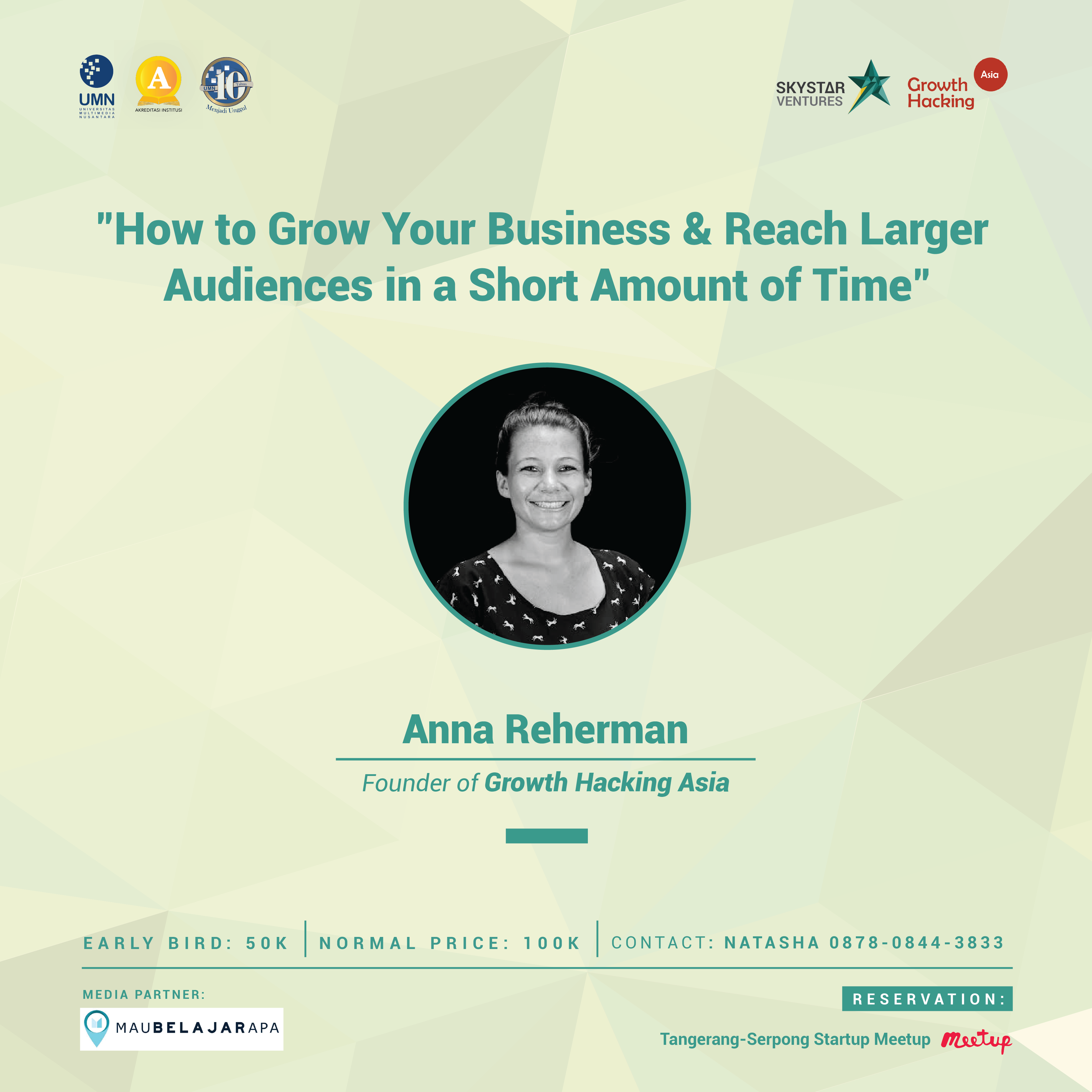 Teacher's Profile:

Anna is a passionate serial entrepreneur with a strong background in Digital Marketing, Analytics and Growth Hacking. She worked with Rocket Internet and Team Europe Ventures, two leading global venture builders, to set up and maintain the complete range of digital marketing and business intelligence activities for some of their ventures. Anna then founded her own company, Growth Hacking Asia, a Growth Hacking Academy and Consultancy with the goal to flip the success rate of Asian startups from 1/10 to 9/10.
Further, Anna works as advisor, mentor and trainer focusing on growth hacking, UX and digital marketing strategies for startups.
Here's how you RSVP for this class:
1. Transfer your commitment fee to BCA 883 0873 091 a/n Nike Putri Yunandika
2. Send your transfer receipt to marianatashia23@gmail.com / WA to 0878 0844 3833 and we will send you an email or confirmation text
First come first serve! What are you waiting for? Sign up now!