Description
Heffers bookshop and the Cambridge Union Society are delighted to present a quiz evening with everyone's favourite University Challenge contestants, Bobby Seagull and Eric Monkman!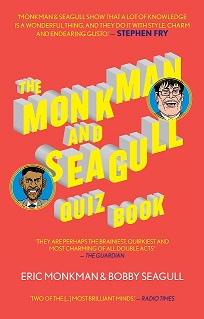 Emmanuel College's Seagull and Wolfson's Monkman shot to fame earlier this year after appearing on the long-running Oxbridge student television quiz, fighting it out under the beady eye of Jeremy Paxman. The duo now have their own radio show and this November, their ULTIMATE CHALLENGE quiz book is published.

Come along to this cracker of a quiz night and be tried by the devilish wits of two of TV's brainiest boffins, whose book contains enough tests and tricks to taunt even the smuggest sofa-shouter.
Buy a £15 entry ticket for your four-person team and receive one copy of Monkman and Seagull: The Ultimate Challenge, courtesy of Cambridge's most famous bookshop, Heffers.
When the quiz is over there will be time for Q&A before the winning team is announced, and your quiz masters will be signing books at the end of the evening. Copies will be available to purchase - that's if you don't win the prize of one copy for each member of your team!

Please note that team tickets are not transferable or refundable, so be sure you have the team you need before you register. Spaces are limited; if the event becomes fully booked we will add teams to a waiting list.

If you have any questions please send an email via the 'contact' button.