SOLD OUT New Years Eve at The Art House \\ Brazilian Street Beats with with...
Description
We invite you to see in the New Year with us at The Art House in a house-party style gathering with good friends, good music, quality drinks and a fabulous buzz!
Our New Year's eve parties have always been a great alternative for people looking for that something a little bit different. You won't find overcrowded, high-volume drunken mayhem, just a welcoming space with great company.
Family friendly, OK to come alone or with friends, even dogs are welcome! Our crew are ready to make you feel at home.
This year we are delighted to present irresistible songs, rhythms and dance from the streets of Brazil, to warm you up and set you up for a beautiful year to come.
A perfect end for 2014!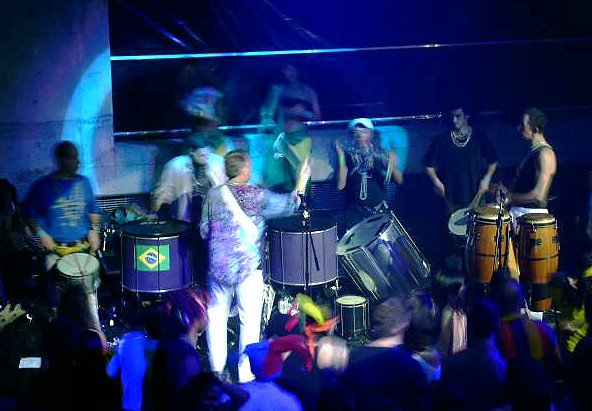 We couldn't leave an amazing roller-coaster 2014 without a decent send off.. and you know us - we like to do things in style!
We bring you the tightest, grooviest, Afro-Brazilian beats from the streets of Brazil, with Southampton's own, Bat2k!
There will be two performances, interspersed with infectious tunes from DJs Blue Bongo and perhaps a guest appearance from DJ Hubert Carpet (AKA Bik!) to round things off all down in the cafe.
Upstairs, there will be snacks (expect deliciousness) and cocktails, and a chill-out zone to relax and chat.
This will be a ticket-only, child-friendly night, and we won't be overcrowding the place. There will delicious snack plates and cocktails on sale, as well as our full range of drinks (not included in the entrance cost.)
Tickets for this event ALWAYS sell out so book early to avoid disappointment.
------------------
A bit about the band - Bat2k were founded in 1994 for the study and performance of Afro-Brazilian rhythm, music, song and dance, principally street beats from the Bahia region.
They have performed at a wide range of events locally, nationally and internationally and also host the popular Clube Sambando party nights at various venues in Southampton.
Several of these were organised by Bik and Jani before the Art House came into being!

Here they are at The Talking Heads a while back (filmed by Bik) -http://youtu.be/SGgEUDPS5d0

By the way, Bat2k also welcome anyone who wishes learn to play percussion the opportunity to do so through the regular workshops held on Sunday afternoons at Planet Sounds, The Arches, 40 Terminus Terrace, Southampton SO14 3FE

* Ticket price covers entrance only