Learn the secrets of Bengali cooking in Nahida's online cookery class!
About this Event
ANNOUNCEMENT: After a long search, we found a fantastic space in the heart of London which ticks all the boxes to create the Migrateful Kitchen, where all our classes, events and training sessions can be held. A place that can finally be a "home away from home" for all our migrant chefs. Help us to build our very own cookery school in the heart of London by donating to our crowdfunder: https://www.spacehive.com/migrateful-cookery-school-a-long-term-home 🍽
Join Nahida in preparing a wonderful Bengali dish for her online cookery class! She is a wonderful teacher, chef and story-teller. She will share the secrets to traditional Bengali dishes. This is your chance to learn a brand new cuisine, support an amazing cause, and eat great food.
The class will be conducted as an interactive virtual cook-along. The classes usually range from 1-2 hours long. The chef will lead the group step by step through the recipes; stopping frequently to answer questions, share anecdotes, and provide feedback on your dishes!
Before the class we will send you a list of ingredients, quantities and equipment so you can join ready to learn! We will also send you a reminder email 3 days before the class takes place that will include the Zoom link, titled "Your upcoming online Migrateful Class". You can also find the Zoom link on the Online Event Page, accessible through the link included in the Eventbrite reminder email.
Nahida's cook-along dishes will be Pakoras (Potato, Spinach and Pepper Crisp Fried Snack), Mint Chilli Sauce and Chanachur (Bengali Snack Mix)
Equipment List
2 Large bowls
1 medium bowl
1 large deep frying pan or wok
Kitchen paper for draining
Hand blender
Ingredient List
1 medium potatoes
1 small white onion
1 small red onion
½ red pepper
50g spinach
1 egg
150g gram flour
½ tsp panch phoron spice mix (optional*)
3 small hot green chillies
1 bunch of fresh coriander
1 bunch of fresh mint
1 tbsp Mint sauce (optional)
2 dates (or brown sugar)
1 lemon
200gm plain full fat Greek yoghurt
1 tomato
1 tsp mustard oil (or ¼ tsp mustard powder and 1 tsp vegetable oil)
150g Bombay mix (up to you whether you use spicy or plain or a mix of the two)
Spices: 1 tsp mild curry powder, ½ tsp chilli flakes
Vegetable oil
Salt
Message from Nahida: "Hello! My name is Nahida and I'm from Bangladesh! I was brought up surrounded by Bengali cooking, which explores so many amazing flavours and so many exotic spices. Migrateful has given me the chance to meet people outside the Bengali community and to share my love of cooking.
I'm so happy teaching my recipes in Migrateful classes. Each class is different and I love spending time with people from a variety of backgrounds. It has made me proud to see them enjoying my food. Now I feel respected as a chef. Migrateful has given me the confidence and help to start my own catering company."
Payments made through Paypal can take up to 48 hours to have the order confirmed. To guarantee your spot on a cookery class we recommend using a debit or credit card.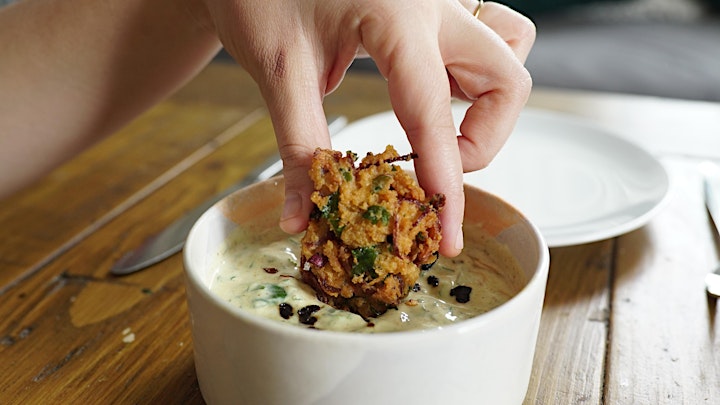 ^ Picture kindly shot by participant during Aklima's online class
Date and Time
Location
Refund Policy