Learn the secrets of Nigerian cooking in Elizabeth online cookery class!
About this Event
ANNOUNCEMENT: After a long search, we found a fantastic space in the heart of London which ticks all the boxes to create the Migrateful Kitchen, where all our classes, events and training sessions can be held. A place that can finally be a "home away from home" for all our migrant chefs. Help us to build our very own cookery school in the heart of London by donating to our crowdfunder: https://www.spacehive.com/migrateful-cookery-school-a-long-term-home 🍽
Join Elizabeth in preparing a wonderful Nigerian meal for her new online cookery class! She is a wonderful teacher, chef and story-teller. She will share the secrets to traditional Nigerian dishes. This is your chance to learn a brand new cuisine, support an amazing cause, and eat great food!
The class will be conducted as an interactive virtual cook-along. The classes usually range from 1-2 hours long. The chef will lead the group step by step through the recipes; stopping frequently to answer questions, share anecdotes, and provide feedback on your dishes!
Before the class we will send you a list of ingredients, quantities and equipment so you can join ready to learn! We will also send you a reminder email 3 days before the class takes place that will include the Zoom link, titled "Your upcoming online Migrateful Class". You can also find the Zoom link on the Online Event Page, accessible through the link included in the Eventbrite reminder email.
Elizabeth's cook-along dish will be Efo Riro (spinach stew served with rice and plantain)
Equipment List
2 Medium bowls
1 Pot
1 Blender (either a jug or hand blender)
1 Frying pan
1 Chopping board
1 Colander
Ingredient List
150 to 180g of spinach (fresh or frozen)
150 to 180g of kale (curly kale or alternative leafy greens),
2 medium red peppers (bell or 3 ramiro)
2 to 3 large fresh tomatoes
1 large onion
4 to 5 mushrooms (or an alternative protein)
1 scotch bonnet (or any chilli pepper or 1 tsp dried chilli powder)
2 cloves garlic
120ml palm oil (or vegetable oil: if using, add 2 tbsp of tomato purée for color)
1 ½ tsp all-purpose seasoning
1 tsp dried mixed herbs
1 vegetable stock cubes
1 ripe plantains
Vegetable oil
Salt to taste
Additional ingredients (if you are able to find them):
15g irú (locust beans if available)
120g basmati rice (or any long-grained rice)
Message from Elizabeth: "My name is Elizabeth, I'm a mother of three from the Western part of Nigeria and I love cooking. My passion for cooking started from when I was a young girl and carried all the way to boarding school and then at university until I got married. I was always finding excuses to rustle up something in the kitchen! From baking little treats to handling large cookings for family parties, I have found myself constantly cooking for friends and family. I have had years of volunteering at a weekly soup kitchen in the heart of Tottenham and much recently at Hackney Migrant Center. This passion brought me to Migrateful and the experience has been awesome. Not only do I get to learn various types of dishes but I also get to meet people from so many parts of the world! For someone who doesn't travel around much like me, that's the best part! I get to sneak a peak into all these countries… an absolute pleasure! Sharing my love for food is a really great way to feel a connection with my roots, seeing the pleasure on people's faces when they eat my food is the icing on top of the cake!"
Payments made through Paypal can take up to 48 hours to have the order confirmed. To guarantee your spot on a cookery class we recommend using a debit or credit card.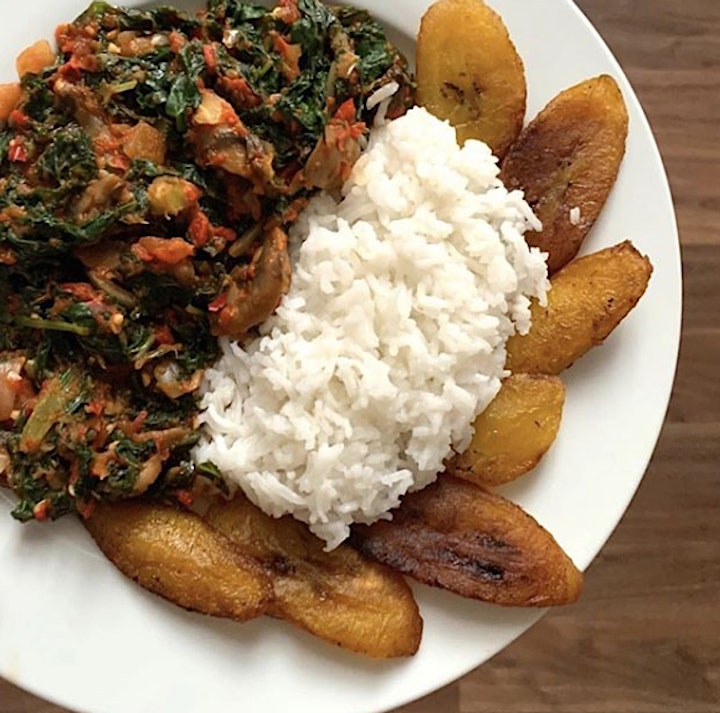 Picture taken by a talented class participant!
Date and Time
Location
Refund Policy