Learn the secrets of Tanzanian cooking with Kashi for her online cookery class!
About this Event
Join Kashi in preparing a wonderful Tanzanian dish for her online cookery class! This is your chance to learn a brand new cuisine, support an amazing cause, and eat great food.
The class will be conducted as an interactive virtual cook-along. All participants will be sent a confirmation email with a list of ingredients and quantities and equipment needed for the class, as well as a Zoom meeting link. If you do not receive the confirmation email please check your spam folder. If you are still missing information about the class please email hello@migrateful.org. The classes range from 1.5-2 hours long. The chef will lead the group through the recipe; stopping frequently to answer questions, share anecdotes, and provide feedback on your dishes!
Kashi's cook-along dish will be Tanzanian Zanzibar Mix. This consists of four street-food style dishes: Urojo Soup, Bajia, Spicy Chutney, and Cassava Chips (optional)
Equipment List
Vegetable peeler
Box grater
2 Large saucepans
Frying pan
Mixing bowl
Food processor or blender
Urojo Soup Ingredients
Potato, boiled in advance
Turmeric
Lime (or lemon)
Plain flour
Water
Salt
Bajia Ingredients
Black-eye beans, washed and soaked overnight
Onion
Coriander
Ginger
Garlic
Mild curry powder
Paprika (optional)
Baking powder
Salt
Neutral oil for frying
Spicy Chutney Ingredients
Onion
Lime
Coriander
Garlic
Ginger
Scotch bonnet chilli pepper (or any spicy chilli pepper)
Salt
Cassava Chips Ingredients (optional topping)
Cassava (or yams)
Salt
Neutral oil for frying
"I am Kashi, from Tanzania East Africa. I love to cook and learn new recipes from all over the world. I learn to cook from very young age as is our traditional and most of the kitchen works done by girls and women in the household. I came to England 12 years ago, food was different from my country so my passion of cooking getting even bigger, I love to cook my swahili cuisines with the twist to make healthy food as I believe food is medicine. I love to use fresh ingredient and spices in my food and do everything from the scratch."
Payments made through Paypal can take up to 48 hours to have the order confirmed. To guarantee your spot on a cookery class we recommend using a debit or credit card.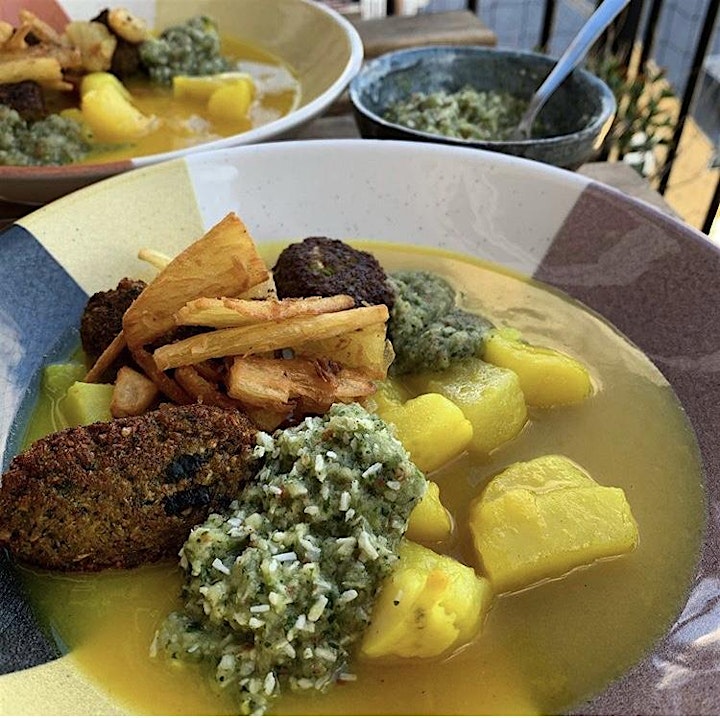 ^ Picture kindly shot by participant @lockdownlunchclub during Kashi's online class
Date and Time
Location
Refund Policy