Sole Practitioners' Group's 24th Annual Conference: SPG 2020 – Clear Vision...
Description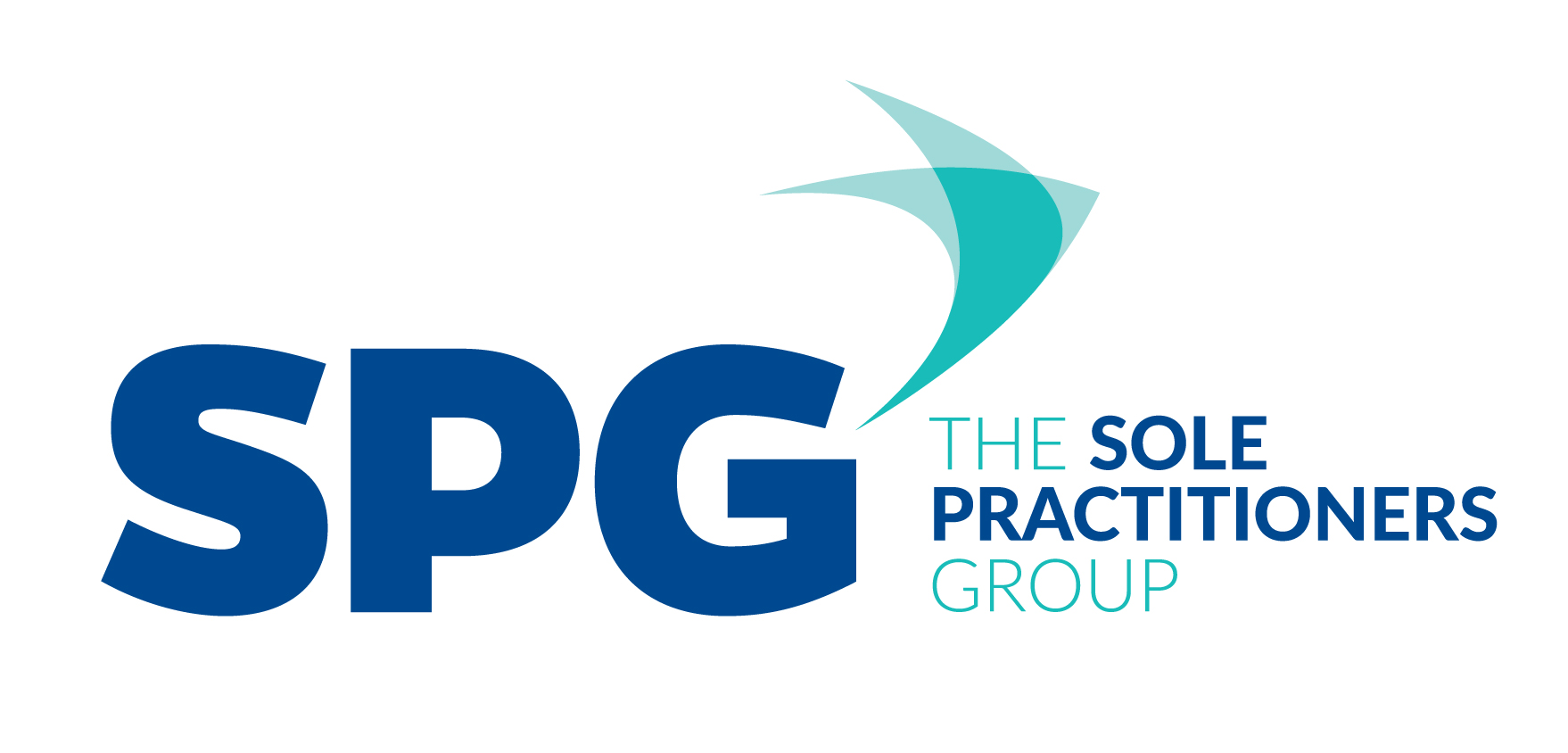 24th Annual Conference
SPG 2020 – Clear Vision for the future
Barceló Málaga, Calle Héroe de Sostoa, 2, 29002 Málaga, Spain
All sole practitioner solicitors are invited to join us at our Annual Conference weekend. We also invite members of small firms who will find our event extremely useful and an economical way to achieve training objectives. As with previous conferences, you are most welcome to bring family members to enjoy the social side of the weekend.
2020's Annual Conference will be in the glamourous and historic city of Málaga on the edge of the Mediterranean Sea. More than 3,000 years of history have passed since Málaga's establishment by the Phoenicians up to achieving the beautiful, friendly and cosmopolitan city that enchants tourists from all over the world today.
The Roman Theatre and garum (Roman fish paste) pools will take you to the times of Roman Hispania. Meanwhile, the Alcazaba is the most beautiful living example of the period of Muslim domination. Experience the reconquest (La Reconquista) by the Catholic Monarchs from the Santuario de la Victoria (the Shrine of Victory). Or stroll along Calle San Agustín, formerly known as the Calle de los Caballeros, the street of the knights since they settled on this street, with the Palacio de Buenavista as its most significant feature. Visit the Cathedral and see real works of art. Stroll down Málaga's main street and learn more about the Marqués de Larios. Admire buildings of different ages and be enthralled by the stories that the city can tell.
The conference will start on Friday 5th June 2020 with three exciting optional events, a morning golf competition, an afternoon tour of Málaga City and our Drinks and Tapas Reception at the Carmen Thyssen Museum. The reception at the Carmen Thyssen Museum is for adults only and is your opportunity to network with national and international colleagues.
Saturday and Sunday daytime will be full of presentations by eminent guest speakers, covering everything you need to know as a Sole Practitioner. Representatives from The Law Society, SRA and Legal Ombudsman have all been invited to attend, use this opportunity to have your voice heard.
Our Fiesta on Saturday evening promises to excite, featuring authentic Spanish cuisine and entertainment, party the night away in Spanish style.
This is a conference not to be missed!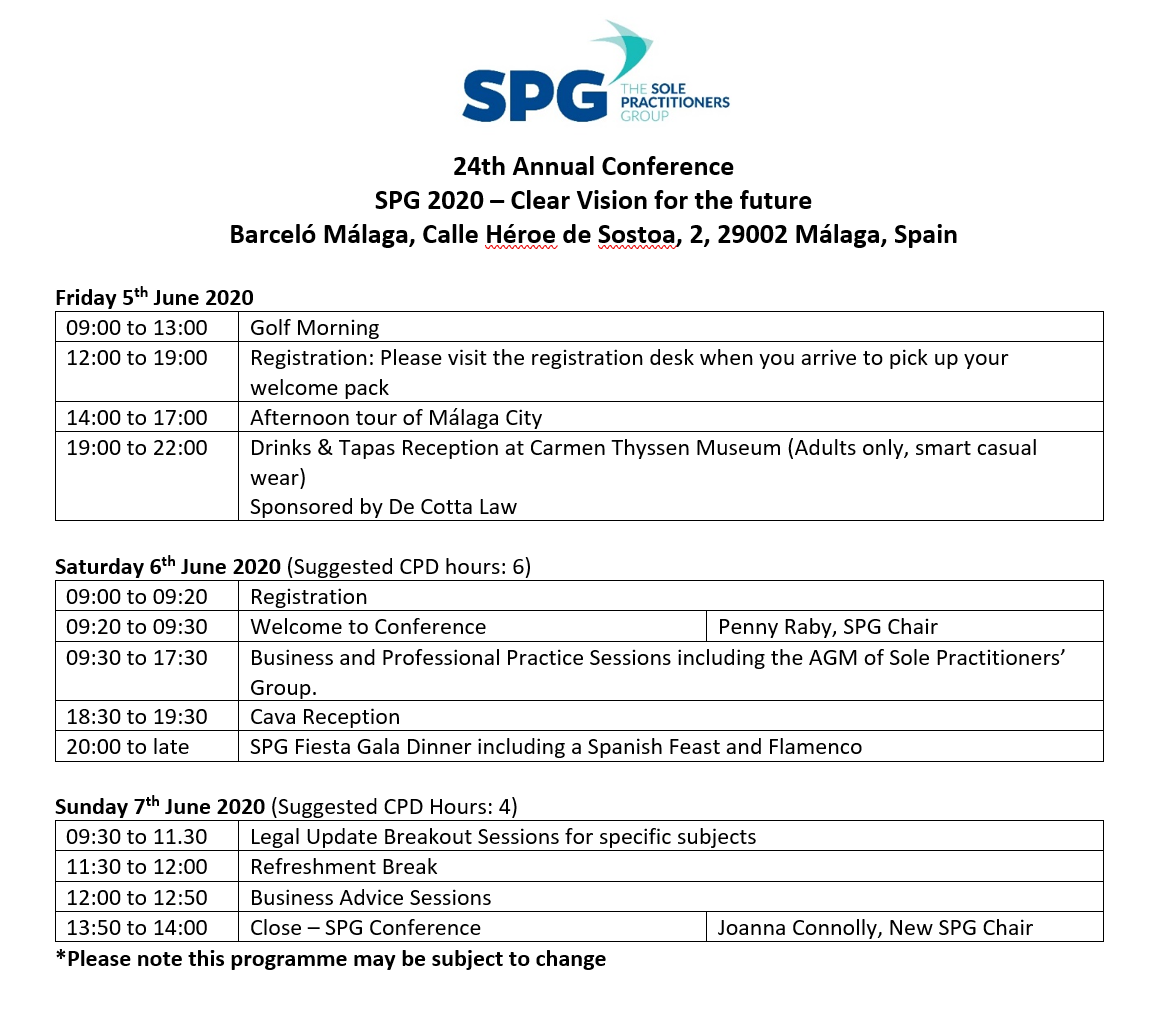 Prices
Sole Practitioner Delegate – Both Days: £180.00 including VAT (£150 excluding VAT)
Sole Practitioner Delegate – Saturday: £150.00 including VAT (£125 excluding VAT)
Sole Practitioner Delegate – Sunday: £90.00 including VAT (£75 excluding VAT)
Non-Sole Practitioner Delegate – Both Days: £240.00 including VAT (£200 excluding VAT)
Non-Sole Practitioner Delegate – Saturday: £180.00 including VAT (£150 excluding VAT)
Non-Sole Practitioner Delegate – Sunday: £120.00 including VAT (£100 excluding VAT)
Please note the delegate fee includes the daytime programme only. Lunch on Saturday is included in the price for the delegate only.
Friday Golf Morning: TBC
Friday Tour of Málaga City: TBC
Friday Drinks & Tapas Reception at Carmen Thyssen Museum: Free of Charge, restricted places please book early, adults only
Saturday Drinks Reception & Fiesta – adult place: £66.00* including VAT (£55 excluding VAT)
Saturday Drinks Reception & Fiesta – child place: £24.00** including VAT (£20 excluding VAT)
Saturday Lunch – Adult Guest Place: £34.00** including VAT (£30 excluding VAT)
Saturday Lunch – Child Guest Place: £15.00** including VAT (£12.50 excluding VAT)
*Includes wine and soft drinks
**Includes soft drinks
All prices are per person.
WHY ATTEND THE CONFERENCE?
1. You need to understand the changes that are likely to take place and what this means for you!
2. Hear from the SRA; voice your concerns and influence change.
3. The SPG has developed a pivotal role representing you but we need your continued support and presence to maximise our lobbying efforts.
Value for Money
Over 9 hours of CPD/Solicitor Competency
Network with entrepreneur SPs
Tax-deductible expense **

** Tax Deductible
"…a solicitor may claim the cost of necessary training expenses as a tax-deductible item. CPD is a necessary part of a solicitor maintaining their competence and costs involved will be tax deductible. An employer may also claim tax relief on training costs incurred for their employee's Section 250 ITEPA 2003. Training costs will include the cost of the actual event and any associated travel and subsistence expenses."
Brian Jones Cooper Paul Accountants
FAQS
Can I book without using Eventbrite?
Yes. Please email info@spg.uk.com. We will send you a booking form to complete which you can send back with a cheque or pay by BACS.
Where is the hotel?
The hotel is 10.3km away from Malaga/Costa del Sol Airport and 500m from San Andrés beach/Huelin beach.
What are my transport options for getting to and from the event?
There is a train which operates from Málaga airport directly to the Barceló. Alternatively, there are always plenty of taxis for you to jump in.
For maps and transport information please visit the Barceló Málaga website.
I would like to stay in Barceló Málaga, how do I book accommodation?
Accommodation - bookings to be made DIRECTLY BY DELEGATE WITH THE HOTEL. The rates have been confirmed as:
Double for single use……… 151,80€
Double for double use……. 162,80€
*TAXES included
*Price per room and night
*Bed and breakfast
Bookings are to be made via Barcélo's website. Please book quickly as rates are subject to change.
There are also many other hotels in Málaga, catering to a number of different budgets. For more information please see the accommodation section of http://www.malagaturismo.com/en#
How can I contact the organiser with any questions?
Please email info@spg.uk.com or call 01895 256972.
What's the cancellation and refund policy?
Payment for event bookings is due immediately on completion of the booking and all payments must be received before the event date. We accept cancellations (less 20% administration charge) up to thirty days before the event date. Cancellation requests must be made in writing by emailing info@spg.uk.com. Thereafter the full charge is payable and no refunds can be made. Delegates may be substituted at any time at no extra charge. The organisers reserve the right to alter the programme and speakers should the need arise.
I have special requirements, how do I ensure these are catered for?
Please email info@spg.uk.com if you have any special requirements (including dietary).
I want to bring my family with me to Málaga, what can they do whilst I am attending the Conference?
There is something for everyone in Málaga!
Your family could spend the day on the beach, visit the local artisan markets, visit the local museums and art galleries, or spend the afternoon by Barceló's rooftop swimming pool.
There are lots of ideas at http://www.malagaturismo.com/en
We would like to thank our Main Group Sponsors, Lockton, for making the Conference possible.