Description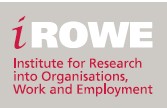 Seminar and Audience Discussion





Solidarities and Collective Action amongst Young Workers
Guest Speaker: Professor Mel Simms
This seminar will discuss how young people experience work, how they resist precarious employment practices and how they participate in and build collective responses to their work.
Key points include:

Collectivising into trade unions as one way for young people to express their interests and bargain with employers.
When unions are able to respond with appropriate structures and approaches, young workers have been responsive to their messages.

Constraints remain including resources, the commitment of the union at the highest levels and structural patterns of young people's employment, which present practical challenges to organising.
Thursday 30th May 2019, 4pm - 5.30pm.
Refreshments will be served from 3.30pm.
GR170, The Enterprise and Innovation Studio, First Floor, GREENBANK BUILDING Victoria Street, UCLan.
Attendance is free.
Any questions or queries, please get in touch: iroweresearch@uclan.ac.uk
If you plan to drive
Please use this address for sat nav: Victoria Street, Preston PR1 7DR, NOT the standard university one as the location is the other side of the campus. There is non-Uclan parking on the side streets, see road signs for current rules. Contact iROWE for access to UCLan car parks, space limited.
Map:
Brook Building on this map:
https://www.uclan.ac.uk/visit/assets/preston_city_campus_map.pdf