Join Solidarity Sounds for an action-packed Bank Holiday online festival!
About this event
We may not be able to go anywhere, but let us come and entertain you on Friday May 8th.
All tickets are for the whole day - pay what you can afford to donate - we want this to be an inclusive fundraiser for all. So let's gather virtually to raise funds for Helping Hands Hackney and Refuge against domestic violence.
Helping Hands Hackney provide essential items for homeless people in their community, including hot meals and recently had their kitchen equipment stolen. They have created an Amazon Wishlist here. Refuge is a national charity that provides a confidential phone-line and resources to support anyone that is experiencing domestic abuse.
Your ticket will give you access to any of the sessions you would like to attend throughout the day. You can literally drop in and leave the sessions, working around your schedule.
Starting from 10am running until late, we have lined up some brilliant sessions, including yoga, meditation, drumming, stories for the under 10s and a family-friendly rave hosted by Morning Gloryville. There are also masterclasses on how to make the best coffee at home by Cafédirect's Head Roaster and an essential for all succulent lovers workshop on 'how not to kill your houseplants'. There is also some fantastic, world-class, live music, comedy, adult story-telling and live DJ sets.
For full line up details, please see below.
LINE UP
MAIN ROOM
10:00 - 40 minute Workout with Jules Fitness
11:00 - Morning Gloryville hosts a family-friendly rave
12:00 - Coffee Masterclass with George from the Cafédirect Roastery
12:20 - How not to kill your houseplants! - House Plant Surgery & Propagation Demo with Beth
13:00 - 'Keep your Gut Healthy' Nutrition talk with Dr Senciain Marzullo
14:00 - Reset & Recharge - Meditation and Breathwork with Esha Kansal
14:45 - Music: Gaby Young & Other Animals
15:00 - Wellbeing talk from HappySpaceUK - the student mental wellbeing charity
15:15 - Francesca Elise's special reading of Red Riding Hood
15:20 - Draw-a-long Storytime with Daphne & Oscar
15:45 - Live Music: Le Montais - Brooding Pop with a potent voice
16:00 - Live Music: Joe from The White Russian - Whispering anti-folk
16:15 - West African Drumming Workshop with Love to Drum (Bunow)
17:15 - Live Music: Raffaello Visconti - Eclectic, Afro, Soul Psychedelia with looped guitar
17:30 - Live Music: Root & Branch - Foot-stomping traditional folk
18:00 - Molatov Jukebox - Getting the party started with Nat & Sam from the band
18:15 - Jon Long's Musical Comedy
18:30 - Bar Average's Marshall - Cocktails at home - Infusions masterclass & Q&A
19:00 - Spark True Stories - Telling true stories on the theme of 'Stranded' Storytime for Adults
20:00 - DJ: Hackney's own Sknk Ngn kicking off our night of livestream DJ set's
20:45 - DJ: Scandal - Livestream DJ zoom pro up next
21:30 - DJ: Toby Taylor plays a disco set with live green screen visuals
22:30 - DJ: Likkle Fyah - Eclectic mix of party tunes with a live fire dancing show!
23:15 - DJ: Dub Daddy - Closing the festival with an awesome House set
CHILL OUT ROOM
18:00 - Roll Out Your Mat & Slow Flow to the Beat - Yoga with Sharon
19:00 - Holly Kellam 'Heart of the Butterfly' Book reading and Q&A with the author
19:30 - Music from: Biko Casini - West African healing sounds from the Tennessee mountains
20:00 - Music from: Belle Harlo - R&B Velvety Soulfulness from Melbourne
TICKETS
We understand times are tough for a lot of people at the moment and want to give everyone the opportunity to join and donate within their means. Which ever ticket option you buy, you will be sent a link to a private Zoom meeting for the full day, along with a schedule for the days sessions.
If you'd like to donate more than the highest ticket price and would like to attend, please buy a ticket here and then visit our donation page below!
https://paypal.me/pools/c/8oCOx0vH5w
THANK YOU and we look forward to seeing you there :)
Solidarity Sounds UK Team
x
Please follow us on Social:
www.facebook.com/SolidaritySoundsUK/
www.facebook.com/events/213548679944491/
www.instagram.com/solidaritysoundsuk/
www.twitter.com/Sol_SoundsUK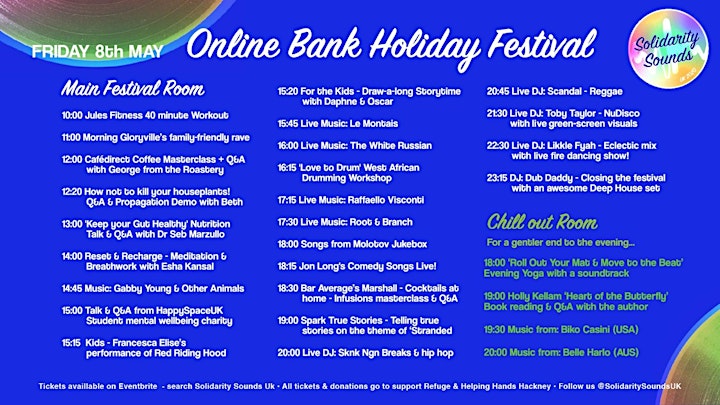 Date and time
Location
Refund policy