Time to get to know likeminded brothers and sisters in a safe and fun environment. Come down and bring your A game for our COUNTDOWN event.
About this event
Alhamdulillah, after a successful first event, we are now following it up with an even better and bigger evening of entertainment for our brothers and sisters to enjoy each others' company.
What can you expect from our events:
Buy your ticket (this is to cover the cost of venue and food). When you come to the venue, you will need to register or tick your name if you bought your ticket. The first hour is for you to mingle and play games, have some food and drink. Once everyone is there on time (NOT SOMALI TIME), we will begin with the COUNTDOWN game where you will be paired. There will be 5 games in total, with each game having a different pairing. Points will be totalled and the winners will walk away happy and with Ferrero Roche. Then it will probably be maghrib, we will pray and in sha Allah a bit of further relaxing and mingling then it will be home time. Of course, we always have a little surprise for everyone! We can't just give everything away, so show up or miss out.
Dear walaalayaal, we keep things simple, we organise these events for you to come, enjoy and get to know likeminded Somali singles. Its not about attending to find that special person, rather it is about giving yourself the opportunity for people to get to know YOU so you become that special person to them and vice versa. These events will be held in safe environments that have the correct Islamic etiquettes but your are responsible for the intentions that you will be carrying in with you when you attend. Come with the right intentions and Allah will make a path to success for you in sha Allah.
We will be organising these Somali Socials once every month in sha Allah but don't let our efforts go to waste dee, come and bring a friend with you and we promise that you won't regret it bi idnillahi ta3aala.
Please be aware that these events are for Somalis only, so don't bring an ajinabi friend as this will affect the atmosphere. Barakallahu feekum.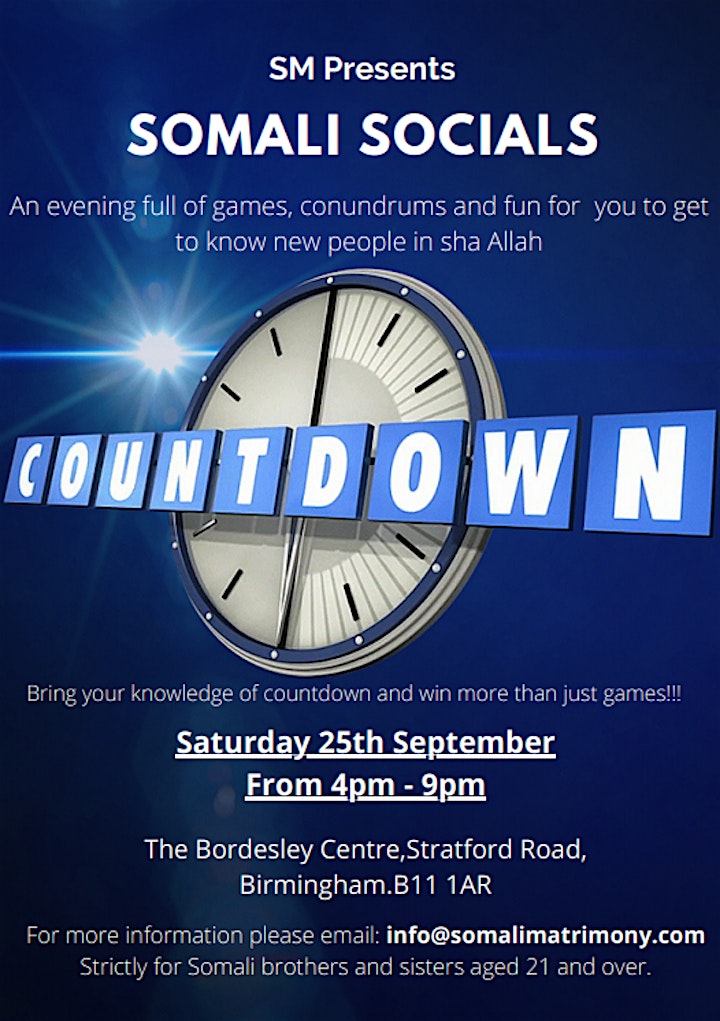 Organiser of Somali Socials: Countdown