Hone your nature-writing skills with this fun workshop in which we'll use winter nature as inspiration in the run up to the solstice.
About this event
Led by the Great North Wood nature-writer-in-residence, Amanda Tuke*, with writer and photographer , Rebecca Gibson**, this online workshop is aimed at adults (or family groups) who want to try out for the first time, or further develop, their creative nature writing. During the workshop you'll have the opportunity to practise writing from your own experience, begin polishing your words and contribute to a collaborative creative writing project. This workshop is funded by the Arts Council National Lottery scheme and offered free to participants. Donations to the London Wildlife Trust are welcomed and can be made here. This workshop will be delivered online via Zoom with live captioning. For the writing activities, you can either type or use pen and paper.
Pre-workshop activity
Before the workshop, please spend 5-10 minutes in a garden, park, woodland or other green space sitting with your eyes shut and being aware of the air temperature on your skin, the sounds and smells. It may help to write notes after the activity to bring to the workshop. Even if the above activity is not accessible for you, please do still attend - you won't be singled out and activity work-arounds will be suggested.
About the workshop leaders
* Amanda Tuke is a nature writer, botanist and birder based in suburban south London. She contributes regularly to Bird Watching Magazine , the London Wildlife Trust blog and has written for Resurgence & Ecologist Magazine. Amanda blogs about nature and her freelance nature-writing journey. Feedback from Amanda's nature-writing workshops: "Brilliant tutor! Really inspiring." "Very thoughtful and engaging workshop." "Thank you for a lovely workshop earlier today. I really enjoyed it".
**Rebecca Gibson is a wildlife writer and photographer based in northeast Scotland. She enjoys inspiring others to connect to the natural world with immersive storytelling, accompanied by her photography. Rebecca's work has been featured in publications including BBC Wildlife and Oceanographic. She is currently writing a Slow Travel Guide to Northeast Scotland, which will be published by Bradt Travel Guides in 2023. Her beautiful photo of a winter forest illustrates this event listing.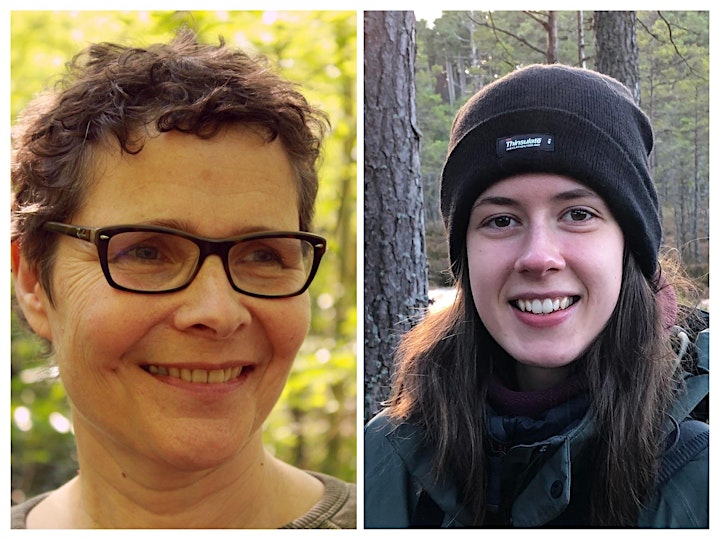 Organiser of Song of ice and footprints - a nature-writing workshop