Start writing your own songs! Pick up some basic songcrafting tools in this fun online workshop.
About this event
3pm-4.30pm Express yourself for International Women's Day (IWD)! Songwriting is intuitive, and a great way to tap into our creativity. But with no definite rules, the process can seem mysterious and elusive!
In this online workshop, we'll get to grips with some basic tools you can use to start crafting songs. Using a series of fun activities, we'll whip up some new ideas and learn ways to develop them.
This is a great workshop for those with a love of songs - those exploring songcrafting for the first time, or seasoned songcrafters seeking a fresh perspective on the basics.
Songcrafter and workshop leader Jo will share tools and techniques for getting your ideas off the ground, sharing useful examples and supporting you to have a go yourself. What You'll Need:- A coin to flip- Paper and a pen (just in case!)- Optionally, use your phone or recording device to record your ideas- You don't need to play an instrument, but you may like to have it to hand if you do!
Who for: Primarily for women / womxn in Derby/shire, and girls 11yrs+ with adult supervision, but this is virtual so you can join us from wherever you are! All self-identifying women, and non-binary folx who feel affinity or siblinghood in spaces that centre the experiences of women, are welcome. Places are limited, so please book in advance.
Access This Workshop:
When booking there is a question about access - please inform us in advance of any access requirements to enable you to take part, ideally by 15th February so we can get everything ready for you, but if after this date we will try our best to make arrangements.
The workshop includes discussion, slides and activities that are done individually with support from the session leader. To discuss any access needs before booking, please email umbilica.songs@gmail.com
This workshop will be delivered online via Google Meet, a web-based video calling service. To access this event, you'll need an internet connection, and a computer or device that has a webcam and microphone. The link to join will be emailed to you ahead of the session and once you have booked you can log in to eventbrite for all the details. No need to download an app: the meeting will open in your browser when you click the link provided.
ABOUT THE HOSTS:
Josephine Lewis (pictured below) is a songwriter and poet under the moniker Umbilica. Refining her songcraft over two decades, Umbilica draws from rock, folk, blues and literary influences. The album Where The Land Meets the Ocean was completed at Snug and released in 2019. Based in the East Midlands, Jo also works as a music leader in various capacities and is the leader of IWD Derby Rebel Women's Choir.
Co-hosting the workshop will be Maria Machin.
This workshop is made possible with the support of Snug Recording Co, who produce music and audio from their studio facility in the Midlands (UK). Snug have helped thousands of artists at all stages of their careers to present their musical ideas and develop their sound.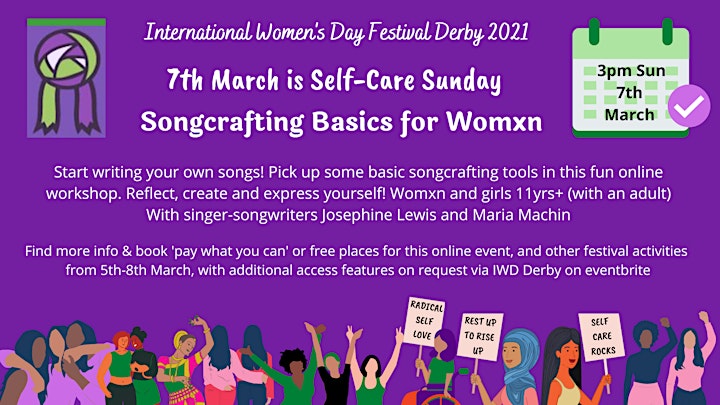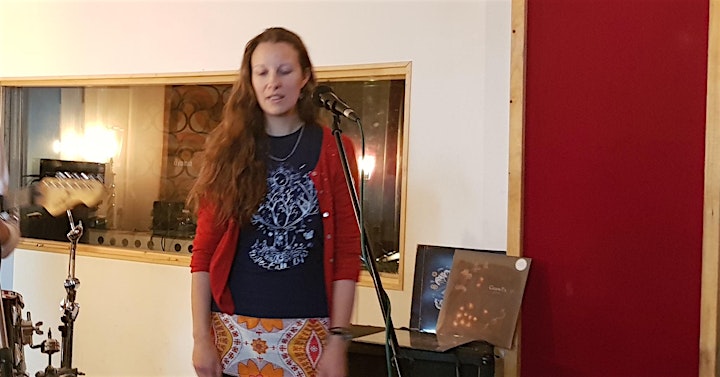 Organiser of Songcrafting Basics for Womxn
International Women's Day (IWD) Derby is a voluntary group running inspiring events by and for the community to advance the equality and quality of women's lives.
The IWD Festival is the flagship annual event, with other fundraisers, community workshops and collaborations during the year to create a brighter, safer, fairier future for women and girls