An Enchanting Evening of Carols, Readings and Christmas Songs to Welcome in the Christmas Time....as warm as a mulled wine!
About this event
Sandra Scott Singing Studios
Cordially Invite You
To an Evening of Readings, Carols and Christmas Songs to Welcome in the Christmas Time
December 20th 6.45pm GMT Online on Zoom
After our fantastic enigmatic Berlin Cabaret of the 30s we follow with a cosy and warm as a mulled wine evening of songs for Christmas. With ditties such as White Christmas, Chestnuts Roasting on an Open Fire and Have Yourself a Merry Little Christmas and wonderful Readings and Carols such as O Holy Night and Once in Royal David's City and In the Bleak Midwinter we aim to bring Christmas cheer and cosiness to your living room wherever you may be!
Please do send me your email so I can invite you on Zoom by 2pm on 20th December please!
This concert is free
www.singinglessonsinlondon.com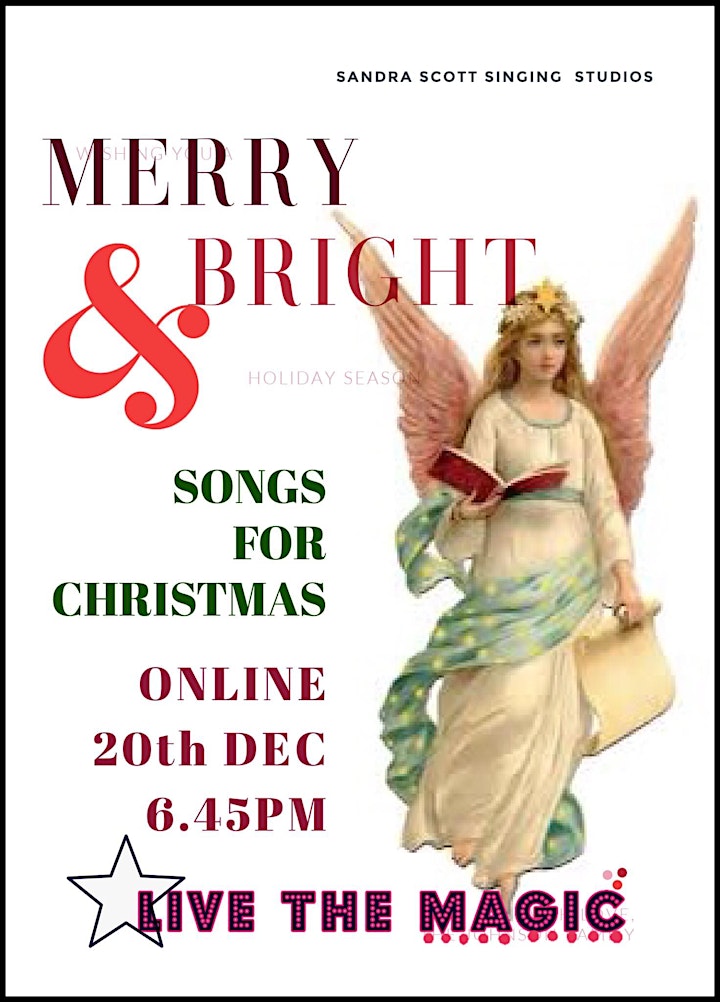 Organiser of Songs & Carols for Christmas Time - Live the Magic of Christmas
Sandra Scott Dip RAM, Dip Couns is a Singing Coach, Musical Director and Counsellor and is passionate about the power of singing and has gained an outstanding reputation for being one of the most sought after and experienced holistic singing teachers in the UK and Ireland today, having trained at the London School of Singing with continued studies at the world leading conservatoire of music, The Royal Academy of Music.
Sandra has trained over 1,000 singers from beginners, singing for fun or for the powerful therapeutic qualities that singing offers to industry singing professionals, actors and dancers, coaching in wide range of musical styles including Jazz, Musical Theatre, Gospel, Pop, R&B, Folk, World, Opera, Recital and Oratorio styles and is renowned for her welcoming and confidence building teaching ethos, providing many performance opportunities from open mics to music festivals to enable an all round singing training that is indeed second to none!