Die Musik von 9T Antiope ist in der Lage, dunkle Materie auf magische Weise in eine helle Explosion von Sternen und Sonnen zu verwandeln.
About this event
The "9T Antiope" duo, currently based in Paris, consists of Iranian musicians "Nima Aghiani" and "Sara Bigdeli Shamloo". The main focus of the band is on experimental music, using layers of acoustic instruments, electronics and combining them with vocals and lyrics, in order to narrate tiny bits or huge landscapes of the chaotic worlds they vision, along with their inhabitants. The duo also works in the different theatre, film and performance projects, for which they do sound design and composition.
"Placebo" is the third and final part of the trilogy "Isthmus:Nocebo:Placebo" and is meant to be taken in two doses: Danse Macabre (Dose I) and Memento Mori (Dose II). The piece explores the abyss of the mass crave for an ultimate cure for all suffering, the perils of the pursuit of happiness through mere optimism, deception, false promises, sugar pills, and eventually the allurement of death itself; Placebo is a Memento Mori.
The music of 9T Antiope is capable of magically transforming dark matter into a bright explosion of stars and suns. Or like the famous US music journalist Philip Sherburne put it once: "Whatever it might mean, it is absolutely gripping, immersive and surrealistic, cinema without sight."
Das Duo "9T Antiope", das derzeit in Paris lebt, besteht aus den iranischen Musiker*innen "Nima Aghiani" und "Sara Bigdeli Shamloo". Der Schwerpunkt der Band liegt auf experimenteller Musik, bei der akustische und elektronische Instrumente mit Gesang und Texten kombiniert werden, um winzige Teile oder riesige Landschaften all der chaotischen Welten und ihrer Bewohner zu erzählen, die sie wahrnehmen. Das Duo arbeitet auch an verschiedenen Theater-, Film- und Performance-Projekten, für die sie Sounddesign und Komposition übernehmen.

"Placebo" ist der dritte und letzte Teil der Trilogie "Isthmus:Nocebo:Placebo" und soll in zwei Dosen eingenommen werden: Danse Macabre (Dosis I) und Memento Mori (Dosis II). Das Stück erforscht die Abgründe des massenhaften Verlangens nach einem ultimativen Heilmittel für alle Leiden, die Gefahren des Strebens nach Glück durch bloßen Optimismus, Täuschung, falsche Versprechen, Zuckerpillen und schließlich die Verlockung des Todes selbst; Placebo ist ein Memento Mori.

Die Musik von 9T Antiope ist in der Lage, dunkle Materie auf magische Weise in eine helle Explosion von Sternen und Sonnen zu verwandeln. Oder wie es der berühmte US-amerikanische Musikjournalist Philip Sherburne einmal formulierte: "Was auch immer es bedeuten mag, es ist absolut fesselnd, immersiv und surrealistisch, Kino ohne Augenlicht."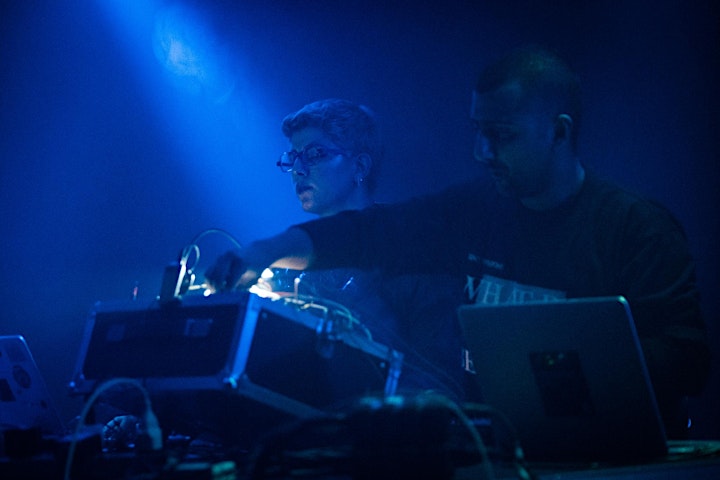 SONGS OF CARE.
THE NEW CYBORG CONCERT SERIES
im tak Theater Aufbau Kreuzberg
Mit der neuen Konzert-Performance-Reihe SONGS OF CARE öffnet das tak seine Türen dem buchstäblich Unerhörten. Unerhörte, außergewöhnliche Stimmen von Musikerinnen und Musiker*innen, deren Songs und Soundscapes uns aus jenen kosmopolitischen (Klang-)Landschaften erreichen, in denen Vergangenheit und Zukunft sich endlos kreuzen. Unerhörte Stimmen von Zeitgenoss*innen, die in ihren Songs nicht nur singen, sondern auch sprechen: von den Umständen, heute Künstlerin zu sein, Zeitgenossin zu sein, heute zu sein angesichts der weltweiten Krisen und Katastrophen. Und darin trotz alledem und gerade darum Kunst zu produzieren, unerhörte Kunst, Klangkunst dies- wie jenseits von Genregrenzen. Musik, die Zeiten und Räume in Überschallgeschwindigkeit durchreist und miteinander verbindet, was unendlich fern und unverbindbar erscheint. Musik, die die Trümmer der Welt zu einer wenigstens auf Zeit bewohnbaren Gegenwart wieder zusammenfügt. Musik der Sorge – der Sorge um die Welt und ihre Bewohnbarkeit. Musik, die mensch* zu bewohnen vermag wie Nomaden die Wüste bewohnen. Musik nicht so sehr an sich, sondern vielmehr für dich und andere. Musik & Gespräche über Musik von und für Cyborgs, jenen (post-)feministischen Hoffnungsträgerinnen einer Kunst aus CARE & COMPOSITION, deren Sounds irgendwo zwischen Tier und Technik uns weit hinaus zu tragen vermögen, noch hinter das Ende der Zeiten. Denn trotz all der aktuellen Abgesänge wissen sie eines ganz genau: Es sind noch Lieder zu singen jenseits der Menschen!
Hinweis: Aufgrund der unsicheren pandemischen Lage und auch für eine allgemein bessere Zugänglichkeit werden die Konzerte der SONGS OF CARE Reihe bis auf weiteres neben ihrer Erlebbarkeit unter den aktuellen Hygiene- und Sicherheitsbestimmungen im Theater auch als Live-Streams im Internet erlebbar sein. Nähere Infos hierzu in Kürze auf unserer Website und unseren Social Media-Kanälen.