About this event
Your Healing Temple
Have you managed to have the time you need to really relax and connect to your peace and inner beauty?
When we find that healing space where we can connect to our inner truth and peace the expansiveness it brings us gives us the strength and inspiration we need to continue our day to day journeys with wisdom and insight.  When you do visit your inner magical temple, you return feeling like you have been equipped with a new source of harmony and luminosity. 
The space I create and hold at The Gong Room is to gently and tenderly support you on this journey using sound healing, angelic reiki and crystal reiki. This journey brings you to the source of your own freedom, abundance, simplicity and balance so that you can make any necessary adjustments to continue with love on your life pathway. 
The space I use is a beautiful school hall in Fulham and it is safe and clean. Should you wish to book we can discuss your own personal requirements for the space so that you feel confident about your sound healing session.
I wish you grace and abundance, 
With love 
The Gong Room
Neil Christey (MCMA) Healing Channel, Sound Healing, Angelic Reiki Master, Crystal Healing
'Sonically incredible, deeply relaxing, but also subtly brought on the same experience i get from meditative practice. Feeling on cloud nine.'
'By the end I realised I'd slipped into a sate of heightened awareness of the moment, while also feeling at the end like I'd woken from a deep and restful sleep.'
'After a very stressful day I left feeling relaxed, rested and rejuvenated. I had the best sleep that night and the next day I felt brand new again.'
'Neil brings a musical sensibility he has honed over more than twenty years. He draws on an instinct for the power of the instruments to create tailored sound baths. Afterwards I felt inspired and restored.'
'I have never felt such a deep and lasting state of relaxation. Thank you Neil.'
'It [gong bath] opened my eyes to how sound can affect one's ability to self heal and also to relax and feel refreshed after a session. My energy levels had increased and my symptoms of stress were reduced.'
' I would highly recommend this experience to anyone who perhaps would like to meditate to reduce stress but needs a guide through the experience.'
I would highly recommend this experience to anyone who perhaps would like to meditate to reduce stress but needs a guide through the experience.'
'I cannot thank my dear friend Neil at the Gong Room UK for taking me on an incredible meditation journey through sound therapy! I experienced my first ever Gong Bath and it was amazing!! Can highly recommend. Thank you Neil you are an angel, just what I needed this weekend.'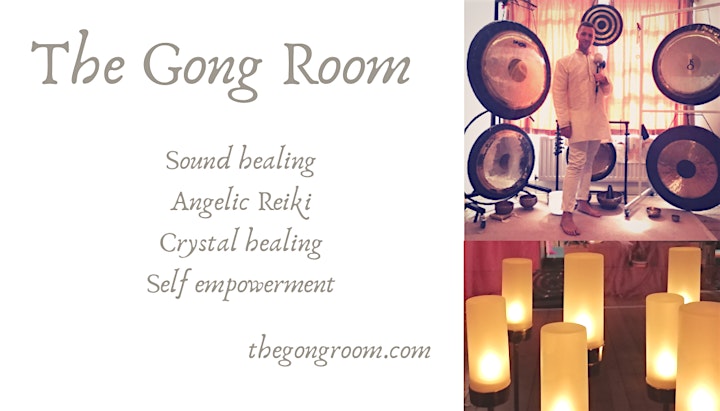 Organiser of Sonic Healing Temple