You are all welcome to join us at this event and let's celebrate Sophia's life #Fireball in a fun and loving way!
About this event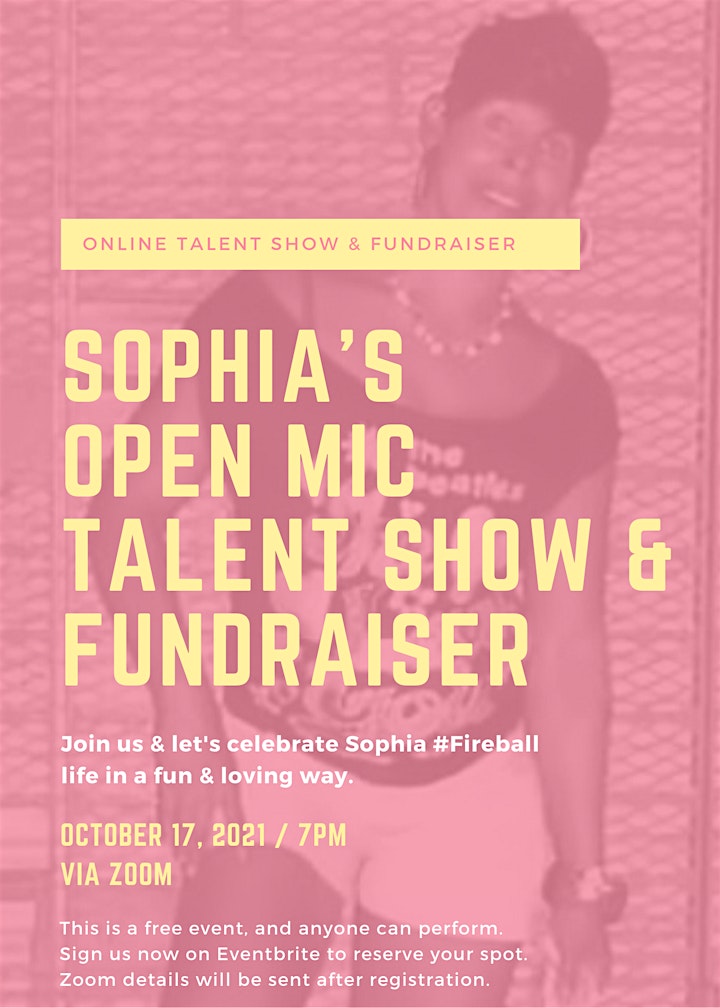 This is a FREE online event - it's an open mic Talent Show and Fundraiser for my sister Sophia Murray aka #Fireball
Sophia is the second of seven children for my father. She was born in Kingston Jamaica on 16th May 1970, and died on Fri 25th September 2021, at 51 years old.
I remember growing up with Sophia - as a child she was very fun loving, happy but fiesty. She accepted people for who they are but not afraid to stand up for herself. People loved her for her courage and realness and could always rely on her to speak her truth. 
She made many people laugh which brought joy and happiness to their soul. 
Sophia was blessed with four beautiful children - 2 boys and 2 girls. Sadly she lost her two boys which seriously affected her health for the rest of her life. She developed multiple health complications which led to her death.
In remembrance of my beautiful and loving sister #partnerincrime, I'm putting on this open mic online talent show where people of all ages, size and abilities wherever they are, can come together to perform, have a laugh and remember my sister for who she was.
I'm inviting all my family and friends who knew Sophia or even those who didn't know her, but would like to be a part of this wonderful occasion. Please join us and let's celebrate Sophia's life in a fun and loving way, whilst raising money to contribute to her funeral.
It's free to attend and participate in this event. However as this is a fundraising talent show, the audience will have the opportunity to donate to Sophia's funeral cost on the night. Please note donation is not compulsory but any amount donated is truly appreciated.
How can you take part:
a) As an attendee - anyone who wants to attend
b) As a performer: anyone who wants to perform on the night. Sign up now to guarantee a spot or you can decide on the night. However those who sign up in advance will be given first priority.
Any questions, comments or condolences can be sent to iamsoniamurray@gmail.com