In this award-winning art workshop you will meet UoS Astronomers, learn about Supernova research, and make your own artwork (age 6+).
About this event
Join Dr Sadie Jones and other University of Southampton Astronomers in this in person workshop in Avenue Campus for Arts and Humanities Day!
Get inspired to create your own Astronomy/Space art work from whatever materials you have in your home.
While you make your own art, you will learn all about the Life Cycle of a Star, Supernova Explosions and Dark Energy research!
Get ready with paper, cardboard, pens, pencils, scissors, glue, tape, aluminium foil... and anything else you can think of to express your inner Astro-artist!
Please bring your eventbrite ticket or show us the ticket on your phone when you come to the workshop.

This event is organised by Dr Sadie Jones from the Physics and Astronomy department. Please contact the event organisers at sadie.jones@soton.ac.uk directly if you have any questions regarding the event you are booking.
This event is taking place as part of Hands-on Humanities Day, Saturday 20th November 2021, 10:30 - 16:30.
Follow #UoSArtsHumFest on social media to stay up-to-date with the latest news.
PLEASE NOTE: to grant access to this workshop, you must also book a general admission ticket for Hand-on Humanities Day by clicking HERE.
On Saturday 20th November, please make sure to check-in at the Welcome Desk before making your way to the workshop room. Face covering (unless a medical exemption applies) and social distancing policies will be in place on the day for all indoor and sheltered activities, and to move across the venue. If you developed COVID-19 symptoms before the event, please stay at home and follow the NHS guidelines.
Follow #UoSArtsHumFest on social media to stay up-to-date with the latest news.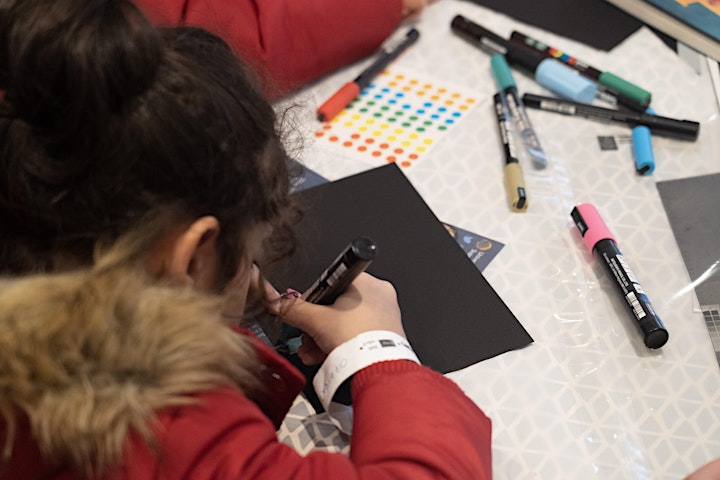 Organiser of #SotonAstroArt In person Workshops