Event Information
Refund Policy
Contact the organizer to request a refund.
Eventbrite's fee is nonrefundable.
A writing workshop to connect to our hearts, dream big and explore our natural creative force.
About this Event
Soul Writing is a practice designed to help release and free your inner voice and creative spirit. At the same time, it is a healing tool that can help us process old trauma and current issues. We are able to explore our shadows and our depths, offering new horizons from which to look at life. Soul Writing is for everyone. For seasoned writers and beginners alike.
Soul Writing is not a traditional writing course. It does not require us to be experts in spelling and grammar. It does not require us to be poets. It does not teach the mechanics of writing but rather encourages our unique voice to emerge. It helps us to find an inner flow of thoughts and words that we previously may have thought we lacked.
Soul Writing points to the natural creative being that lives within all of us. It is a sharing process, conducted within a group workshop format. We begin to learn to come into heart coherence and flow state using meditation and a variety of timed writing exercises.
Many people have found the Soul Writing process to be unique, refreshing and easy to access. We are learning to 'unthink', 'unplan' and 'undo' the barriers that stand in the way of our writing voice, creative soul and unlimited spirit.
Soul Writing for Creativity uses a variety of timed writing exercises to explore how to discover and release our creative voice. We will explore poetry, song, prose, allegory, object writing, sense-bound writing, and various sensory stimuli. We will play with creativity using a number of different prompts, tools, techniques and methods. This is not a conventional writing class on craft. This is about enjoying yourself and exploring the infinite depths of the eternally creative human spirit.
TICKETS
Tickets are available through Eventbrite priced at £15 per session. There are bursary tickets available for people on low incomes. Membership is also available and comes with the benefit of being able to attend all my classes in the month. You can join the membership using the link below and I will send members a special code for each session, allowing them to reserve their spaces. In all cases, it is prefered that you come to my introductory free class at the beginning of the month before attending a paid class.
MEMBERSHIP
https://www.buymeacoffee.com/mattrivers
ABOUT MATT
Matt Rivers is a long-time student of creativity, consciousness and spirituality. As a writer, he released his debut non-fiction title, 'Note to Self: Writing to Reveal Your Soul' in 2020. He has had numerous poems published in anthologies and writes a regular blog.
He is an intuitive healer, trained in Munay Ki, Emotional Alchemy, yoga and meditation and has graduated as a Reiki Master. An accomplished musician and songwriter, he has recorded and released two albums, written with an Ivor Novello winning songwriter and performed across the world. His albums are available to buy on Bandcamp.
Matt runs workshops on how to move beyond creative fear and how to express oneself in both writing and singing. He is available for booking workshops, concerts and speaking both online and in person. Please contact him through his website, purchase his music on Bandcamp or follow and stream from your favourite music channel.
Find out more about Matt on his:
Website:
https://www.mattrivers.co.uk/
Amazon:
https://www.amazon.co.uk/dp/B08JCKR1J2
Facebook:
http://www.facebook.com/MattRiversMusic
Instagram:
https://www.instagram.com/mattriversmusic/
DONATIONS
You can 'Buy Me A Coffee' or donate directly to Matt on Paypal:
https://www.buymeacoffee.com/mattrivers
http://paypal.me/mattriversmusic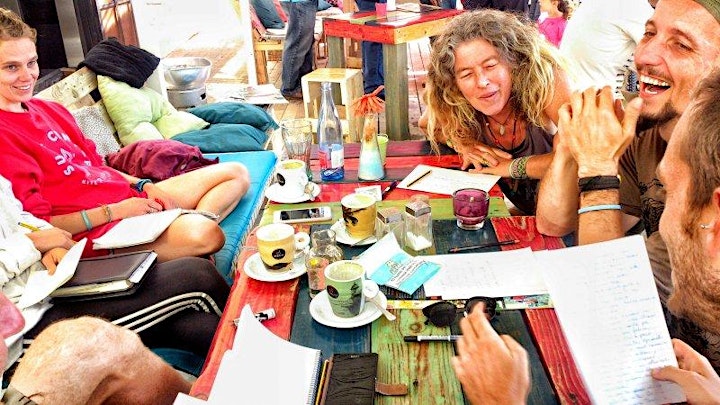 Date and Time
Location
Refund Policy
Contact the organizer to request a refund.
Eventbrite's fee is nonrefundable.